David Harbour gave a powerful speech in SAGs Awards when Strange Things was named the Best Ensemble Drama which caught everyone's attention. Along with his speech, there were some funny reactions from the stars too. We will be talking about the star reactions later but at first know something about the man, David Harbour.
We all know David Harbour is an American actor whom we can see in the film, television, and the theater. But he is well known for Gregg Beam in Quantum of Solace (2008) and Dexter Tolliver in Suicide Squad (2016). Along with that he also plays Chief Jim Hopper on the Netflix Original.
Now let's get to the reaction of stars in SAGs Award.
Also read: David Harbour dating no one and is single after breakup from girlfriend Julia Stiles
Winona Ryder Reaction on David Harbour Speech
With the countdown ticking and time limit, David Harbour made every second count with his powerful, well-prepared speech at the SAG Awards after Stranger Things was named the Best Ensemble Drama. Winona Ryder as his co-star stood alongside David as he gave his speech. Ryder was reacting with a series of facial expressions. Check out the reaction she gave.
Jen Lewis who describes herself as a person who makes jokes and draws stuff and emojis and has about 34K followers posted on her twitter that she managed to take 28 screenshots of Winona Ryder during the speech ( and all these were funny screenshots).
Maybe the reason behind her reaction was just because Ryder could not hear what David was saying or she was just working on her looks for "Stranger Things" Season 2. Only Winona knows about this.
David and Ryder in SAGs
Source: ET Online
Social Media were soon crowded with trolls of Winona Ryder. The expressions she made was so funny that we cannot stop collecting some of her expressions she gave.
David Harbour Reacts on Ryder's Reaction
According to Harbour, he ran the speech to his co-stars at dinner, and Ryder missed it so she may be trying to follow along, making sure to hear what was said. David also said he will connect with Ryder once they get back on set and will joke about it. Check out the video which has been embedded just for you.
Here's David Harbour's tweet after SAG's Award saying there is an honor to work with them and also mentioned about Winona's epic memes.
Harbour seem to give a cool reaction about what happened on the stage of SAGs award. At his Speech, Harbour also announced that the Season two of Stranger Things is coming up but did not say anything about the series except he described it as "thrilling".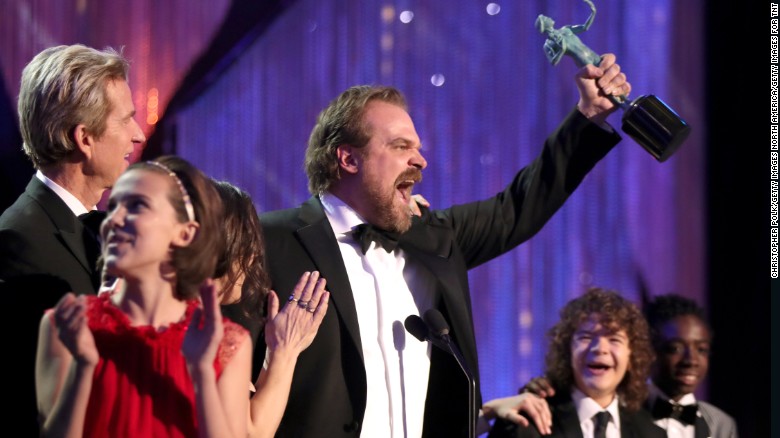 David Harbour with the SAGs award
Source: CNN
The news that he posted went so viral on social media that he tweets that he is sick of his pinned tweeter. Check out his tweet.
Like all the stars on SAG's award, David also mentioned the recent political condition and thanked for the award. The speech was great and everyone enjoyed it a lot. His speech was great but the news headlines were taken away by Winona Ryder's reaction.