The frontman of the famous rock band Linkin Park late Chester Charles Bennington's demise is what was least expected. And the world is solely saddened with the loss of one of the greatest music stars. The late 41-year old star was one born with music flowing in the blood. And his career is the proof here.
There's a lot to talk about the late star. And the more we talk the more we crave to know about this charmer and literally, his endeavor for music is endless. Well, his fans would like to know more and more about the late Linkin Park star but here we will just talk certain aspect of Chester's life. The late star had a successful career and a lavish lifestyle.
So, here in this section, we are going to know about his career and awards and his net worth in details.
Must Read: Fans devastated, Celebs Disbelief; Chester Hung himself just like his Close Friend Chris Cornell
The Late Musical Star Chester Charles Bennington
Late Chester Bennington (March 20, 1976- July 20, 2017) was an American singer/songwriter.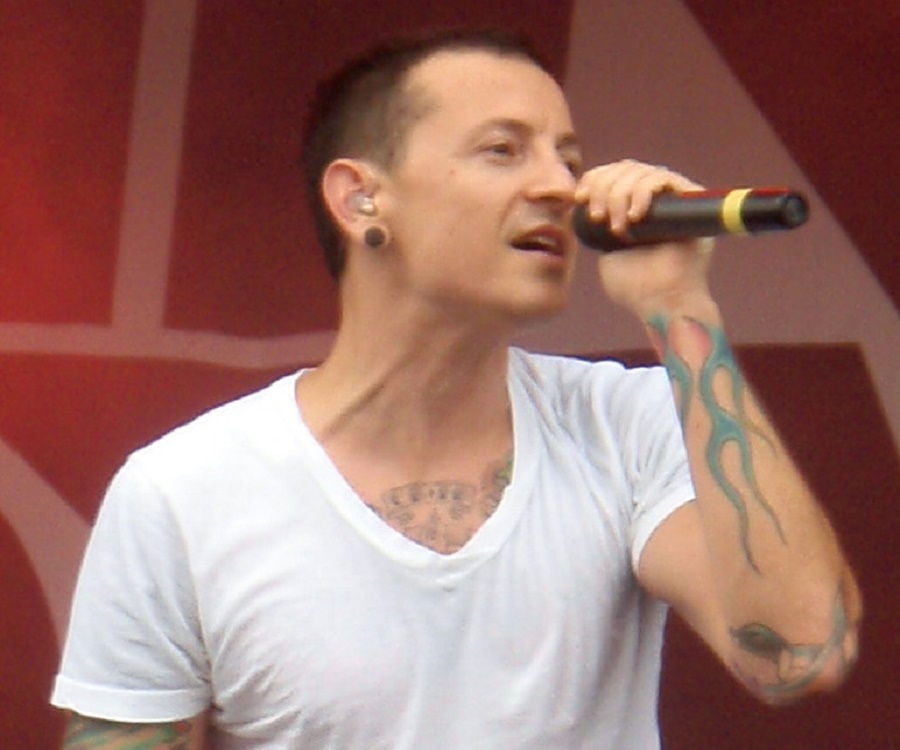 The late front man of the famous rock band Linkin Park: Chester Charles Bennington (March 20, 1976- July 20, 2017)
Source: Famous People
Bennington took his first step in the world of music at the age of 17 with a local band Sean Dowdell and His Friends? In 1993 his band released their first three-track cassette. Check out the album in the video tape below.
He even shines out in the crowd.
In the same year, Chester formed a new band Grey Daze along with Sean Dowdell. The band then went to record three albums: Demo (1993), Wake/Me (1994), and No Sun Today (1997). Bennington left Grey Daze in 1998 but struggled to find another band. Following his last release with the band Grey Daze, Chester left the band.
Also, check out one of the best songs, What's In the Eye of the album No Sun Today By Grey Daze in the video below.
After he left Grey Daze, he had to struggle a lot to find a new band and was even frustrated to the breaking point that he decided to quit his musical career. But he got a new start when the vice president of A&R at Zomba Music in Los Angeles, Jeff Blue offered Chester an audition with the future members of Linkin Park.
Chester had a successful audition and he recorded a song within a day with Linkin Park, what was then called Xero.
Chester Bennington managed to record the song with Linkin Park for his audition in a day, missing his own birthday celebration in the process
Sorce: Alchetron
Things weren't easy for Chester and his friends at the band but the vocalists were stubborn for the success. And on October 24, 2000, Linkin Park released their first album, Hybrid Theory, with Warner Bros Records.
The album was certified Diamond with sales of over 11 million units alone in the United States. And became a huge commercial success, peaking the 2nd spot on the Billboard 2002. Chester by himself wrote the lyrics and he described the writing experience to Rolling Stone Magazine in early 2002.
It's easy to fall into that thing- 'poor, poor me', that's where songs like 'Crawling' come from: I can't take myself. But that song is about taking responsibility for your actions. I don't say 'you' at any point. It's about how I'm the reason that I feel this way. There's something inside me that pulls me down.
Also, check out one to the song from the album Hybrid Theory: Forgotten in the video below.
Chester served as the lead vocalist of Linkin Park from its birth to July 20, 2017.
Along with Linkin Park in 2005 Chester formed his own band Dead by Sunrise with Amir Derakh and Ryan Shuck as a side project. The band released their debut album, Out of Ashes, on October 13, 2009.
In 2005 Chester formed his own band Dead by Sunrise
Source: Pinterest
Chester, the second name of success. He did what he liked the most and lived a life with passion.
The musical star was found dead and reports claimed it to be a suicide as he had hanged himself in his home in Palos Verdes Estates, California.
Linkin Park's Chester Bennington Commits Suicide by hanging his home in Palos Verdes Estates, California at 41
Source: Extra
Though Chester has left the physical world, his name will live long in his songs and in the hearts of millions of fans all over the globe. The late musical star will be solely missed.
Also, read: Linkin Park Frontman, Chester Bennington wrote an emotional letter to Chris Cornell before the suicide.
The star may have had a questioned personal life and health but there's no doubt on his successful professional career.
Chester Bennington Net Worth and Awards
Chester paved his road to success and fame with his hard work and dedication. The late Linkin Park frontman made most of his money through music albums. He also earned a lot through concerts and shows.
Chester net worth as of 2017 is $30 million which now belongs to his wife and six children his fortune is likely to make his family financially stable.
The late musical star Chester Bennington: The man with a net worth of $30 million
Source: Squander
And it's not all. Besides, Chester's successful career he is also the recipient of several awards.
Chester Bennington Awards
Chester has been nominated for several awards in his long successful career. Have a look at his nominations in the table below.
Chester Bennington Nominations

| | | |
| --- | --- | --- |
| 2001 | 44TH ANNUAL GRAMMY AWARDS | BEST HARD ROCK PERFORMANCE (Crawling) |
| 2003 | 46TH ANNUAL GRAMMY AWARDS | BEST ROCK INSTRUMENTAL PERFORMANCE |
| 2005 | 48TH ANNUAL GRAMMY AWARDS | BEST RAP/SUNG COLLABORATION (Numb/Encore) |
| 2009 | 52ND ANNUAL GRAMMY AWARDS | BEST HARD ROCK PERFORMANCE (What I've Done) |
Among these nominations, he went to win the Best Hard Rock Performance for his song Crawling in 2001 in the 44th Annual Grammy Awards.
The legacy of the frontman of the famous rock band Linkin Park Chester Bennington will live on forever in the hearts of millions of fans
Source: Pinterest
Rest in peace Chester Bennington.
For More updates, keep in touch with frostsnow.com