The extremely famous hip hop recording artist Lil Wayne has recently expressed his like, respect, and an ode to the famous female rapper and singer Nicki Minaj. He has gone on to state that she will go down as one of the best rappers and musicians in the history of music. Lil was the one who signed on the young beauty to Young Money.
Wayne spoke to the Time magazine and was quick in praising the highly successful singer Nicki who has been breaking the records and has been fulfilling the potential that he saw in her when they first met.
Lil Wayne Praises Nicki Minaj
Lil Wayne paid tribute to Nicki Minaj. Wayne described how he met Nicki, who was named as one of the Time Magazine's 2016 TIME 100 Influential People, in the 'Icon' category.
You know, in New York they used to have these street DVDs. It just so happened that I appeared in one, and when I looked at the finished product, Nicki Minaj was on a part of the DVD,
he remembers.
I was like, 'Woooooow!' She was just being Nicki without the glitz and glamour. When I heard the first two and four bars, it wasn't even about her rapping better than any female rapper. It was about, man, she's rapping better than other rappers - period.
He continues,
She's reached far beyond everything I would have imagined. Man, she's so influential and doing all the right things. She's an icon, a boss and a role model to all these young girls out here on how to do it the right way.

The scary thing is she's still going. Ha! Nicki Minaj will go down as one of the best to do it in the history of music.
Let's talk about Lil Wayne.
Lil Wayne
Wayne an extremely well-known character with his net worth being a whopping 150 million dollars at the age of 35. He started off at the age of nine and has been highly successful in his endeavors up until now. he has also appeared in several movies and has sold over 100 million albums worldwide.
He has a height of 5 feet and 5 inches and has been married too. He has four children and his first child, daughter Reginae was born when he was just 15 years of age. Wayne is currently in an affair with girlfriend Christina Milian and the couple seems to be getting along pretty well with no imminent signs of a split.
With the success in the professional and personal life that he is getting, he has not left out his praises for the talent that he found, Nicki Minaj. He has called her an icon, a boss and a role model who is to be followed and will surely continue in his praises for the beauty with the success that she is attaining in the music industry in the recent years.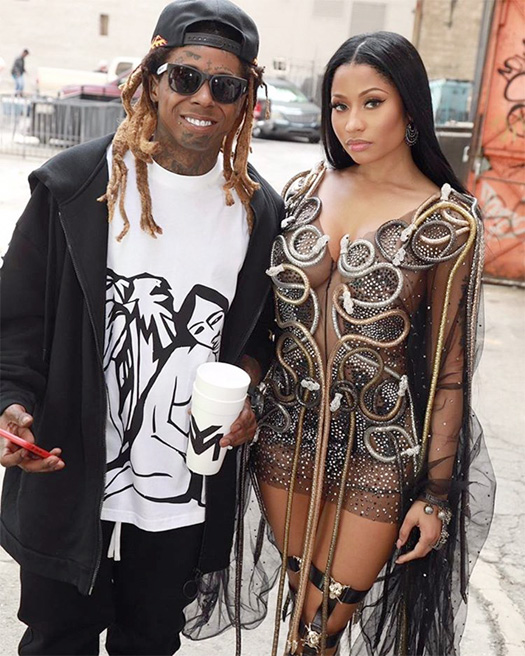 Lil Wayne and Nicki Minaj
Source: HQ
We can sure hope that the aspirations and thoughts of Wayne regarding Nicki will be fulfilled by her properly in the days to come.