NBC Nightly News anchor Lester Holt is married to a real estate agent, Carol Hagen. Although their relationship was supposed to be going well, the truth is different. Holt has got himself into some controversies lately, because of which there were divorce rumors between Holt and Hagen.
The divorce rumors seem to be turning into a reality in the coming days. The pair's lives are full of controversies related to their personal life. Keep on reading to know all about the love life of the couple husband Lester Hold and wife Carol Hagen.
Lester Holt married life with wife Carol Hagen
Lester Holt and Carol Hagen dated for quite some time before taking the big decision in their lives. The pair tied the knot in 1982, and it has already been over 36 glorious years of their togetherness as a husband and wife.
ALSO SEE: Top NBC host Lester Holt, Who Covered 9 Olympic Games, Says America Needs the Olympics Right
Image: Lester Holt and Carol Hagen
Source: Daily Mail
Being married for a long time is not everyone's cup of tea. During an interview with Extra TV, Holt said that laughter is the ultimate reason why they are going so strong. He said:
We laugh a lot, we really do. I can be silly, she can be sillier. We just laugh through things and we know that everything, tough times will be a story at some point and boy have I put her through some tough times with this job,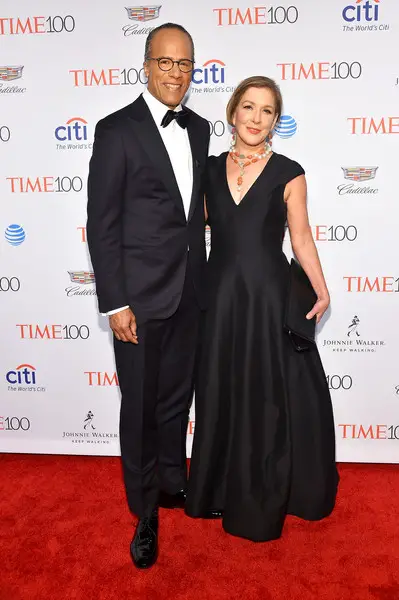 Image: Carol Hagen and Lester Holt
Source: Daily Mail
Hagen seems to be a very understanding and a supportive wife. She totally understands Holt's work-pressure.
Holt previously said: "I love her to death, she's has been so wonderful, she knows this job is going to bring a lot of late-night phone calls, but she's there for me and that means an awful lot."
Lester Holt and Carol Hagen' Children
Talking about Holt and Hagen's children, this amazing pair has two grown-up kids — Stefan and Cameron, who are as good-looking and charming as their parents.
SEE MORE: NBC's journalists share their displeasure over Lester Holt's son Stefan joining the network
Image: Lester Holt with his wife and two sons Source: Pinterest
YOU MAY BE INTERESTED: Lester Holt's Son's New Job At NBC, Know Lester's Married Life, Affairs, And Family
Stefan Holt worked at WMAQ-TV NBC5 Chicago as the morning news anchor. He is a 2009 Pepperdine University graduate. After WMAQ0-TV, Stefan moved to WNBC in NYC 2016 in order to work with his father at 30 Rock.
Who is Lester Holt' wife, Carol Hagen?
Lester Holt's wife Hagen is New York's successful real estate salesperson. She is believed to be a very friendly, hardworking person who is very much engaged in her work. Her clients also adore her. According to them, she is a very calm person.
Image: Carol Hagen looking happy with her husband, Lester Holt Source: People
Prior to working as a real estate agent, she was engaged in many non-profit fundraising programs. She has also worked in the travel industry and cosmetics industry in the past.
Lester Holt Divorce Issues with Carol Hagen
Lester Holt, who seemed to be an ideal husband, broke the heart of many when he was caught cheating on his wife. He allegedly had an extra-marital affair with one of NBC Nightly Show's crew member.
SIMILAR ARTICLE: NBC's Lester Holt and wife Carol Hagen on the verge of divorce as Holt has an affair with a crew member
According to a source, Holt spent less time with his family and more in his 'office.' In fact, Holt and Hagen have not been spotted together since 2016.

Despite being aware of Holt and the mysterious woman's affair, Hagen has been quiet about the matter because of some unknown reasons. It seems like she is not ready to end her long marriage. But there is a high possibility that the couple might end up in divorce.
RELATED ARTICLE: Lester Holt: THR's 35 Most Powerful People in Media is Also Highly Paid, Know His Net Worth, Salary
The anchor spends most of his time in his workplace which in turn is also taken as the major reason for the love between them falling out. With his time as the major reason, the journalist's extramarital affair with one of the backstage crews added fuel to the fire.
Quick facts about Lester Holt:
When did Lester Holt marry Carol Hagen?
Lester Holt married Carol Hagen in the year 1982.
How many kids do Lester Holt and Carol Hagen have?
Lester Holt and Carol Hagen have two kids; Stefan Holt and Cameron Holt.