The celebrated chef Koren Grieveson is engaged to Anne Burrell who is also a renowned chef by profession. The pair dated for a long time before exchanging rings in 2012. Grieveson's relationship with Burrell is going pretty amazing at present but, the adorable pair is in no rush to exchange the vows.
Stay with us for more information about the couple.
Koren Grieveson Proud Relationship With Anne Burrell
It's not easy to come out in the society as a lesbian, however, Grieveson's partner Burrell proudly came out about her sexual preference and relationship with Grieveson.
During an interview with Ted Allen in 2012, Burrell didn't reveal about Grieveson's identity at first. In fact, Allen also confirmed that Burrell's partner is a very private lady and the pair have been together for years and spend a lot of time with each other. Later, Burrell confirmed her proud relationship with Grieveson in a statement given to the New York Post.
CAPTION: Koren Grieveson with beau Anne Burrell
SOURCE: Hit Berry
The couple began their romantic love affair since 2010. The couple first met each other during Koren's time at the Institue of Culinary Education in New York City.
Koren Grieveson Got Engaged To Anne Burrell
When the whole world was celebrating New Year's Eve, Grieveson got engaged to her lover Burrell. Burrell announced her engagement news through her Twitter. On 31st December 2012, Burrell posted 'new year' wishes and in the end, she opened up saying she's engaged. See it for yourself:
It was rumored that the couple got engaged in Vieques, Puerto Rico.
Koren Grieveson And Anne Burrell's Wedding Plans
At present, it has already been 4 years of Grieveson's engagement to Burrell and everyone is more than curious to know about the couple's wedding. However, it seems like both Burrell and Grieveson's busy schedule has halted them from getting hitched. During an interview with RadarOnline, Burrell confirmed that she's mostly on-road and doesn't get enough time to spend with Grieveson. She said:
I feel like I've been home long enough to unpack and pack again and maybe take a quick nap, and then I'm off to the airport again.
Even though Grieveson and Burrell's wedding hasn't been confirmed, Burrell said that Vieques, Puerto Rico is very special for them as it's the same place where the pair got engaged and traveled together for the first time.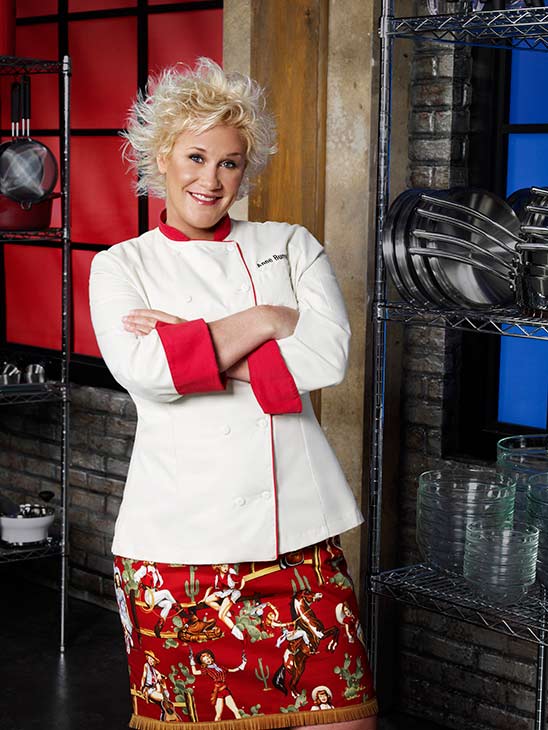 Image: Anne Burrell
Source: Abc7
Although getting married after being engaged is kind of mandatory in today's world, we don't think that tying a knot will make any difference in Burrell and Grieveson's relationship as they seem like they are happy with the way things are.
Grieveson and her spouse Burrell stands as a very strong role model for many gay and lesbian people around the world. Despite being so famous chef and celebrity, Grieveson's fiancée Burrell has always been open about her lesbian relationship.
What do you guys think of this honest and loving couple? Please, leave your opinions in the comment box below.