The Emmy Award-winning American actress Kristy Mcnichol, who is known for her roles in the 1980s, is married to her long-term girlfriend Martie Allen. Kristy's girlfriend Martie came into the spotlight after the couple revealed about their relationship back in 2012.
Kristy and her girlfriend kept it secret from the media for a very long time. Besides, there were also rumors about Kristy McNichol being a lesbian before Kristy came out openly about her affair with a mystery woman.
Kristy McNichol
Source: Pinterest
Kristy McNichol made a clever move dating a person besides a celebrity which made her easier to keep her private life a low-key. Well. in our next section, we will be discussing the couple's relationships along with Kristy's past relationships and affairs.
Kristy McNichol and lesbian girlfriend Martie Allen's relationship
It has been over 25 years since Kristy McNichol and her lesbian girlfriend got together and are still enjoying each others company. For over two decades Kristy was in a confidential relationship with Martie Allen, who is of the same age as her's.
Martie Allen and her lesbian girlfriend Kristy McNichol
Source: After Ellen
Then there comes the year 2012 when the Family star reveals about her lesbian relationship with her long-term girlfriend Martie Allen. She also said, People, that she wanted to live freely without a thing to hide at that age as she was turning 50 at that time. Kristy McNichol also delivered a picture of her with her lover Martie Allen having a dinner date.
She also mentioned that one of the reasons to come out clean was to encourage the young individuals who are afraid to face society. Kristy McNichol's publicist Jeff Ballard said that she was very sad about kids being bullied. Ballard added,
she hopes that coming out can help kids that need her support. She would like to help others who feel different
Also Read: Lesbian couple Stana Katic and Kris Brkljac.
Kristy McNichol: past relationships and love life
Kristy McNichol started dating Martie Allen from the early 1990s and before that, she had a brief affair with the Canadian actress, Elizabeth Brooks, as claimed by some sources but the supporting details are rare.
When Kristy McNichol was 17 years old, she dated Leif Garret, her fellow co-star who played her boyfriend in Family. Her childhood romance didn't last long and we must say the sweet pair looks adorable together.
Well, her on-screen romance includes in The Love Boat in 1978. Kristy McNichol had her first kiss with Scott Baio in the film and also was believed that they had an off-screen affair too.
Read: Lesbian relationship between Chyler Leigh and Floriana Lima.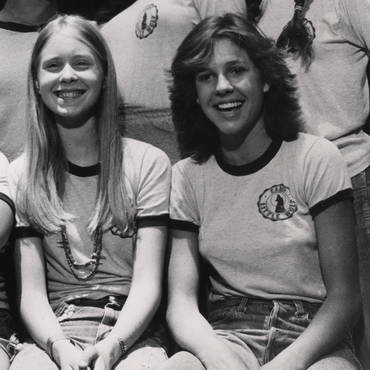 Cynthia Nixon & Kristy McNichol
Source: AutoStraddle
There were also rumors about Kristy McNichol dating the co-star Cynthia Nixon from her 1978 film, Little Darling, starring Armand Assante. Later, there were no updates regarding their relationship. Well, these are some of the details regarding the 50 years old's love life.
You don't fall in love with the gender, you fall in love with the person. Thus, this statement has described the love life of the American actress Kristy McNichol, who has been in a cheerful relationship with her girlfriend Martie Allen for over 25 years and are still spending their blissful moments.