It's time to congratulate the Hollywood couples, Aaron Paul and Lauren Parsekian. You may ask why? Well, the two lovebirds who are happily married since 2013 are finally excepting their first child.
Aaron Paul is a professional American actor who is best known for his appearance as Jesse Pinkman in the AMC series Breaking Bad for which he was awarded several awards including the Primetime Emmy Award for Outstanding Supporting Actor. His wife, Lauren Parsekian is also a renowned actress and director from the United States.
Let's learn more about the pair. Just stay with us.
Lauren Paresekian Is Pregnant: Excepting First Child With Husband Aaron Paul
Good News for Aaron Paul And Lauren Parsekian's fans!!
The couple is soon to become parents to their first child. Yes, you read that right, guys. The BoJack Horseman actor and Finding Kind director who is married since 2013 are expecting their first child, four years after their marriage.
Happily married husband and wife: Aaron Paul and Lauren Parsekian
Source: usmagazine
On Tuesday, September 19, the 38-year-old Mission: Impossible III star took to Instagram to announce the pregnancy of his beloved wife. The post featured Lauren flaunting her baby bumps at home and the photo was captioned as:
Hey everyone. Look what I did. Words can't express how excited I am that this little one has entered our lives. Just thought it was time I would share this beautiful news with all of you
Here's that Instagram post, guys, check it out.
Meanwhile, The Kind Campaign co-founder shared a childhood picture of her and her husband along with a sonogram of her unborn baby on her Instagram with the caption, "Oh hi,". Check it out.
Wow!! It's really a good news and we are eagerly waiting for the birth of the new member in the family.
Lauren Parsekian And Aaron Paul Got Married After A Year of Their Engagement
Wondering how Aaron and Lauren first met?
Well, the Need For Speed star, Aaron Paul first met the love of his life, Lauren Parsekian at the Coachella Music Festival in Indio, California. They fell in love instantly and started dating, and soon on 1 January 2012 they were engaged.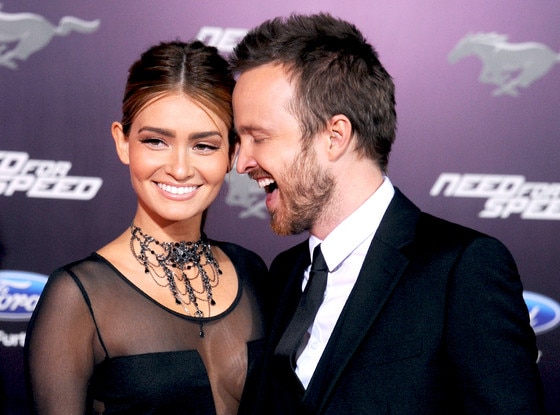 Soon-to-be parents to first child: Aaron Paul and Lauren Parekian
Source: eonline
After a year of their engagement, the pair eventually tied the knot on 26 May 2013. Their wedding ceremony was held in a 1920s Parisian carnival-themed wedding in Malibu, California where music was provided by Foster the People and John Mayer.
Happily married husband and wife: Aaron Paul and Lauren Parsekian at their wedding
Source:
Prior to the ceremony, Paul had emailed the entire guest the lyrics of the song "Beauty" by The Shivers and had asked them to learn the words so that they could sing along during the ceremony.
These two lovebirds are enjoying a happy married life ever since. We wish them all the very best for their future.
For more updates, stay tuned with Frostsnow.