Landon Donovan is an American professional football player. He currently plays for the Liga MX club Club Leon as the attacking midfielder and forward. He is also regarded as the greatest American men's soccer player of all time. Donovan holds numerous individual records in Major League Soccer, but apart from his professional career, the 35-year-old player holds a really bad experience in his love life. He had a really tough time in his relationship with his ex-wife Bianca Kajlich, an American actress known for her work in Halloween: Resurrection.
After his divorce with Kajlich, the footballer married his second wife Hannah Bartell. The couple, who got married after 2 years of dating, shares 2 sons and are living happily together.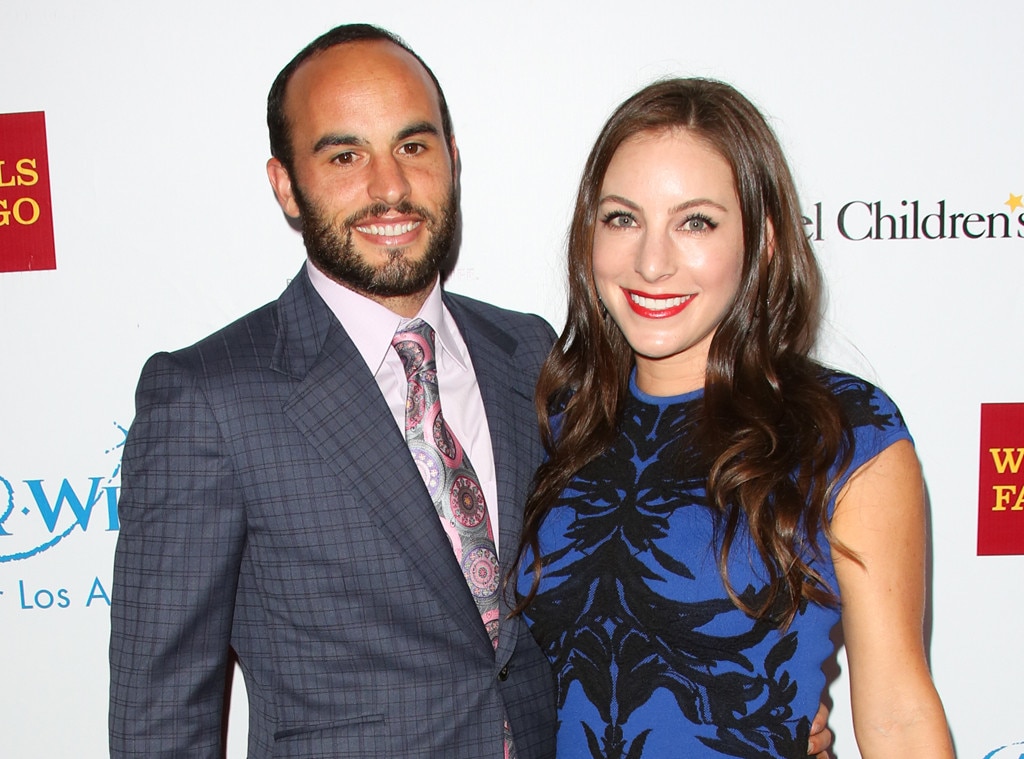 Landon Donovan and his second wife Hannah Bartell
Source: Eonline
Want to know more about the married life and relationship of Landon Donovan? So, without a delay, let's know about the married life of Donovan and Bartell, their children, and past relationship of Donovan.
Landon Donovan's Relationship with Hannah Bartell, Their Married life
Landon's second wife Hannah Bartell proved to be a lucky charm for him. Soon after he divorced his first wife Bianca Kajlich, he found a new girlfriend in the form of Hannah Bartell, a hotel sales executive.
As reported, Donovan and Bartell started dating in late 2013. Back in June 2014, as per TMZ, Landon Donovan and Hannah Bartell were spotted together in a date in Beverly Hills.
Landon Donovan on his date with Hannah Bartell in Beverly Hills
Source: TMZ
The couple taking their relationship to a new level announced their engagement on February 10, 2015. Donovan shared the happy news making it public through his Facebook page.
Well, it didn't take them much time to walk down the aisle.
Donovan married his 3 months fiancee
The lovely duos got married on May 3, 2015, in front of their close relatives and family members at the Dana Inn on Mission Bay, owned by Hannah's family. Donovan announced his wedding news via Facebook.
Have a look at the moments of their wedding.
It's a pleasure to inform that the couple with their strong love is still together without any rumors of separation and divorce. The couple has shared some lovely moments on Instagram. Have a look.
It's been more than a couple of years since their marriage, and it seems like their love and relationship is growing stronger every day. Furthermore, the bond of Hannah and Donovan has become even stronger after the birth of their child.
Also read: Jeff Probst's Second Marriage with Lisa Ann Russell After Divorce from Wife Shelly Wright?
Let's know about their children in detail.
Hannah and Landon, Lovely parents of 2 sons
Hannah and Landon share the parental love to their 2 sons, and the name of their sons are Talon and Slate. The couple welcomed their first son Talon on January 27, 2016. Excited father, Landon Donovan announced about being a parent on his Twitter.
Here is the tweet of the announcement.
A year later, the happiness again knocked Landon's door. Yeah, the couple were again ready to become the parents. They shared about their pregnancy along with the due date on social media.
Landon even expressed his dream of making his son a great footballer which was hinted by the caption "
Preparations for the 2038 World Cup continue...baby boy Donovan #2 arriving this June." Have a look.
The couple later on June 21, 2017, announced the birth of their second son Slate via Twitter. Landon also stated that Hannah and his son Slate, both were fine with the caption "Introducing Slate Bartell Donovan! Everyone is healthy and happy."
Have a look at the cute photo of Slate Bartell Donovan.
Adorable!
The happy family spends a lot of time together. Let's take a look.
Happiness and only happiness.
Let's wish them joyful moments in their lives, and let's now take a glimpse of Landon Donovan's past married life.
Also read: Hugh Grant Expecting Fifth child With His Wife Anna Elisabet Eberstein?
Landon Donovan's Past Married life and affairs
Landon had a troublesome relationship with his ex-wife Bianca Kajlich. The couple has not shared the detail about their dating details, but reportedly, the couple got married on December 31, 2006. However, the relationship didn't work out with them leading their separation in July 2009.
Landon Donovan and his ex-wife Bianca Kajlich
Source: NY Daily
Even though the former couple separated, they filed for the divorce a year later in December 2010. As reported, the couple cited irreconcilable differences as the reason for the split in the document.
In a joint statement of the divorce papers, they agreed to remain close friends though.
Landon and Bianca filed for divorce after a year of split
Source: TMZ
Their divorce was finalized in 2011. And talking about their children, the former couple has not shared any children. Besides this, Landon is not reported to have any affairs in the past.
Probably you are curious about Bianca's current relationship. Well, she has also remarried. Her current husband is none other than American radio personality, Michael Catherwood. They tied the knot in 2012 and now shares a daughter named Magnolia Catherwood.
Bianca married again, her second husband Michael Catherwood and their daughter
Source: calling out
Really love finds out the deserving!
Stay tuned for more updates.
Also read: U.S. Team Out Of The World Cup 2018: Landon Donovan Says They Didn't Deserve To Be In World Cup