Interviewer: Are you Single?
Lamma Rucker: I'm not married.
If this isn't hinting that one has a girlfriend, then nothing is. In an interview, Greenleaf actor Lamman Rucker dodged answering straight to the question about his current romantic affair. But the hint was enough, wasn't it? For almost two decades now, Lamman has been delivering praiseworthy performances on screen. And his fame is reaching new heights with every new project he undertakes. And the years spent in Hollywood has only increased Lamman's fan following. And one look at this hunk is enough to understand why his fan base contains a large portion of gay fans- he is irresistible.
HE IS RUMORED TO BE DATING
After Lamman dropped the bomb, fans were speculating who could be the lucky lady. For almost two years now, Lamman has been said to be dating his co-star from "Why did I Get Married?" Denise Boutte. Though none of the actors have confirmed this relationship, they have been seen posting a picture or two of them together. Even in movies, these two actors have not been cast together after their stint in Why Did I Get Married?, a 2007 American comedy-drama film adaptation written, produced, directed, and starred by Tyler Perry.
LAMMAN WAS RUMORED OF HAVING AN AFFAIR WITH JILL SCOTT
Back in 2007, Lamman was said to have been a little more than a supportive friend to his co-star of Why Did I Get Married? Jill Scott. R&B singer of Hidden Beach Jill had just come out of a divorce from her first marriage when she was shooting for the movie. It was then when she met Lamman and sparks (allegedly) flew. This relationship was not confirmed and the rumor also died away when Jill announced her engagement to her drummer boyfriend, Li'l John Roberts.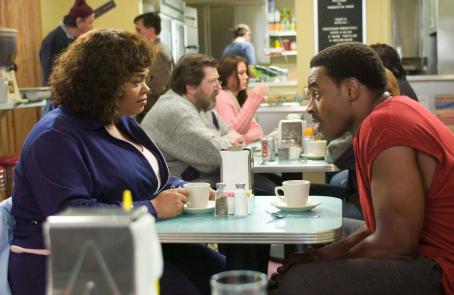 Image: Jill Scott and Lamman in their movie Why Did I get Married?
And now, years later, Lamman seems to have found his future wife again in one of the co-stars of his 2007 movie, Denise Boutte.
The irony is quite high here. The movie revolves around the laments of a married person, but Lamman seems to have found his true allegiances in the sets of the very same.
LAMMAN WANTS TO GET MARRIED WHEN THE TIME IS RIGHT
In an interview some time back, Lamman Rucker shared his personal insights on marriage and his potential future wife. This interview was administered by Heather Hopson, who had dated Lamman in her senior year in high school.
Lamman said, "It's not necessarily that I'm looking for a wife, but I am open to finding an incredible woman and realizing that it's not only that I care about her and that she cares about me, but we want to invest in each other."
Image: Lamman Rucker
He also said that he was looking and waiting for the right time and place to get married to the right woman. He also has a pretty deep expectation from his potential partner.
"I want a woman with purity of spirit, passion for life, peace of mind and power within," said the 44-year-old.