They may not be an item anymore, but Lamar Odom still wants the best for his ex-wife Khloe Kardashian.
During Yesterday's episode of Complex's Everyday Struggle, the former NBA player opened up about his current relationship with his ex-wife Khloe has been expecting her first child with her boyfriend, Tristan Thompson, a Cleveland Cavaliers player.
Romantically engaged boyfriend and girlfriend: Tristan Thompson and Khloe Kardashian (car)
Source: usmagazine
Though Lamar didn't comment on Khloe's pregnancy, he seemed to indicate that the two are cordial as he replied when asked if he is "still cool":
I mean, from a distance. I wish her well. Still got love for her.
Lamar Odom and Khloe Kardashian with their two children
Source: dailymail
The 37-year-old former NBA star also revealed that he's drifted apart from Kanye West, who has been married to his ex-wife's sister Kim Kardashian West. He said:
Kanye is a good dude, He was there for me when I was in a coma, he was there for me when I woke up.
Lamar Odom and Khloe Kardashian
Source: usmagazine
Lamar further added:
I would say [our relationship] probably deteriorated with all the other relationships that were built. But it's like that sometimes. It'd probably be weird [to contact Kanye now]. But I would have no problem with it.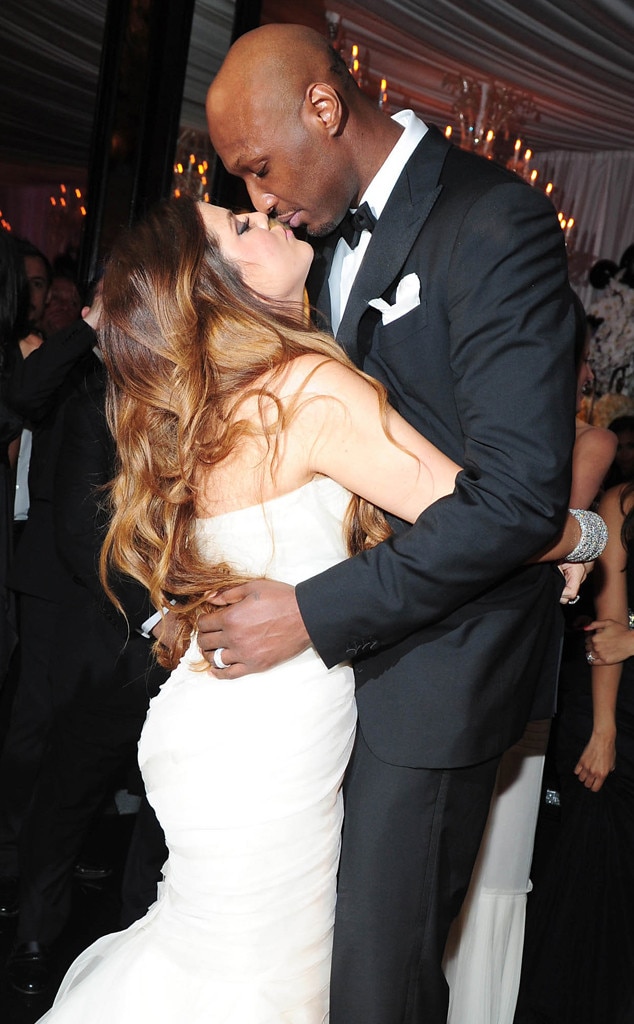 Divorced husband and wife: Lamar Odom and Khloe Kardashian at their wedding (kiss)
Source: eonline
Lamar and Khloe were married on 27 September 2009- one month after they met, and nine days after getting engaged.Unfortunately, following Lamar's cheating scandal and drug relapse in 2013, they ended their marital relationship with a divorce in December 2013.