As the name of her first debut album, The Fame, Stefani Joanne Angeline or the stage name Lady Gaga tasted fame as soon as it hit the charts. Five times winner of the Grammy Awards, Gaga is not married yet but is linked with many celebrities. Lately, Lady Gaga was romantically involved with an American actor Taylor Kinney and were also engaged.
Gaga and Taylor recently broke up and called off their engagement. Want to know about their love story and reason behind their separation? Brace yourself, we are going to provide you with all the details.
How did Lady Gaga and boyfriend Taylor Kinney meet?
In July 2011, Lady Gaga was on the set of her music video You and I and that was the time when Gaga was introduced to Taylor for the first time. Taylor played man candy in the six-minute long music video.
Maybe it's not about the length of time you've known someone; maybe it's about instant recognition on an unconscious level and it was no different with Lady Gaga and Taylor Kinney. There was an instant connection between the two and soon the couple started dating each other. However, before she was in relation with him, Taylor was in a relationship with the real estate agent Brittany Sackett.
After few months of speculation, the lovely pair went public about their relationship. However, the couple always tried to keep their relationship pretty clandestine in the public eye.
Lady Gaga dated Taylor for more than five years
After Lady Gaga and Taylor started dating each other, they were frequently spotted together. On 7th August 2012, the pair was spotted skinny-dipping in a swimming pool and also shared the picture of each other in the Little Monsters.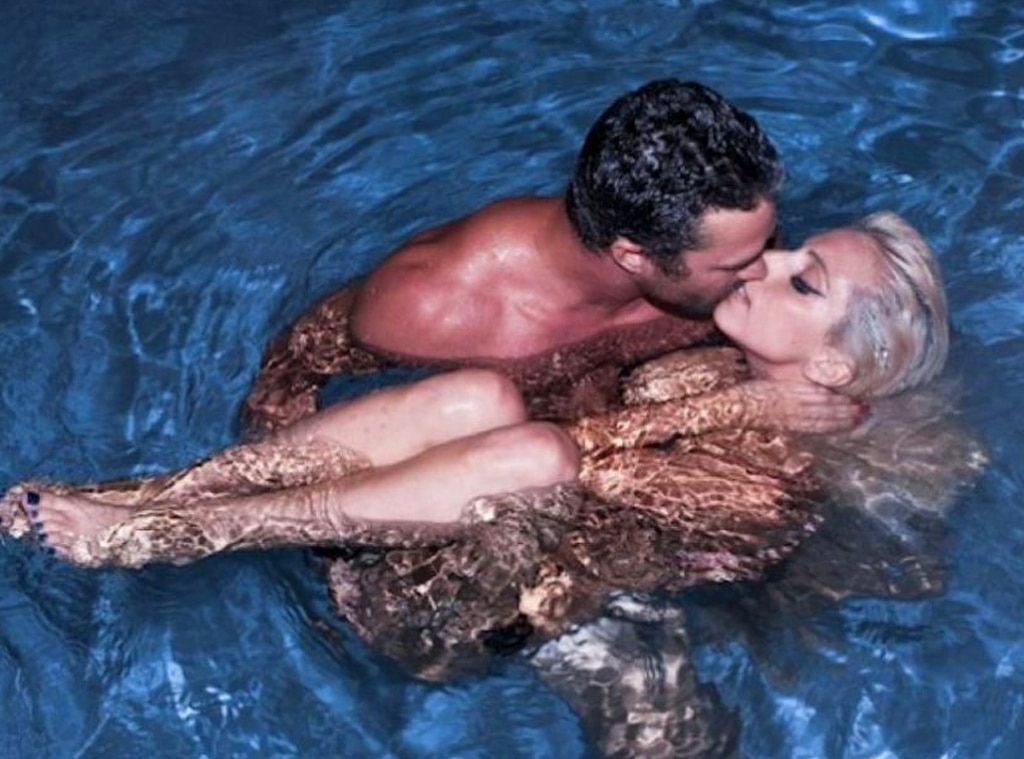 Hot and sizzling photo of Lady Gaga and her ex-boyfriend Taylor Kinney.
Source: EonLine
Gaga engaged with her ex-fiance Taylor in Valentine's Day 2015
Lady Gaga and Taylor decided to get engaged after spending four years romantically. A year before this, on 16 February 2015, Gaga uploaded a picture of her engagement ring in her Instagram account. However, Taylor had proposed her on Valentine's day and Gaga with no surprise also accepted the proposal.
Instagram: She uploaded a picture of her beautiful heart-shaped ring.
Gaga celebrated her engagement at her family restaurant, Joanne Trattoria in Manhattan. With all the family member and friends, the lovely pair celebrated their ring ceremony.
Gaga and Kinney called off their engagement
Gaga and Kinney were together since five years back but, the lovely couple separated on July 19, 2016. It is believed that the reason behind the breakup is Kinney's betrayal. Even his previous girlfriend, Brittany dumped him when he cheated her with Gaga. But Gaga said that it is the misunderstanding between them that lead to the separation.
Lady Gaga post on her Instagram account.
Source: Hollywood talk
Though the couple is not together, Gaga want's to get back with her ex-boyfriend Taylor. She said that she is still attracted towards Taylor and still misses him a lot.
Well, we cannot predict the future, but still, we hope that these two previous lovebirds get on together and make a happy couple again. Where do you not find misunderstanding between a couple? But you gotta deal with the problems and move forward. All the best Gaga and Taylor. We hope you succeed in whatever you do.