The one thing that's common between Sandara Park, Ha Ji-won, Yoon Eun-hye, Kim Tae-Hee and Lee Guk-joo is that they all are South Korean superstars. The one that stands oddly among the list is Lee Guk-joo as she is not just an actress but also a renowned comedian. Guk-joo is best known for her role in 'Dream Knight' and 'Click Your Heart.'
Guk-joo is not just talented but also equally gorgeous despite being a plus size star that's why she is regarded as an idol by many. Are you curious about her dating rumors with BTS' Jin and affairs?
Read the full article:
Lee Guk-joo dated a handsome trainee
When Guk-joo revealed that she was dating someone, rumors flew around which claimed that the lucky guy is none other than BTS' Jin. If you were wishing for the pair's affair to be true, then here's a sad news. The guy wasn't Jin.
Image: Lee Guk-joo
Source: Nae sushi
Lee Guk-joo and BTS' Jin false dating rumors
Guk-joo revealed about it in an episode of 'Radio Star', an MBC reality show. She revealed that she was in a relationship with a trainee in the past but it wasn't Jin. When the host Kim Gu Ra asked her about the age difference, she claimed that he was 6 years younger than her.
She also revealed that her ex-boyfriend was a good-looking trainee on a broadcast and was considered as an idol. When the reports about Guk-joo dating a six-year-younger trainee came out, all of the idols who were six years younger than became the media's and fan's target.
Watch Lee Guk-Joo reveal her love
BTS' Jin likes chubby woman
Guk-joo also opened up about how people were mistaken her to be BTS' Jin's girlfriend. The pair has been close for years and Guk-joo was also there to cheer him up during his debut on 'Music Core'.
She says:
"We [BTS' Jin and Guk-joo] are very close. He thanked me in the 'Thanks To' section in his first three albums and fans put two and two together. He also said that his ideal type is someone who is chubby."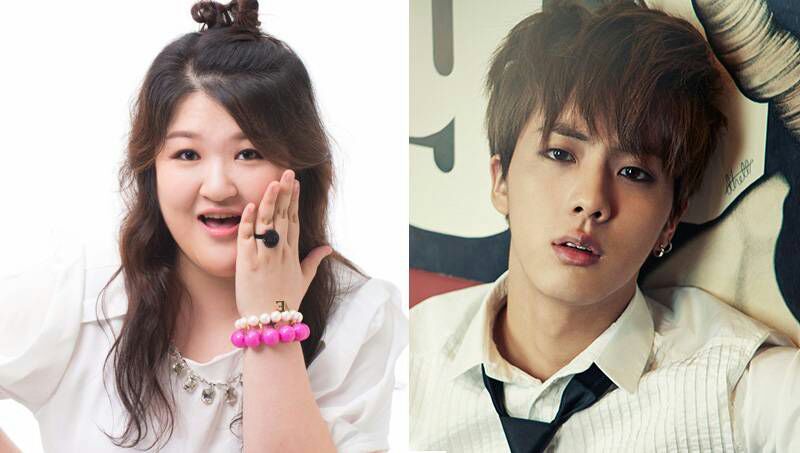 Image: Lee Guk-joo and her rumored lover BTS' Jin
Source: Amino apps
She laughed about how people interpret as their own wish. All the other times they used to consider Guk-joo as fat and compare her to a pig, but while linking up with Jin, they considered her to be chubby.
Even though Guk-joo is no longer with her six-year-young trainee boyfriend, we believe that she is enjoying her single life. There's no chance that the beauty doesn't have men following her. We hope she'll get a new boyfriend real soon and give us the happy news.