People believe pairs are made in heaven, but God writes stories in the most dramatic way possible, isn't it?
If, you are eventually going to find the love of your life, why do you have to move from one person to another until the day you find the right one? Who knows the answer better than actress and model Rachel Weisz.
But how does she know it all? It is because she was once in a relationship with filmmaker Darren Aronofsky for nine years starting from 2001. The couple even has a son Henry Chance Aronofsky from their nine years long relationship. But they broke up despite being together for such a long time. After her separation with Aronofsky, Rachel tied the knot with British actor Daniel Craig in a private function.
So, what was the reason behind the dismissal of her previous marriage? Was she having an extra marital affair with 007 actor Craig? Stay with us as we explore her life events one after another.
Why did Rachel and Daniel got married privately?
Do you know, when Rachel signed a movie called Dream House with Craig in 2011 she was in a relationship with Henry Chance Aronofsky. It means she chooses Daniel Craig as her life partner over Aronofsky.
Though she was once ready to marry her producer boyfriend; later it turns another way when Craig appeared in her life. The meetings in the course of movies turned long term friends to lovers, and now Craig and Weisz are a happily married couple.
See what she said about marrying the badass English Spy for the Queen "Bond-----James Bond."
Rachel and Daniel are one of the most private couples in Hollywood and rarely appears in public together.
Rachel tied the knot with James Bond star in June 2011, and their wedding was private because she wants to "protect" their relation from the public eyes.
Here is what the famous actress Rachel said to the media:
"He's just too famous. It would be a betrayal. You have to protect your marriage."
Rachel and Daniel during the photo shoot
Source: Pintrest
The couple tends to slip away from the media radar and live a low profile life despite being one of the most appreciated actors in the Hollywood industry. They did put on a rare public display of affection at the premiere of Specter at the Royal Albert Hall in October.
Rachel and Daniel relationship
Rachel and Daniel were friends for several years. And if you remember, the real life couple shared a film set together in the movie Dream House. They were rumored to be in a relationship since November 2015, but they denied they denied the controversy.
As per an insider, Rachel wants to keep her relationship private, so that nobody could interfere in their personal matter.
Daniel past relationships
Before Rachel, Daniel married actress Fiona Loudon in 1992 with whom he had a daughter Ella Craig. The couple's relation didn't go long as they divorced after two years of their married relation in 1994.
Daniel married actress Fiona Loudon in 1992 with whom he had a daughter Ella Craig
Source: Pinterest
After the divorce, he was romantically linked with a German actress Heike Makatsch for about seven years. But the couple separated shockingly; without sighting the reason behind their separation.
Daniel with his girlfriend Heike Makatsch
Source: Pintrest
After that, he subsequently dated Satsuki Mitchell. As Craig is known to be a dedicated man unlike the character, he portrays as British special agent James Bond who makes out and kills his girls usually; dated his producer girlfriend for about five years 2005 to 2010.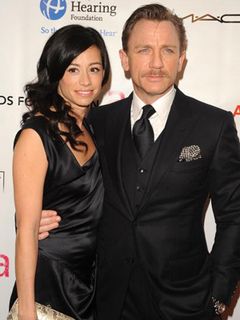 Daniel with Satsuki Mitchell
Source: Pintrest
Rachel during an interview revealed how a person's point of view towards relationship changes with the change in time:
When you're young, you tell your girlfriends everything. One of the great pleasures of not being an adolescent is that you don't have to share everything. When you're married, that door closes. The audience goes, and you're in your own life." Rachel Weize.
So, this was a short take on everyone's favorite actress Rachel Weisz and James Bond actor Daniel Craig, for more crispy gossips and tea time chats keep up with the team Frostsnow.