Brock Edward Lesnar, a.k.a. Brock Lesnar, is an American born wrestler, and former football player. The martial artist is married to a model, and former wrestler based in the United States Rena Marlette Lesnar, also known by her stage name Sable. The pair has been together for past 15 years after they met in WWE. Brock and Sable, who already have children from their previous relationships, have two children together and currently reside in Maryfield, Saskatchewan.
Brock is best known as the beast on the ring because of his aggressive and non-forgiving nature. Likewise, reports claim that he is quite similar in real life too. Many fans have shared their bad experience while approaching Brock and his wife Sable in public. Let's just say, they are not the kindest when fans approach them.
Here, we are going to share some information about Brock Lesnar's marital life with Sable, their children, and Brock's past affair.
Brock Lesnar married life with Sable and their children
Brock Lesnar and Sable first met each other back in 2003. The pro wrestler made a comeback in the ring after she left WWE and sued the company for harassment in 1999. The pair who have an age difference of 10 years started dating in the same year.
A year later, Lesnar decided to take things to the next level. However, the engagement did not go very smooth as Lesnar soon called off their engagement.
Watch Brock Lesnar meet his wife Sable backstage
However, at the end of the day, they did get married. They tied the knot after 2 years of getting engaged on 6th May 2006.
Moreover, after two years of getting married, the pair had their first child, a son named Turk on 3rd June 2009. He is currently 8-years-old. In the following year, on 21st July 2010, they welcomed their second child into the world, a son named Duke. He is 7 years old now.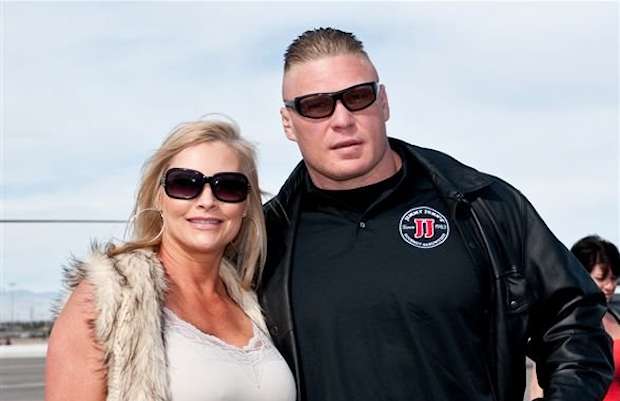 Brock Lesnar with wife Sable Source: Sportskeeda
Moving on to 2018, the couple are still together and it has been more than 11 years since they got married, and they have been together for the past 15 years which is amazing. Likewise, there are no rumors about the duo splitting or getting a divorce. Good for them.
Brock Lesnar's relationship with ex-fiance Nicole McClain
Brock was previously in a very serious relationship with model and cancer survivor Nicole McClain. The relationship was so serious that the couple even had children together (gasp).
Brock Lesnar with ex-fiance Nicole McClain Source: Nicole McClain
The exact date of when the duo started dating is unknown, but they were in a relationship for a very long time which later turned into an engagement. The pair welcomed their twins Luke and Mya in 2002.
However, the relationship ended soon after the birth of their children, and they parted their ways.