The youngest sister of the Kardashian clan, Kylie Jenner is definitely the girl to keep our eyes on. She is the craziest one in the family and is making her way to the top in the industry with her exclusive fashion choices.
Kylie Jenner is an American television personality best known for appearing on the E! reality show Keeping Up With The Kardashians, the show ruled by Kim Kardashian, Kylie's elder sister. She is also a socialite, fashion designer, and a fashion model.
Kylie has always been a risk-taker when it comes to fashion choices. Her fashion sense brings out the best among people. Millions of people including her elder sisters; Khloe Kardashian, Kim Kardashian, Kourtney Kardashian, and Kendall Jenner tend to follow her styles.
If you, 'fashion lover' people want to get some tips and ideas regarding her dressing sense, we are going to reveal them to you. Here are killer street looks of the bombshell Kylie! Check them out!
Also Read: Kim Kardashian and Kylie Jenner Topless in New Kylie Cosmetics Video
Kylie's out and about stylish outfits while on the street
Kylie is now a burgeoning style icon. Because she always impresses the media with her new experimentation on her clothing and also succeeds bringing out tasteful fashion trends.
We always hear news about her glammed up red carpet looks, but let's also focus on her casual street looks. Although, they are not casual like we imagine for ourselves. Her casual street styles are one eye-popping getup.
So, people, fasten your seatbelt and get ready for a ride through Kylie's stunning street style!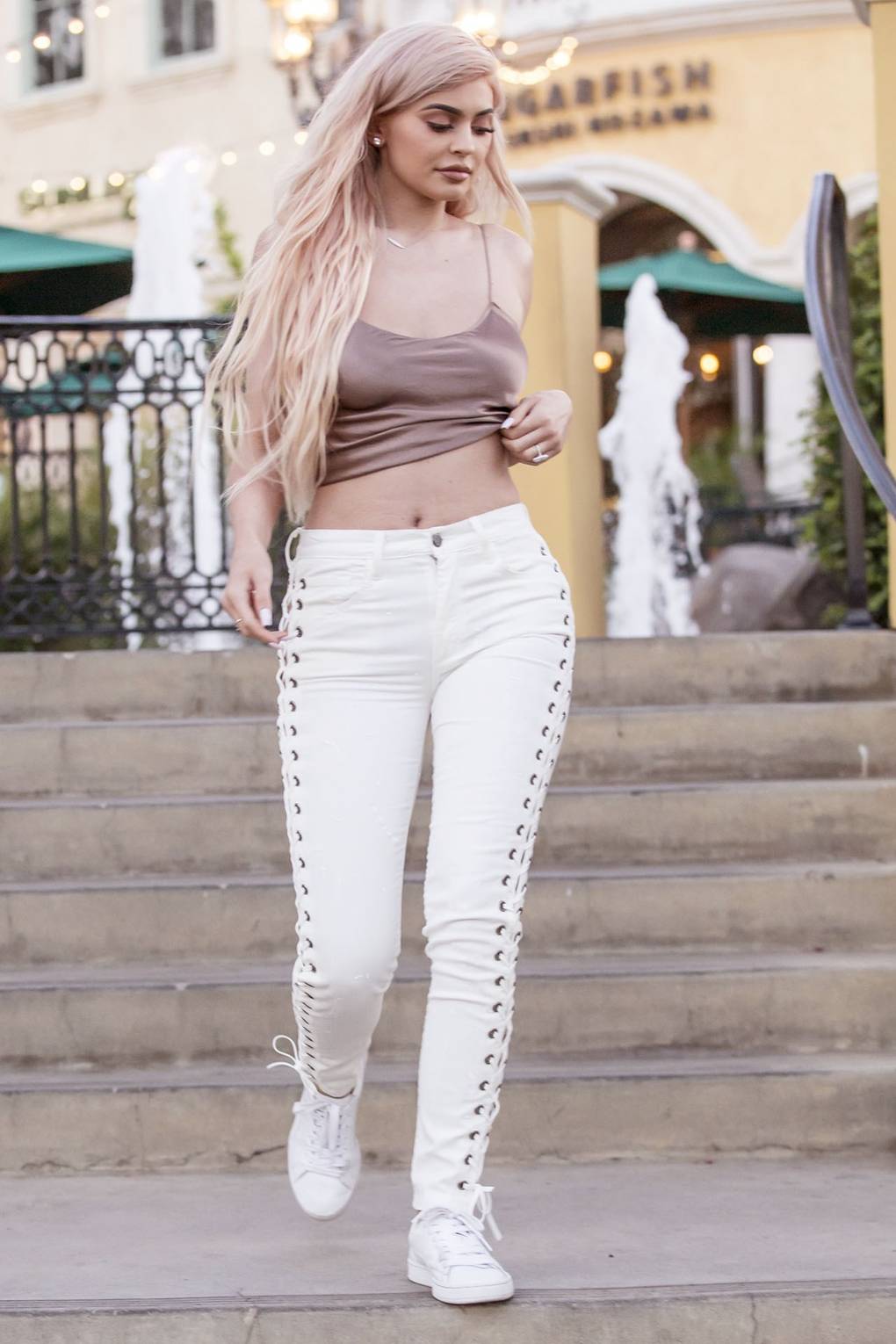 Kylie Jenner, the youngest sister of Kardashians family
Source: GLAMOUR
The TV star stepped out with her new rose gold hair. She looked all fab with her skinny white lace up jeans and matched it up with a dusty pink crop top. Here, she kept a low profile wearing a white trainers shoes.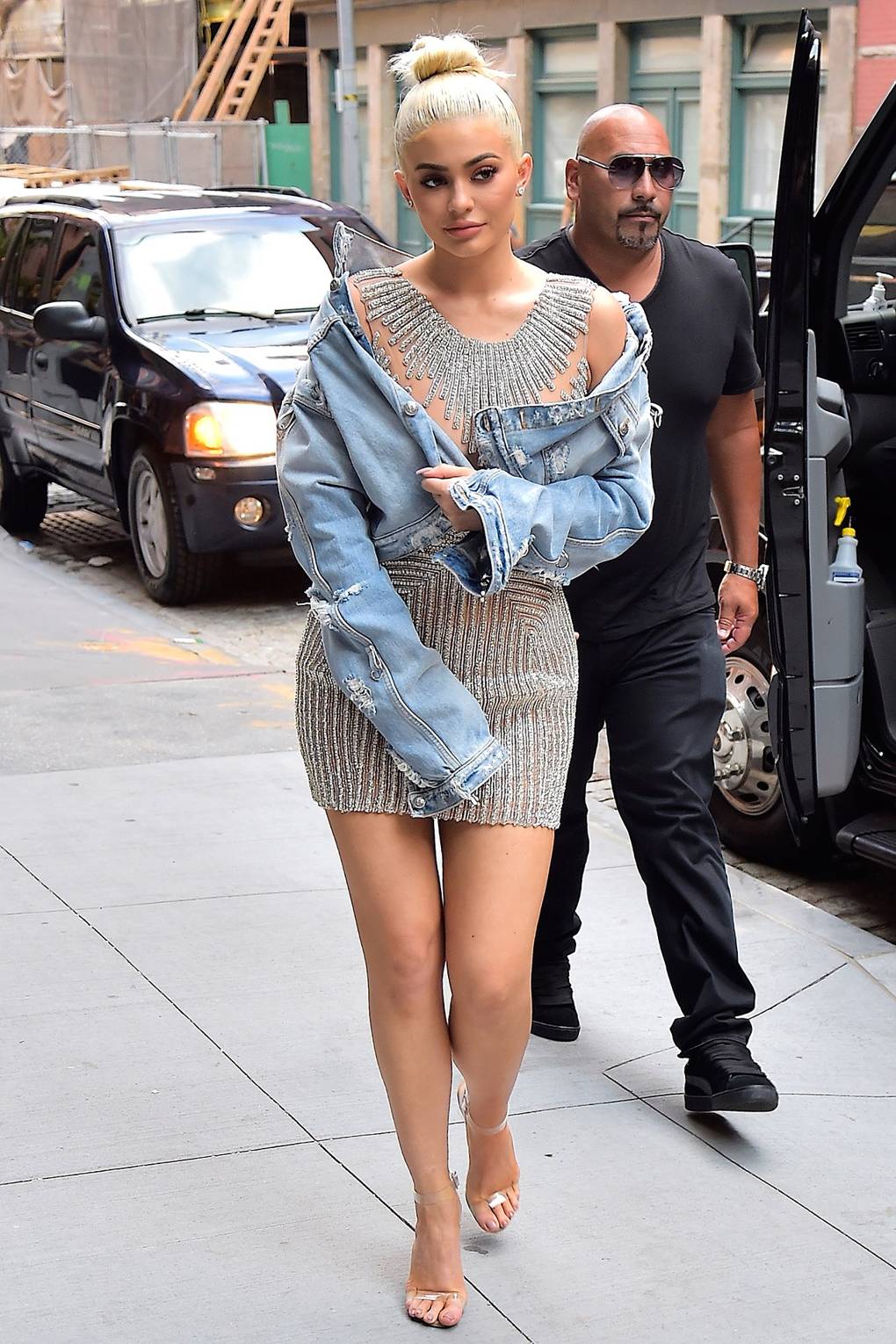 Kylie Jenner, with her stylish street looks
Source: GLAMOUR
Here she is, totally rocking her sparkly mini dress with a grunge denim jacket to go over. And we can't take our eyes off her transparent sexy sandals. She has her hair tightly combed up to a bun which totally matched her outfit.
Also Read: Kim Kardashian and Kylie Jenner have Similar Style, Find out The Met Gala Dresses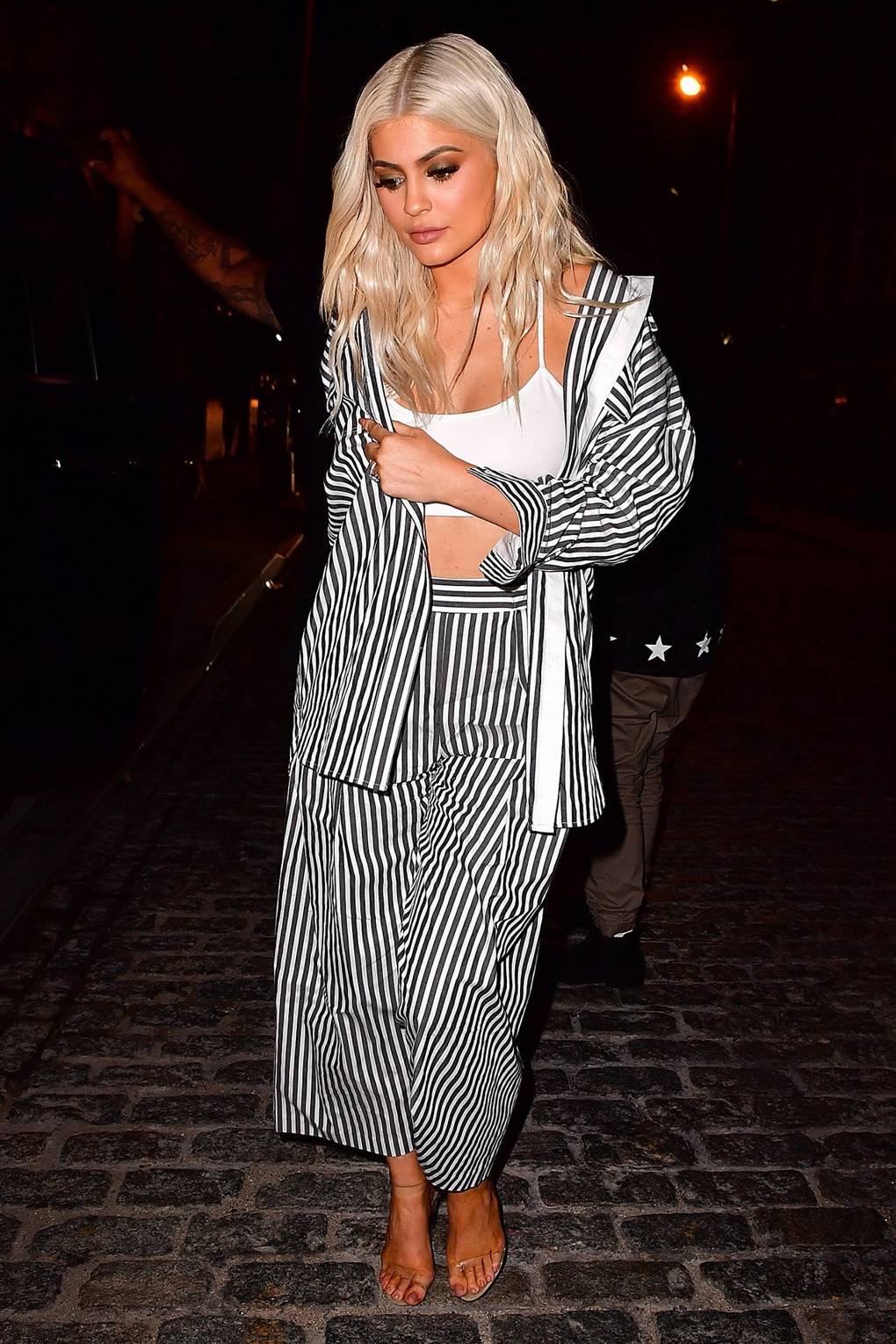 Kylie Jenner, a fashion risk taker
Source: GLAMOUR
Check out her summer night look in a loose striped shirt and cropped trousers. She went classic wearing black and white color in New York City.
Also Read: Kim Kardashian shares how she helped Caitlyn Jenner get styled for the ESPY awards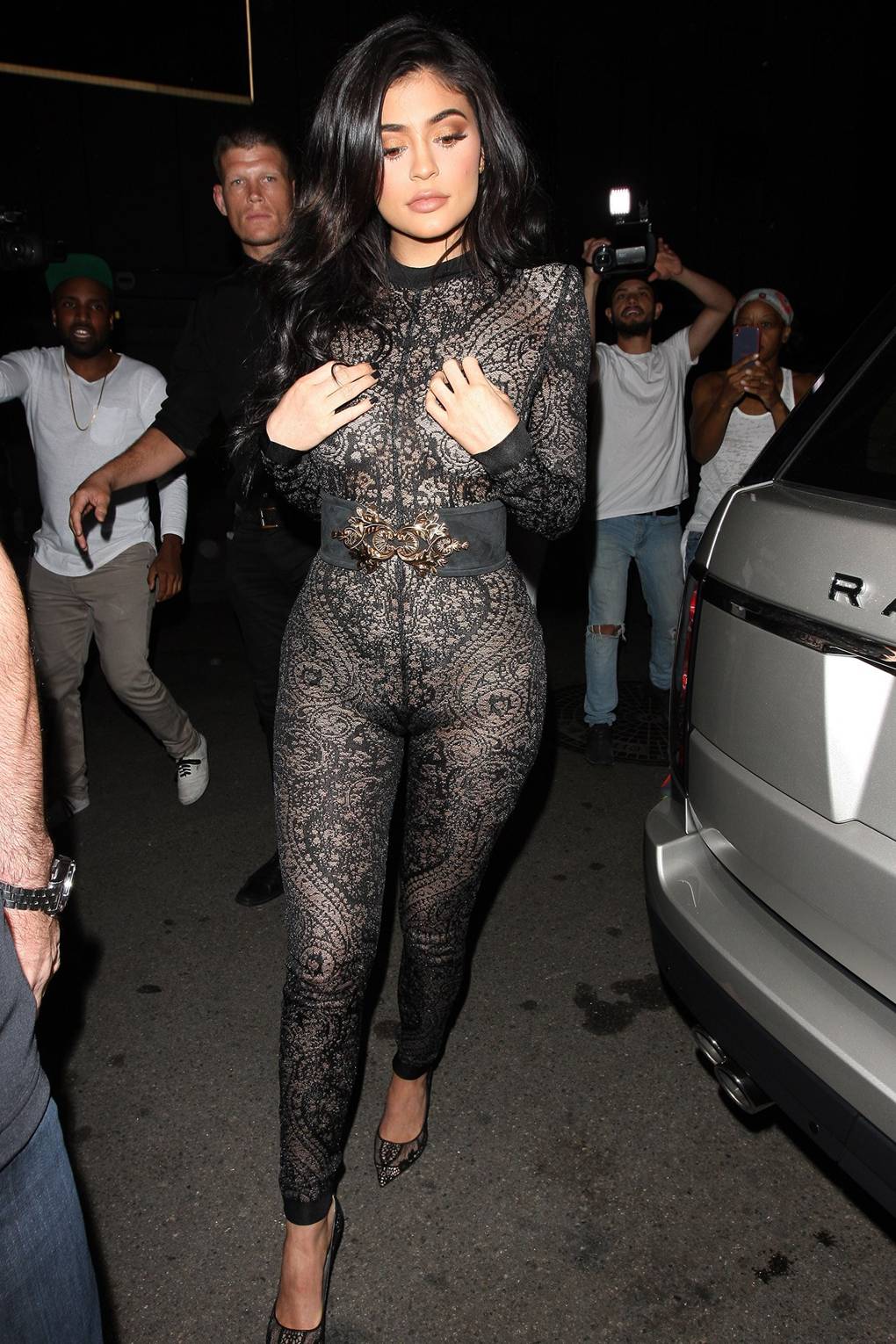 Kylie Jenner, an American television personality
Source: GLAMOUR
It was her last year look when she had her black hair. Well, she went high profile with a sheer Balmain catsuit, all ready for the dinner with her family at Nice Guy in Hollywood in July 2016. Kylie totally rocked her black printed sexy outfit and had a matching cock shoes to go with.
Also Read: Kim Kardashian and Kylie Jenner have Similar Style, Find out The Met Gala Dresses
A socialite Kylie Jenner
Source: GLAMOUR
The above is Kylie's typical urban streetwear look. She had a body-hugging T-shirt, thigh high boots with a small bag pack. Let's not forget about her metallic blue hair as well. She really adores those thigh high boots!
Also Read: HER REVENGE BODY Khloe Kardashian Strips Down To Flaunt Her Fitness Result, See Pic!
These are her fabulous street style look. Let's learn some of her styling tips.
Crazy-Cool Style Tricks from Kylie's Streetwear
Kylie is all about fashion. If you are in trouble choosing out your outfits for a day out or even night, then Kylie's look is the one, which you can refer to. Let's see what ideas, tips she delivers regarding style which can apply to any girl in the world. Who knows, boys could also get some tips? ;)
A fashion model Kylie Jenner
Source: Pinterest
When in doubt, go for a bold belt! Like Kylie is wearing a lose questionable dress here but she totally complimented the dress with a thin golden metal belt. Way to go girl! Search for a local thrift shop for a vintage belt like Kylie.
Also Read: Scott Disick and Ella Ross spotted together after Kourtney Kardashian Started Dating
A fashion designer Kylie Jenner
Source: The Daily Mail
Leather pants will never get bored. You even don't have to wear chic tops. Something simple will also look good with leather pants. You should start wearing them. They go with every shoe; heels, sneakers or boots. Just like black leggings. Come on, come on, girls, go get your pairs!
Also Read: Kendall Jenner gets bold as she goes braless to flaunt her new piercing in New York
Source: www.seventeen.com
Girls might be more relevant with this look as it is going viral. Just throw on your sleek sneakers and make your dress feel laid-back.
Also Read: Kendall Jenner Shows Her Assets In Sheer Gown At Met Gala 2017
Source: The Jeans Blog
Denim! Denim! Head to toe. Every fashionista's favorite neutral. Kylie chose denim, and yes, they never go out of style. So, save your denim in your cupboard!
Also Read: Model Kendall Jenner malfunction in Paris, her rumor, book and show
Source: WhoWhatWear
Sweatpants can be totally chic. It's not too cheesy to go with an athletic look once in a while. Just remember to pair the look with a stylish side bag or some accessories.
Have a look at a collection of Kylie Jenner fashion street style lookbook in 2016;
If you remember, Kylie has not let go of her badass goggles. Have some of them with you too girls!
So, this, is our emerging fashionista Kylie. Hope you learned a lot from her style.