Alex Saxon is a young star of Hollywood and like every other celebrity his personal life and relationship information is very much wanted. He is very much secretive when it comes to his personal life and relationship.
Even though Alex is liked by many people, we can hardly hear the news related to his private issues and his emotional attachment with any female. A few years back he was said to be dating an Australian singer and actor. So what about now?
Alex Saxon and his personal life and love affairs
Alex Saxon was born on 10 September 1987 in Liberty, Missouri, United States of America. According to Famous birthdays, the 29-year-old attended William Jewell College in Liberty, MO and majored in Psychology and Applied Critical Thought and Inquiry.
Alex was very much passionate about acting from a very early age and began stage performances since the age of eight. 'The Olivia Experiment', 'Chapman ' and 'Compound Fracture' are some of the movies he has featured in till now and 'Awkward', 'Ray Donovan', 'The Advocates', 'Finding Carter' and 'The Mentalist' are some of the television series of Alex. Currently he is playing his well-known role of Wyatt in the TV show 'The Fosters'.
Know about Alex Saxon relationship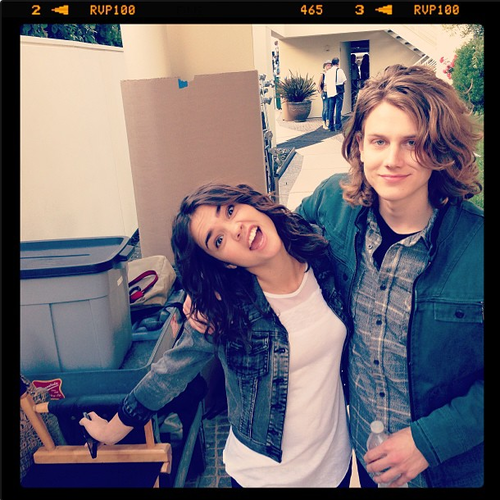 Caption: Alex Saxon with his girlfriend
Alex Saxon is very secretive about his life so, his personal and dating life information can hardly be found. A few years back, he was said to be dating an Australian actress and singer but the information about his previous girlfriend is not available.
In one of the interviews for Seventeen, Alex Saxon revealed that once he brought his crush back to an old van in the woods in Missouri that only he and his friend knew. "I'd wanted to kiss her for a very long time', he added."It was kind of spectacular in that respect." And that was his first kiss.
Similarly, Alex explained how his dream date would be like. He told, "The best dates (I've had), it didn't matter what the plan was, whether it was just a walk or a trip to an art museum, I like going someplace where you can talk and get to know the person and everything else kind of dissolves around you."
According to Who dated who, Alex Saxon is probably single as there is no any news of him getting romantically involved with any female. There is not even a record of his past relationships. Till now, it is hard to find the recent rumors of Alex dating or having a relationship with any girl.
As many of his personal life is undisclosed maybe he doesn't want to flash the news of his dating life too. He wants to keep this information away from everyone so that it could be long lasting.
We wish Alex all the best in his future endeavors. Want to wish him too? Please, leave the comments below.