We know all of you have already watched the Spiderman movie, but if you have not, you need to go and watch the best performance of Kirsten and Toby. The face of Kirsten Dunst might not be the new face for you. Recently, she attended the premiere of her new movie The Beguiled along with her co-stars Nicole Kidman and Elle Fanning and praised Sofia Coppola.
Kirsten Dunst is now all set to get married to the Fargo co-star as well as her long-time boyfriend, Jesse Plemons. A few weeks back Kirsten Dunst flaunted her sparkling engagement ring when photographers asked for her close-ups of the ring during Paris Fashion Week on Monday.
Let's learn more about her personal life. Just stay with us.
Kirsten Dunst Is All Set To Get Married With Jesse Plemons: Flaunted Her Engagement Ring
Get ready for the ringing bells of Kirsten Dunst people.
Besides being an on-screen couple, Kirsten Dunst and Jesse Plemons is also an off-screen couple for past few months. And now they are taking their relationship to the next level. Yes, guys! Now, they are not just a boyfriend and girlfriend couple, but they are all set to be husband and wife.
According to E! News, Dunst has tipped the world off by flaunting her diamond ring at the Palm Springs Film Festival. Here's that video.
Aged 34, Dunst first struck with 28-year-old actor Jesse Plemons during the second season of FX's Fargo where they played as a married couple; Peggy and Ed. Their romance rumors were first fueled when they were caught kissing on L.A.'s Studio City on 29 May 2016.
Upcoming husband and wife couple; Jesse Plemons and Kirsten Dunst
Source: usmagazine
None of the actors confirmed their relationship until October 2016 when Dunst announced his love affair with Jesse during the show PaleyFest at the Paley Center for Media in New York. She said;
It was a gift. I loved Kirsten's work for a long time, and I was really excited once I'd met her, and she's a great person. We're both actors that just … have fun with the material.
This marriage will be the first wedding for both. However, Dunst was previously dating an actor Jake Gyllenhaal before getting engaged with Jesse Plemons. She started dating him in 2002, but their relationship didn't last more than two years, and they split in 2004.
Dunst was also rumored to date two renowned celebrities Tobey Maguire and Garrett Hedlund in the past, however, the reality is still behind the curtain.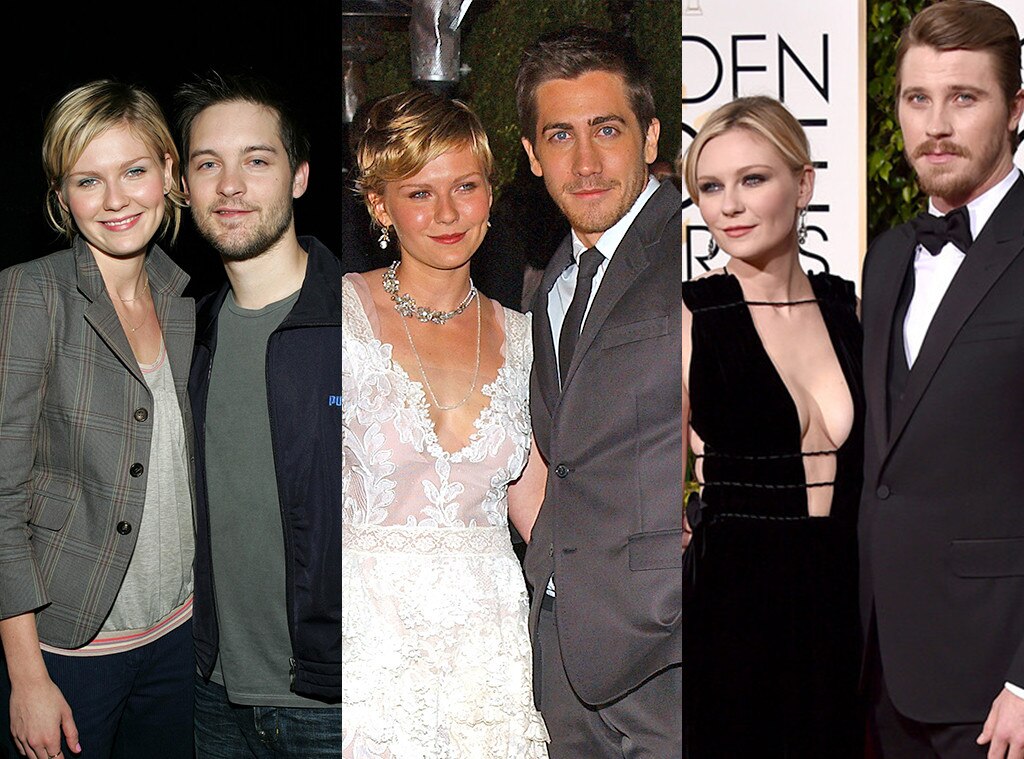 Spiderman star Kirsten with actors; Tobey Maguire, Garrett Hedlund, and Jake Gyllenhaal
Source: eonline
With an extreme beauty and talent, Kirsten Dunst successfully earned millions of fan followers and well wishers. Here's an Instagram post with a get well soon caption posted by one of her fans while she broke her ankle. Check it out.
We wish her all the very best for her new beginning of life with Jesse Plemons, and we hope they never have to split anymore. For more updates, stay connected with Frostsnow.