Kimberly Innocenzi is the wife of former baseball player and manager, Joe Girardi. The couple is married for 28 years and is the parents of their 3 children. 53-year-old Joe Girardi who played professionally from 1989 to 2003, also worked as an MLB team manager from 2006 to 2017 before his retirement.
Along with an attractive career record and an estimated net worth of $15 million, Joe Girardi also shares some interesting love story of his own. Want to know more about his relationships, married life, and affairs? Scroll down.
Kimberly Innocenzi and Joe Girardi's Married Life
Innocenzi met her husband Girardi at Northwestern University at the Alpha Tau Omega fraternity house. Soon after they became friends, the affair between them bloomed and started dating throughout the college.
Reportedly, Girardi's mother died while he was at college and Kimberly Innocenzi helped Joe a lot. The couple's love story continued even after the college and after 3 years of graduation, Joe Girardi proposed Kimberly Innocenzi.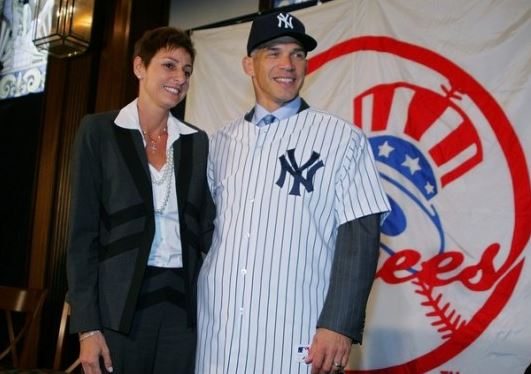 Image: Kimberly Innocenzi with her husband Joe Girardi
The year of their engagement, in 1990, Joe Girardi and Kimberly Innocenzi got married. The wedding took place in Evanston, Illinois.
And it's been nearly 28 years since their marriage, Joe and Kimberly still are free from the mishaps of divorce in their relationship. The couple is also free from the records of past affairs.
Innocenzi's husband Girardi is a 1964 born Major League Baseball's New York Yankees' manager. In the past, he played for clubs such as the Chicago Cubs, the Colorado Rockies, the Yankees, and the St. Louis Cardinals. He was also the manager of the Florida Marlins in 2006. He got the title of the National League Manager of the Year for his outstanding devotion towards Florida Marlins.
Image: Kimberly Innocenzi with her husband
The couple with a healthy relationship is also blessed with 3 children. Let's know in details.
Kimberly Innocenzi and Joe Girardi's children
Talking about their children, Innocenzi and Girardi have 3 children together: 2 daughters and a son. Kimberly gave birth to an angelic daughter, Serena in 1999 who is 19 years old now. The couple welcomed a son, Dante in 2001 and daughter Lena in 2006.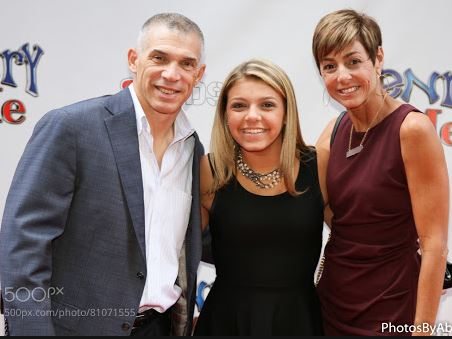 Image: Kimberly Innocenzi with her husband and daughter
It is reported that Joe Girardi's children are named after his former teammate Dante Bichette, and Lena.
Well, many of us are unaware that while Kimberly was pregnant back in 1997, she miscarried in her 10th week of pregnancy.
That time was tough for the couple though it later rang the bell of happiness after Joe found out that Kimberly was again pregnant with first daughter Serena in 1999.
Currently, the family of 5 lives in their house in Purchase, New York.
Chances Of Kimberly Innocenzi and Joe Girardi Divorce?
It has been nearly 28 years of Girardi and Innocenzi's togetherness as a husband and wife. Despite spending so many years together, their relationship is going really well without any divorce issues. Girardi has always been faithful towards his wife. Therefore, he never dated any other woman or cheated on his wife.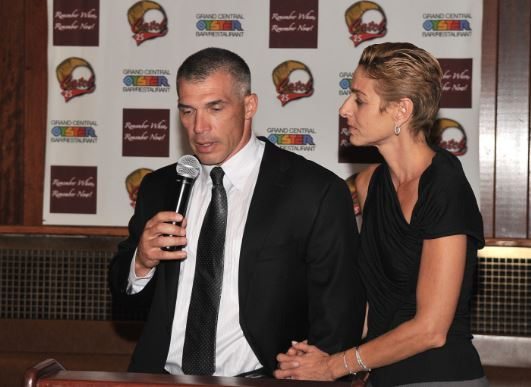 Image: Kimberly Innocenzi with Joe Girardi
During an interview with dailynorthwestern.com in 2010, Girardi said:
She's been the wind beneath my wings, which was the song at our wedding.
Moreover, he even confessed that his wife Kim led him to the Lord, providing him with a new type of strength which gave him strength when he was going through very difficult times in his life. In 2015, Girardi also said that he is very protective of his family as much as he is protective of his players.
Probably not, the case seems. We wish the couple best for further.
Do you think that they will divorce soon? Leave your opinion in the comment box below.