As we all know that Kanye West and his wife Kim Kardashian already have two lovely children. It seems like the West family is trying to add another member to the family. If so then we wish them luck.
Their first child is a daughter named as North West who is three years old at present. And the baby girl North has a baby brother, Saint West who is just 2 years old.
Both their kids are so lovely and it seems like they might be getting a baby brother or sister.
If so then Saint, the younger child might no longer be the younger member of the family. It seems like the kids have to share the love they are getting from their parents.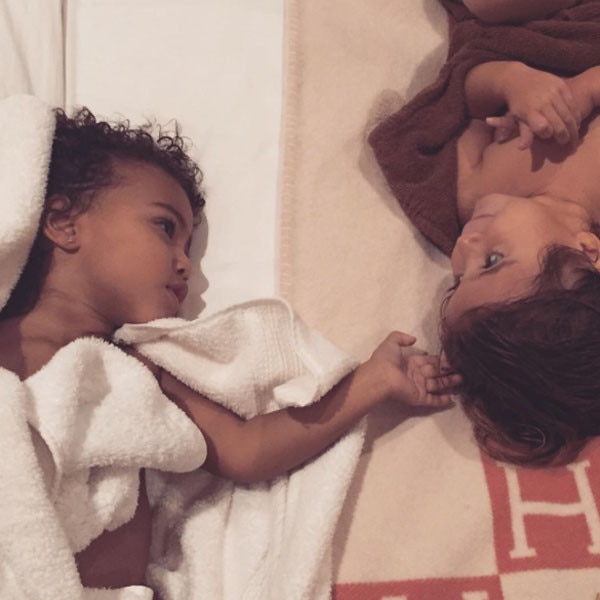 Image: North West and her baby brother Saint West
Source: E! Online
Aren't they adorable? Of course, they are.
We also have a picture of North West which was tweeted by her father Kanye.
The news got into public when 37 years old Kardashian West mentioned that she is struggling with the possibility of a high-risk pregnancy.
Also read, Kim and her husband Kanye show no sign of separation.
Kanye West's wife Kim Kardashian's Struggle During Her First Pregnancy
We came to know that Kim experienced high-risk pregnancies with both of their children, North and Saint. She delivered North six weeks earlier due to the cause of preeclampsia which creates high blood pressure.
She also mentioned that
"It was the most painful experience of my life"
We have footage of Kim's interview from "The Ellen Show" where she explains her experience of her first pregnancy.
Wait, there is more to the story, she mentioned in the show (The Ellen Show) that she wants about six kids after she gave birth to little North. It seems like she got fond of kids after North came to her life, although she went through a lot during the delivery.
After their kid North's birth
During the delivery, Kanye's wife Kim developed another condition, placenta accrete, later she went through different surgeries to remove the traces of the placenta from her uterus.
The details were given by Kanye's wife Kim, as she wrote on her website.
Kim's Struggle wasn't over yet: Kim and her husband Kanye's second baby
It wasn't over yet. She relapsed from the placenta accrete again in the course of her second delivery, poor Kim. As she went through so much during her both pregnancies, she should be a bit careful while making a decision of having another baby.
Here is the picture of Kim's kids with her husband Kanye.
Image: Kanye West with his wife Kim Kardashian West and their children
Source: New York Magazine
Also read, About Kim and her ex-husband Kris Humphries.
No wonder Kim and her husband Kanye wants another baby in their life as they have such lovely kids.
It's Kim and her husband Kanye's decision whether they are ready for another child or not, we are just here to pray for their good life.
Kanye and his wife Kim's plans for another baby.
Therefore, it's clear that Kim might face some more difficulties if she is planning to add another sibling to her family, as she mentioned in the preview of KUWTK. As her doctor warned Kim by saying,
You are always taking a little bit of a chance.
Also, the doctor mentioned in the show KUWTK that,
There are situations where retained placentra could be life or death.
If our goal is to grow your family like you want to, then a surrogate makes sense.
Kim seems to be getting what the doctors are trying to say to her. And also she thought of exploring the procedure of surrogacy. And that decision seems to be wise as It's just not about adding the member in the family, Its more about the risk that that surrounds her life.
Watch the video in order to find more about Kardashian's life.
Also, Kim's sister Kourtney Kardashian seems to be quite supportive of the idea of surrogacy as she is willing to carry Kim's baby for the sake of her sister. Kourtney seems to be quite generous and loves her sister Kim.
Later, Kim and Kayne found a surrogate outside of the family, and the couple is now expecting their third child, a baby girl, which due date is late 2017.
We hope the best for Kim and her husband Kanye. We wish them luck for their future baby if they are really planning to have one. We would just like to suggest to follow the safe path of life doesn't come easy.