Kim Dong-hyub from the South Korean romantic comedy TV series The Gentleman's Dignity is none other than the popular Korean actor and model Kim Woo-bin. He debuted in the popular Korean Drama TV Series Drama Special White Christmas and action-comedy movie Runway Cop. Kim is involved in a long-term relationship with an actress Shin Min-a.
Read the full article to know about Kim and Shin's love-life and rumors.
Kim and Shin featured together for the first time in a Brand Giordano
Kim, 27 and Shin, 32, both are the renowned actors of South Korea. The couple knew each other from a long time, but they worked with each other for the first time in the clothing brand Giordano's commercial ad.
Video: Kim Woo Bin & Shin Min-a for Giordano
The couple looks beautiful together, however, they were not in the relationship until the video shoot. You know someone is very special to you when the days just don't seem right without them. The same thing happened with the on-screen couple. They fell for each other by the completion of the shooting. Shin Min-a is a Korean model, dancer, and actress who is famous for My Love My Bride.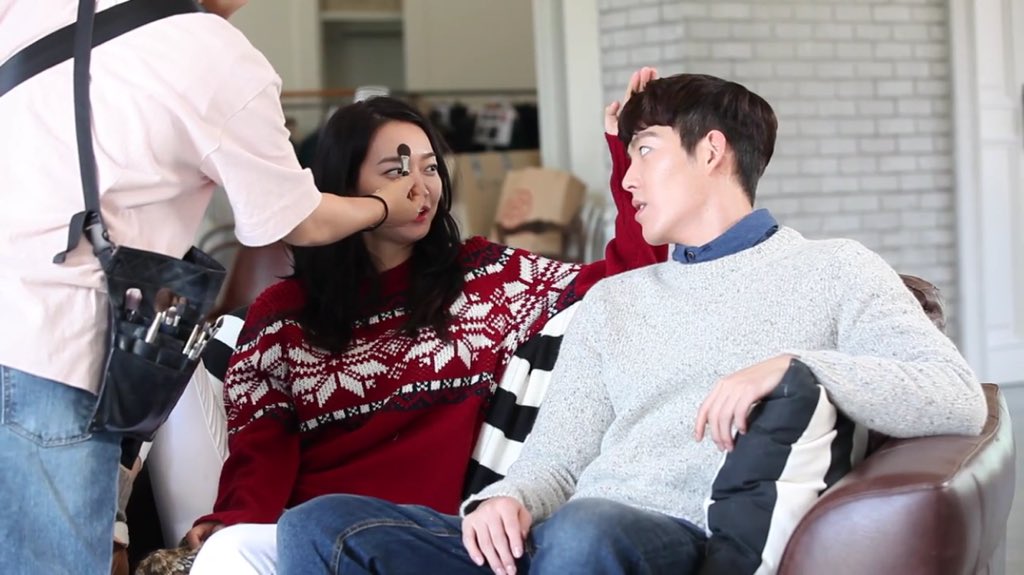 Shin Min-a and boyfriend Kim Woo-bin during their photo shoot?
Source: Twitter.com
Kim and Shin were secretly dating each other in May 2015
Kim and Shin were frequently spotted together after the release of the Giordano video. In the video, the couple looks very comfortable and perfectly cozy with each other. Kim's romance with Shin in the video created lots of rumors among the audience.
Shin Min-a secret date with Kim Woo Bin
Source: Lockerdome.com
Everyone wants privacy in their personal life and these two were no exception.? The couple was secretly dating each other since May 2015 just after the release of the video. But, the couple did not disclose anything about that in the media.
Kim confirms his relationship with Shin in July 2015
On 22nd July 2015, Kim's agency, Sidus HQ, confirmed that
the two actors are seeing each other with good feelings
Shin also confirmed the news about her feeling towards Kim. The Korean Channel Dispatch showed a couple of photos of Kim and Shin together as the secret breaking news.
Kim Woo-bin and his girlfriend Shin Min-a in her parking lounge
Source: Drama Fever
Kim was seen in Shin's parking Garage where he was there to pick up his girlfriend. The photos shown by Dispatch gave the audience an idea about their secret relationship and how much the couple spent their time together.
Kim is soon getting married to Shin
Kim started dating Shin almost two years back. Though Kim is five years younger than his girlfriend, the couple has a wonderful bond together. The couple is rumored to be soon marrying each other. And if this is true we will be a happy bunch of people dancing to their wedding news.
According to World Today on Nov. 16, 2015, the recent survey of professionals in the wedding industry said that they wished Kim Woo Bin and Shin Min Ah to marry in spring more than any other celebrity couples.
We wish this meant to be together couple all the very best for their future and hope they soon get tied up into a more strong relationship bond and soon surprise us with some good news. All the best guys!