Dove Cameron's relationship with her former boyfriend Ryan McCartan was known by many as the pair was even engaged. However, not many know that Cameron' and her Cloud 9 co-star Kiersey Clemons, was once talk of the tow regarding their relationship.
When Cameron was spotted holding hand and kissing McCartan, it blew everyone's mind. Due to Cameron's lip lock with Clemons, everyone assumed Cameron to be bisexual. So is Cameron really into girls? What's going on with Clemons? Let's find out:
Dove Cameron kissed Kiersey Clemons
On 15th January 2017, Cameron celebrated her 21st birthday with her pals. She spent the weekend in Las Vegas with the 'Cloud 9, a 2014 Disney Channel Movie, Kiersey Clemons. Cameron and Kiersey got a matching tattoo, held hands and even smooched which was proved by the snapchat they shared.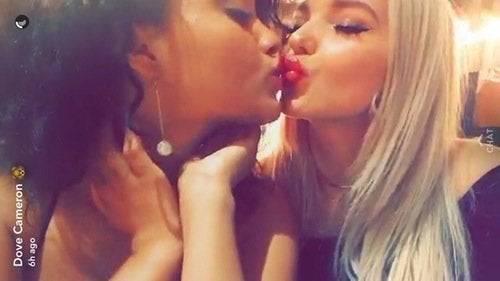 Image: Dove Cameron and Kiersey Clemons kissing
Source: Huffington Post
Everything was ok up to it but when Cameron asks Kiersey to kiss her, Kiersey actually obeys and kisses. This made everyone crazy. We know, you might be thinking that they could have kissed each other as best friends because best friends do that often, but the Cameron has been continuously sharing Tweets which suggest things are otherwise.
Dove Cameron Twitter likes
Cameron's online activity made a lot of her fans suspicious about her sexual preference. She liked various tweets that asked to hit 'like' if she was bisexual.
Image: Dove Cameron and Kiersey Clemons
Source: Just Jared
This is a very huge and unexpected reality of someone who was in a very serious relationship with a guy for years. Honestly, no one even had a slight hint of such thing from Cameron.
Dove Cameron dating someone new
On the other hand, Cameron hasn't talked about anything regarding her relationship with Kiersey. She hasn't addressed her fans confusion about her kiss. In fact, she has kept it clean on Instagram as well. Rather, Cameron often posts photos of a guy with whom she is seen hanging out, spending time and even getting really cozy.
The guy is often seen planting kisses on Cameron's cheek and nose. Looking at their level, it seems like they are dating for real. But Cameron hasn't added any caption that makes us sure that the two are in a relationship.
Well, it's pretty amazing when someone as famous as Cameron lets her fan into her personal life, Likewise talking to the People in February 2015, she revealed her relationship status, she and her Descendants 2 costar, Thomas Doherty are dating.
She said,
We're dating. I'm keeping it sort of… we're keeping it to ourselves, because everything is just so more romantic and real when it's yours and it's private,

So we are keeping the details to ourselves, but yeah, we're dating.
We hope all the best for the couple.