Guess who's in the news once again? While Kardashian's hot gossips always buzz up the media, there is an another interesting gossip recently made out by Khloe Kardashian. Seems like Khloe's wedding bells are going to be ringed soon.
Well, the beautiful Kardashian sister, Khloe is in a love relationship with her boy for one year and she is surprisingly ready to go, official. What's the reason behind such hurry? Stay with us to figure out the spices behind the story!
Khloe admits she's ready to marry Tristan Thompson
The 32-year-old, Khloe opened up to ES magazine that her current relation is making her extremely happy and it is unlike any other love affair she had.
Khloe with her boyfriend Tristan
Source: Daily Mail
Her beau is the 26-year-old NBA star, Tristan Thompson, who is a Cleveland Cavaliers player. They are in a relationship since February 2016. After their first meeting, they came close in a short period of time and instantly fell in love.
Tristan was linked with Jordan Craig and now has a baby son named Prince with her. Although she is now his ex-girlfriend.
The pair enjoying a romantic break in Miami
Source: Mirror
Moving on to the story of Khloe and Tristan, Khloe without any doubt announced to the public that if Tristan would get on his one knee, her answer will instantly be "Yes, I would."
It's a surprise as to how she has opened up about her personal matters like never before. But as this question was raised she answered with confidence that;
"She's never been in this type of love"
She even states that "Tristan is the one". And sources tells she is in a great rush to formally tie the knot with him.
Khloe is ready for a baby with Tristan Thompson
Khloe is very excited for her boyfriend after the news came out that he was now a father. Tristan is now blessed with a son, Prince with his ex-girlfriend Jordan. Tristan who became a father for the first time in December was complimented by the reality star Khloe. She said her basketball beau would be an "impeccable father".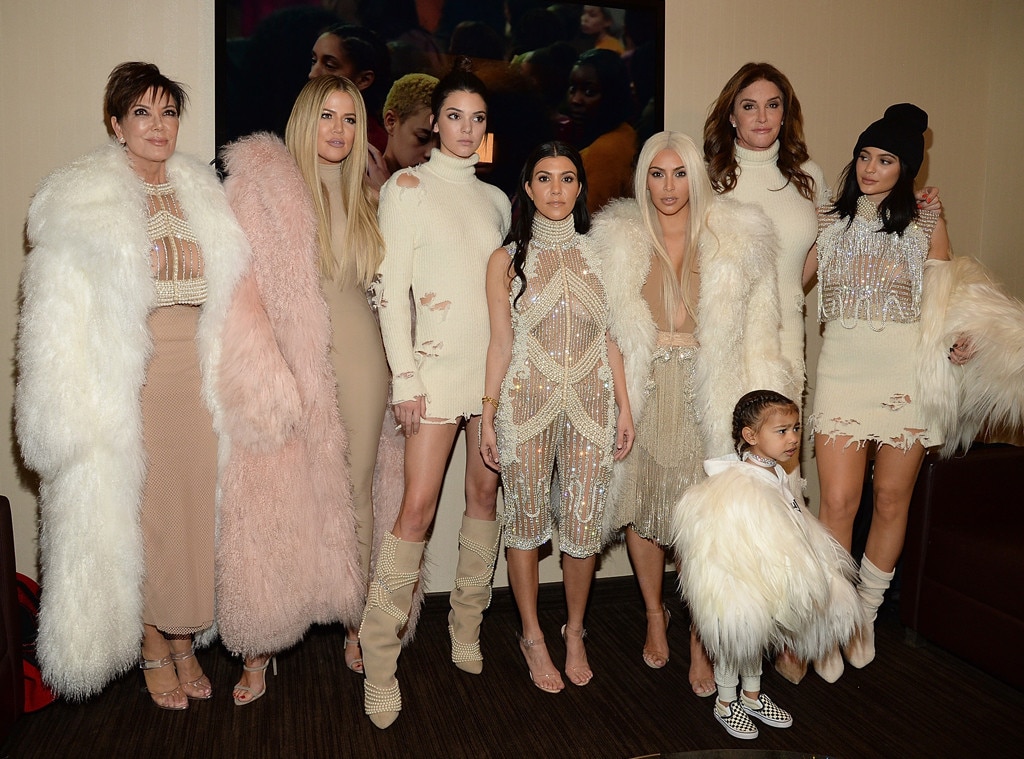 The Kardashians: From the left; Kris, Khloe, Kendall, Kourtney, Kim, Kaitlyn(Father), Kylie, North West
Source: dailymail
She added;
"I would love to have a family. We've talked about it,"
According to Life & Style magazine, Khloe stated that now is the perfect time to start trying for her first baby. She wants to have a baby with Tristan right away and isn't bothered by the fact that he just became a dad.
Always an aunt, never a mom! Khloe has definitely stood herself up as an aunt but maybe it's now time for her to become a mom as well. She will surely become a great mother like she is a great aunt.
During Jan 11 of the comedy talk show hosted by James Corden, Khloe was invited and was asked if she has found love? She replied;
"I have [found love]. I am [in love]. I'm very happy."
Aw! Who knows, maybe the two have babies in their future sooner rather than later!
Well, it is confirmed that the couple is head over heels in love and Khloe is definitely ready to take their relation to the next level.
Let's wish her all the happiness with her basketball beau and hope she will get everything she's looking for from this love!