American journalist and author Katie Couric is married to John Molner who is a very successful financier. It has already been two years of their wedding, but it looks like they tied the knot just yesterday. She was previously married to Jay Monahan.
Despite losing a husband to cancer in the past, Couric's relationship with her current husband is going really well. There is not divorce rumor between them.
Katie Couric and John Molner Married
After being engaged for some time, Couric and Molner got married on 21st June 2014. Their amazing wedding ceremony was held in the Hamptons among close friends and family.
During her wedding, Couric wore a gown by Carmen Marc Valvo. It was an attractive ivory crystal beaded and embroidered Chantilly lace gown. She looked really happy during her big day.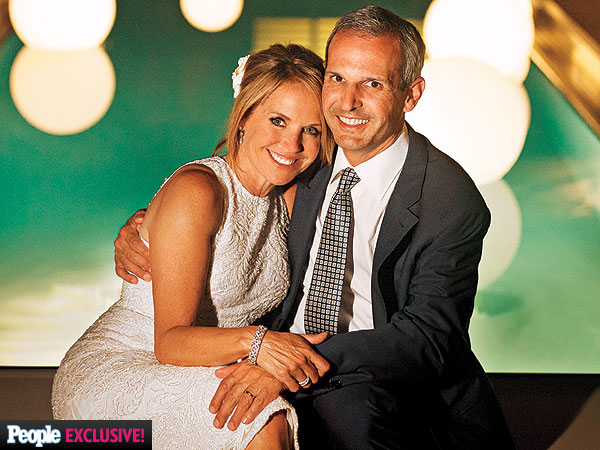 Image: Katie Couric and John Molner
It is said that it was Molner who did most of the wedding's planning. "because I thought, if this wedding was going to happen, I had to get involved," Molner joked with PEOPLE.
Couric said: "The party was so beautiful, private and special," She honored her late father, sister, and husband in her toast and shared Friedrich Nietzsche's thoughts on marriage. "I said, 'It's not a lack of love but a lack of friendship that makes unhappy marriages,' " she recalls. "But with John, I found a great husband and a perfect friend."
Image: Still from Katie Couric and John Molner's wedding
Katie Couric and John Molner's children
Talking about Couric and Molner's children, this couple does not have any kids yet. However, Couric has two daughters, Elinor Tully Manohan and Caroline Couric Manohan from her relationship with her late husband.
Image: Katie Couric with her two daughters
Similarly, Molner has two children from his past marriage. He has a son named Henry Molner and a daughter named Allie Molner.
Katie Couric and John Molner's are far away from divorce
Couric and Molner's celebrated their second anniversary last June. It has already been two years of their togetherness as a married couple, but still, their relationship is as it is as it was in the beginning. Couric never had any boyfriend or extra-marital affair which proves that she has never cheated on her husband. There is no rumor of divorce between this couple.
Image: Katie Couric and John Molner
Katie Couric's short bio:
Katie Couric was born in Arlington, Virginia, U.S.A to Elinor Tullie and John Martin Couric. She is an excellent author and an amazing journalist. She went to the Jamestown Elementary, Williamsburg Middle School, and Yorktown High School. She is a University of Virginia graduate in journalism. In 1979, she earned a bachelor's degree in journalism with her major as American Studies.