Jennifer Lynn, who is also known as JWoww, is a famous American actress. She rose to fame following her appearance in the MTV reality series Jersey Shore. The American TV personality has always been the center of attention, and this time it is for her love life and affairs.
Jenifer is currently married to her husband, Roger Mathews. The couple reportedly got married in 2015. So, how's their love life? Are they happily married together? Let's find out.
Happily married Jenni and Roger
Jennifer Lynn "Jenni" Farley also known as JWoww is a TV personality. She met Roger her husband when she was on the Jersey Shore and now the pair is happily married with two children.
Jenifer and her husband, Roger Mathews
JWoww appeared on My Almost Married Life's "Double Date" web series, she revealed that she actually met Roger during the first season of the Jersey Shore when she was stilling dating her ex-boyfriend Tom.
However, Roger and Jenni went on a date only during the season 3 of the show. They got close to each other and were already in love when season 3 ended.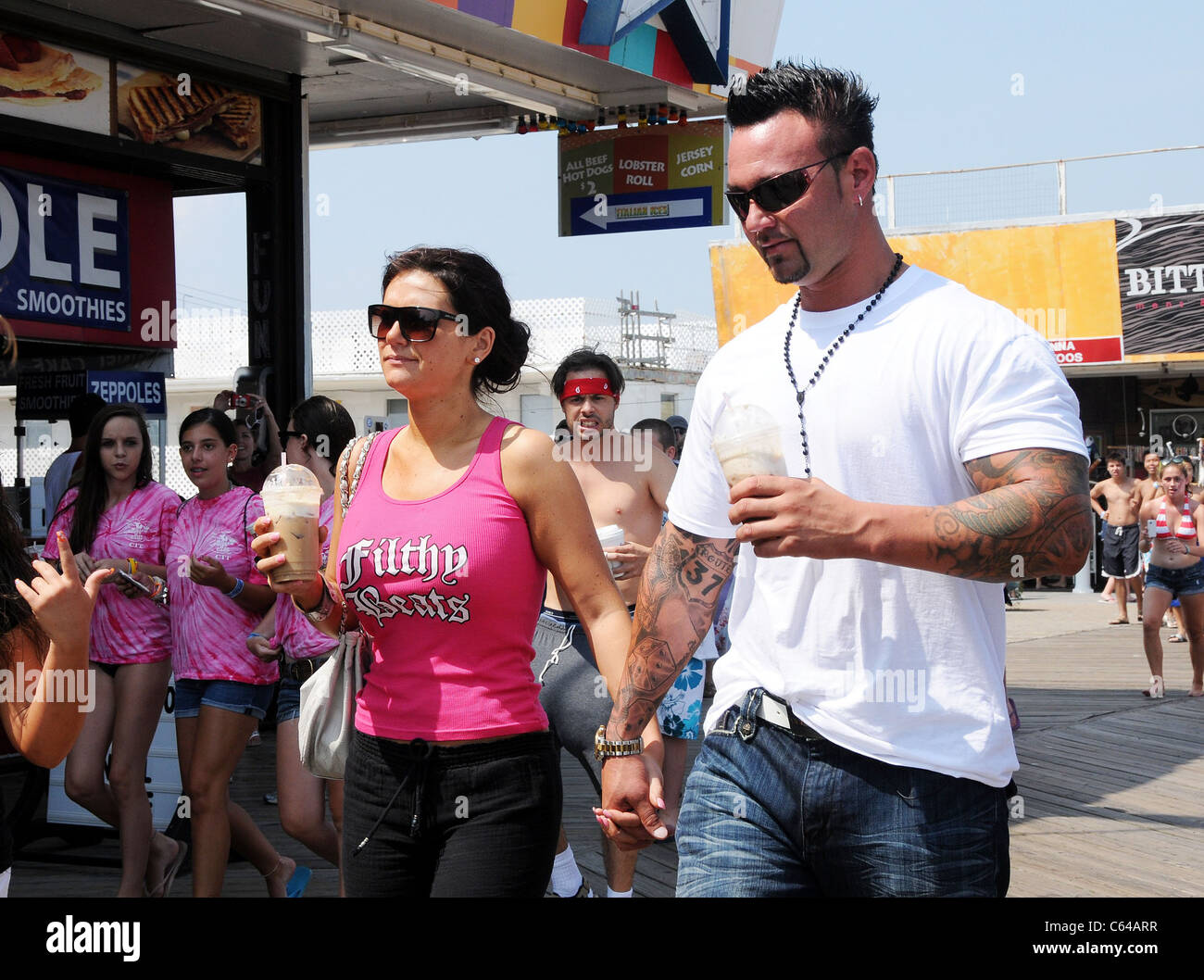 Couple on a date
Though Jenni and Roger fought a lot which many people could clearly see on the reality show, the couple managed to clear their differences and hence move forward to start a long-lasting relationship.
They started dating in 2011 and got engaged on 2013. Roger proposed to Jenni in a fascinating way. Jenni was part of a show which cast her and her best friend Snooki. In one of the episodes Jenni and Roger go skydiving, but what Jenni didn't know was Roger has a huge surprise for her.
Roger proposes his girlfriend
She after conquering her fear of heights found out Roger was waiting on the ground to pop the question to her with a seven-karat diamond ring.
Their two children: Details
The couple had their first child before their marriage; Jennie gave birth to her first daughter broadcasting it in her reality TV show Snooki and JWoww. Meilani was born in November 2014 and she is one lucky child to be able to attend her parent's wedding.
JWoww with her child
The longtime lover Jenni and Roger tied the knot on October 18, 2015, in front of family and friends. The guest included her friends from Jersey Shore as well. The couple stated to E News that it was the best day of their lives beside Meilani being born and they felt very blessed to share the day with their daughter.
Meilani played the role of a flower girl during her parent's wedding and you can't deny she looked very adorable.
Jenni was pregnant with her second child before their wedding.The couple had their second child on May 5, 2016; Jenni shared the first picture of the baby boy through her new app. Their son was named Grayson Valor.
She also posted the same photo on Instagram with the caption, "He arrived healthy at 6:03pm tonight and the most beautiful part is Roger got to deliver him with our doctor. I took so many videos and pics and want to share them all in one place. Download my app and over the next two weeks, I will be adding the most beautiful photos and videos!! #Thankful #Fulfilled #InLove #BabyMathews."
Looking at their post in Instagram the couple seems very satisfied with their married life and they seem to enjoy their jobs as parents.
We wish the couple happy days ahead. Hope they never have to divorce.
Be in touch with Frostsnow.com for updates.