Ashley Graham is the name that stands out from the heard of mediocrity. With her talent and, Ashley has successfully established herself as one of the renowned models all over the world and often appears on the cover of various renowned magazines like Vogue and Elle.
The 29-year-old model is more of an inspiration to a lot of youth who aspires to be a model while a dream girl of millions of men who cannot resist but fantasize their life with this stunning, and glamorous personality.
Well, not to mention, a lot of are just wondering how this beautiful lady could reach such a height at this young age. In case you are looking for the answers, don't worry because, today in this section we will let you know all about her career, salary, net worth and everything related to her professional life.
To some extent, we will also touch her personal life and discuss her love affair and married life with her beloved husband Justin Ervin. Just stay with us.
Ashley Grahams' Professional Life ( Career, Salary And Net Worth)
Let's start from the beginning. Ashley's career began while she was still a student in the Lincoln Southwest High School in 2001. There she signed a deal with Wilhelmina Models, just after she attended a model convention.
During her early career, Graham appeared in YM magazine, however, her career took a leap in April 2007 when she was profiled by Sally Singer of Vogue magazine.
Soon she appeared on the issue of Glamour editorial 'These Bodies are Beautiful at Every Size,' alongside plus-size models that include models like Kate Dillon Levin, Lizzie Miller, Amy Lemons, Jennie Runk, Crystal Renn and Anansa Sims.
In 2010, Ashley appeared in a controversial Lane Bryant Television commercial. The commercial received over 800,000 views on the YouTube Channel and was even covered by many news outlets such as The New York Post and The Huffington Post. In the same year, she appeared on The Tonight Show alongside Jay Leno, where she addressed the controversy.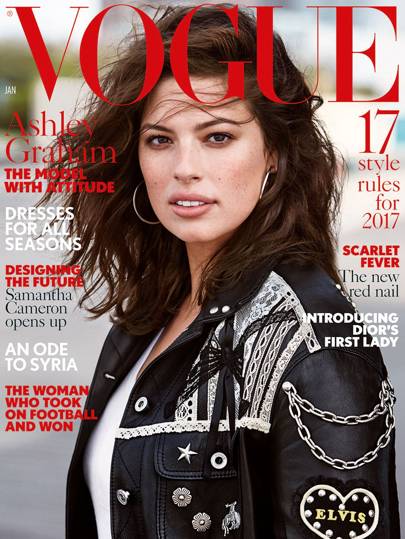 Justin Ervin's wife Ashley Graham on the cover of Vogue
Source: vogue
In December 2012, Ashley was featured twice on the Billboards at New York for Lane Bryant and at the end of the year, she was named as Full Figured Fashion Week's Model of the Year. In 2013, she designated a lingerie line for a Canadian plus-size clothing retailer, Addition Elle.
The model even appeared on the MTV's Mad, a television show where her performance was highly appreciated. In 2015, a plus-size retailer for women's swimsuits, swimsuitsforall, featured Ashley in an advertisement in Sports Illustrated's annual swimsuit issue.
Gorgeous American model Ashley Graham
Source: Img models
In 2016, Ashley served as a backstage host for the Miss USA 2016, Miss Universe 2016 and Miss USA 2017. After a long journey, Ashley is the current official judge of the popular reality show America's Next Top Model that airs on VH1.
With her talent and hard work, the gorgeous model earns a massive salary. In 2017, Ashley was listed at the no. 10 spot of Forbes highest earning models, first ever plus-size model to make it to the Forbes list of highest-earning models, with earnings of $5.5 million (£4.1 million) in 2017. Most of her collections are from Addition Elle, Dressbarn, and Swimsuits and also from various catwalk and magazine appearances.
The exact figure of her current net worth is under review, but it's no doubt that her net worth in millions. Ashley Graham is associated with magazines like Vogue, Harper's Bazaar, Glamour, and Latina.
Ashley Graham Is Happily Married To Beloved Husband Justin Ervin
After meeting at a church in 2009, Ashley Graham and Justin Ervin began dating each other. The couple enjoyed a romantic love affair for a year and eventually got married in a beautiful wedding ceremony in 2010.
Happily married husband and wife: Justin Ervin and Ashley Graham
Source: heavy
Well, let's wish all the best for the adorable couple.
For more updates, stay connected with Frostsnow.