Congratulations Julianne Hough and Brooks Laich!!
These two hot celebrities just tied the knot in a lavish wedding ceremony. Yes, you read that right, guys. The Dirty Grandpa actress and the professional Canadian hockey player are now married and it's not that much surprising as the couple already had announced their engagement nearly a year back.
Let's learn about this story in detail. Just stay with us.
Julianne Hough And Brooks Laich Are Now officially Husband And Wife: A Lavish Wedding Ceremony
The NHL star Brooks Laich and the Dancing With the Stars judge Julianne Hough tied the knot on Saturday, July 8. The wedding ceremony was conducted near Coeur d'Idaho and in the elegant ceremony, the couple exchanged their vows in front of around 200 guests including some other celebrities like Aaron Paul, Mark Ballas, and Nina Dobrev.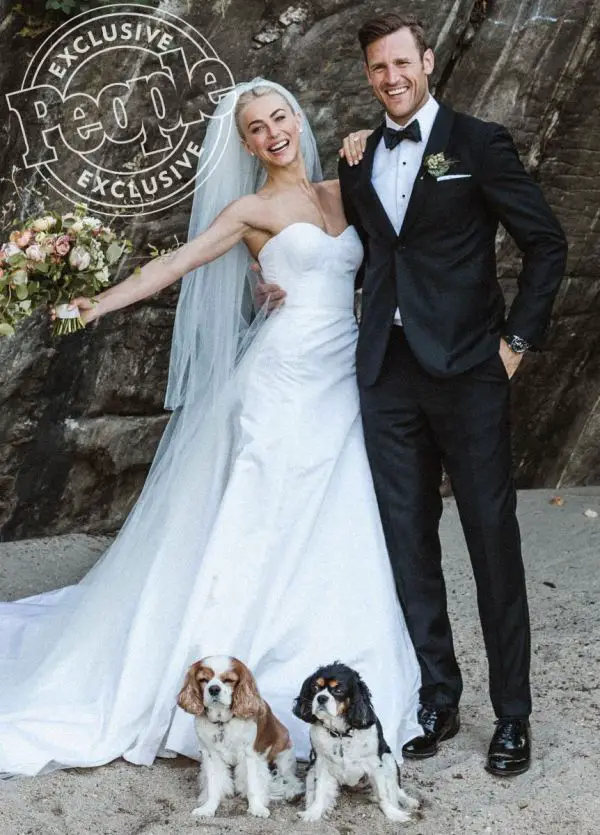 Newly married husband and wife: Julianne Hough and Brooks Laich at their wedding ceremony
Source: people
The wedding weekend certainly started off on Thursday night with a welcome dinner for guests at the Blackwell Hotel, and the dinner event was finished off by a beach day on the lake at Coeur d'Alene Resort on Friday.
Julianne reportedly told PEOPLE;
I don't think I ever really necessarily dreamed about my wedding as a kid. But I know I will always cherish and remember it for the rest of my life.
Brooks meanwhile opened up and uttered few words about his lifetime partner;
It was really important to me that we had our ceremony outdoors. Julianne and I are very adventurous and free and wanted the setting to be in nature.
Happily married husband and wife: Julianne Hough and Brooks Laich
Source: dailymail
Their marriage is not so much surprising as the couple had already announced their engagement on 18 August 2016. It was announced with an Instagram post by the Dancing With The Stars judge Julianne Hough that attached a picture in which she was flaunting her engagement ring.
Check it out.
Julianne and Brooks first met in December 2013 through a mutual friend but their relationship was only confirmed when the couple was caught kissing and holding hands in the Disneyland.
Then boyfriend and girlfriend: Julianne Hough and Brooks Laich in Disneyland
Source: dailymail
At that time a strong source told US Weekly:
It works out well, they're having fun. Julianne Hough is happier than ever.
In addition, Julianne Hough once told Redbook:
We've been open and honest from day one,
This is the first marriage for both the lovebirds, however, Julianne previously had an affair with a famous American television personality, Ryan Seacrest.
Former boyfriend and girlfriend: Julianne Hough and Ryan Seacrest
Source: usmagazine
The couple was dating since 2013 and they looked as if they were very serious about their relationship, but, unfortunately, Julianne and Ryan parted ways after three full years of dating.
In regards to their break up, in one of the interviews, Julianne said:
Every relationship, there was nothing wrong or bad, but there was nothing right. I had one foot out because I didn't want to get hurt. And I didn't say what was on my mind because I didn't want to ruffle any feathers. I needed to be perfect.
Former boyfriend and girlfriend: Ryan Seacrest and Julianne Hough
Source: justjared
Besides, the actress also dated an American musical artist Chuck Wicks (2008 to 2009) and an American dancer Mark Ballas (2002 to 2004).
After several unsuccessful relationships, Julianne is finally living a blissful married life with Brooks. We wish them all the very best for a successful life and we hope they soon welcome a child to the family.
For more updates, stay tuned with Frostsnow.