The deeper we get into the people of the tinsel town, the more we realize that their married life is more complicated than we ever get to know. Some discuss it openly, while others prefer to keep it low key. Similar is the story of actress Julia Ormond, a victim of two failed marriages. A mother of one, Julia appears to be single at the moment.
Julia is often remembered for her strong roles in independent movies that perfectly fitted well with her. However, she always found discomfort in being at the center of attention. Is it the reason why Julia has kept her dating life mysterious? Read the full article to get the details:
Julia Ormond first Marriage and Divorce
52-year-old Julia first married Rory Edwards. Their first encounter took place during the production of Wuthering Heights. Julia and Rory tied the knot in 1988.
Julia Ormond - Does She Sound English Or American?
Since Julia kept her married life under wraps, little did anyone know about her relationship with Rory! As a result, the world was shocked when the couple headed for a split. The couple parted ways in a sad divorce that got finalized in 1994.
Julia Ormond second Divorce with Jon Rubin
In 1999, Julia got hitched for the second time, this time around with Jon Rubin. Julia's second beau, Jon was a political activist. Together they welcomed their first child in 2004. She was a daughter, and they named her Sophie.
Julia Ormond with her daughter
Source: Zim bio
Julia's married life with Jon ended up just like her previous one. Their marriage couldn't go beyond 9 years, as they divorced in 2008.
Julia Ormond current relationship status
Sources claim that Julia had some on-and-off relationships after the second divorce. However, she has never been spotted with anyone who appears to be suspicious. Thus we cannot genuinely talk about Julia's boyfriends post-divorce.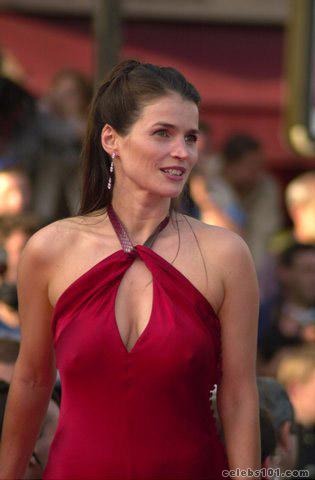 Julia Ormond
Source: listal
As of now, Julia is all single, neither married nor dating anyone. In fact, she is so busy with her jobs that she hardly has any time to go out. Julia is holding dual career at the moment. She is not just an actress by profession but also as a social activist. Julia has been working against human trafficking since the 90s.
We believe that Julia Ormond's works, as a social worker, is giving her immense happiness. As she is doing well in her life without a man, we don't see a reason why she needs to get married again. We hope she keeps up her good work in the future as well.
For more updates keep on visting Frostsnow.