Journalist Jill Bauer Married life; Know about her Affair and Relationship
---
The popular American Journalist Jill Bauer is nowadays the center of attraction for millions regarding her personal life. Many want to know details about her love affair, married life, husband, and children. So, does she have all of this in her life? We will reveal this in a bit.
Jill Bauer is a beautiful Hearst and SPJ journalist, documentarian and non-fiction author. Her most notable project is when she co-directed two documentary films, Sexy Baby and Hot Girls Wanted alongside Ronna Gradus. Jill also authored a non-fiction humor book entitled From 'I Do' to 'I'll Sue': An Irreverent Compendium for Survivors of Divorce.
This talented actor is living a happy married life with her beloved husband Doug Dunne and the pair are even parents to a son. Let's learn their story in details.
Jill Bauer Is Married for 14 Years: Parent To a Son
Jill Bauer is married for 14 years now. The couple tied the knot in a beautiful wedding ceremony on 18 October 2003.
Check out their wedding pictures.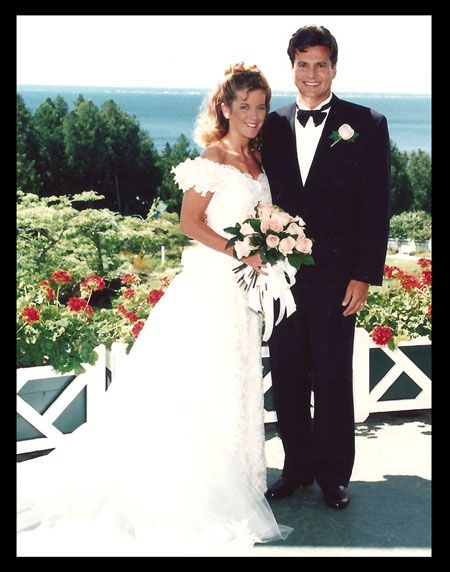 Happily married husband and wife: Doug Dunne and Jill Bauer at their wedding
Source: globalnews
The couple who doesn't reveal much about their personal stories does reveal about their marriage anniversaries. On 18 October 2013, Bauer through a facebook post revealed about their 10th anniversary featuring the wedding picture with her beloved husband with the caption:
Happy 10th anniversary to my sweet and wonderful hubby. Doug is my best friend in all things. Here's to many more decades of love and laughter. Xoxo
Here's that facebook post, guys, check it out.
She again in 2014 and 2015 wished her love to husband Doug on her 11th and 12th wedding anniversary.
Check out the post.
Despite their marriage, the journalist never changed her last name. It's still a mystery that exactly when and how the couple first met and started an affair, however, they reportedly dated for long before getting married.
Happily married husband and wife: Jill Bauer and Doug Dunne
Source: pinterest
On June 2015 Bauer shared a post on her official Facebook where she mentions her desire to re-share her wedding story. Check it out.
Check out the link to see her wedding plans and pictures.
After a couple of years of their marriage, the pair welcomed their first child, a baby boy. They named their son Trevor. Recently, Jill, on her official Instagram page, shared a picture of her son when he was too young, revealing that he turned 12.
Check it out.
Trevor is interested in baseball and Jill often posts his picture on Instagram. Here's one of those, check it out.
In 2014, she happily announced her second pregnancy but, unfortunately, she was forced to then announce her miscarriage just 4 weeks later.
Check out the video to know more about Jill Bauer.
The family of three are currently living a happily together, we wish them all the very best!!
For more updates, stay tuned with Frostsnow.