Joshua Ryan Hutcherson, popular for his professional name Josh Hutcherson, is an American actor and executive producer best known for his work in the Escobar: Paradise Lost in 2015. The 25-years-old heartthrob started his acting career with his appearance in the Oscar-nominated American Splendor in 2003, and currently, he is at the peak of success and is enjoying the estimated net worth of $1.5 million.
Talking about his dating life, Josh is reported to have been in many failed relationships in the past. But, the former The Hunger Games star is currently in a lovely relationship with his girlfriend, Claudia Traisac, his co-actor in Escobar: Paradise Lost. The couple is dating since 2013 and is still together.
Josh Hutcherson and his girlfriend Claudia Traisac
Source: Daily Mail
So, are they engaged? What about their marriage plans? Let's know all about Josh Hutcherson's relationship with Claudia, his dating issues, and past affairs in this section.
Josh Hutcherson and his girlfriend Claudia Traisac; Relationship
For many actors and actresses, the film industry has been the way to success both in their professional and personal life. And the case is same with Josh Hutcherson as he met Claudia while working together in the movie Escobar: Paradis Lost. Soon the couple's chemistry blossomed making them one of the prominent couples in the Hollywood.
In the movie, Hutcherson is a surfer from Canada who finds his dream-girl portrayed by Claudia, who happens to be the niece of drug lord Pablo Escobar, nicknamed as The King of Cocaine.
Also read: How much was Drug Lord Pablo Escobar and his wife's net worth?
Josh Hutcherson and Claudia Traisac in San Sebastian, Spain to promote their film, Escobar
Source: Zimbio
Really lucky Hutcheson.
Hutcherson's confirmed his relationship after 2 years of dating
Well, Hutcherson and Claudia started dating in 2013, and they even were spotted together sharing lovely kissing moments in LA. However, even after that, Hutcherson didn't confirm his relationship with Claudia.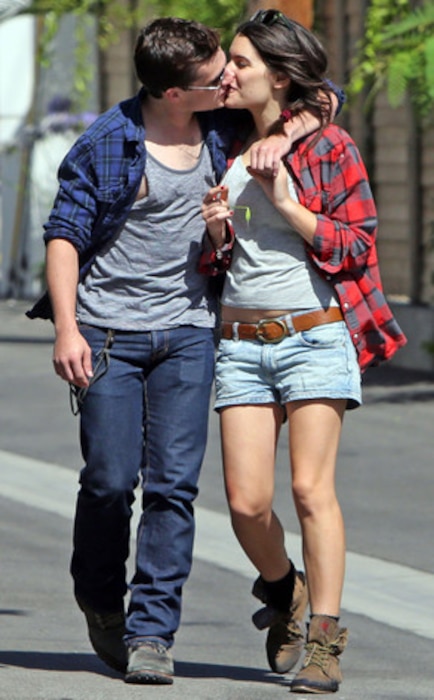 Josh Hutcherson and his girlfriend Claudia Traisac kissing
Source: Eonline
But only after 2 years of dating, in June 2015, the couple confirmed that they were dating. In an interview with E! Online, Josh Hutcher said about his love relationship with Claudia. In his statement, he said,
It's pretty good. Distance is hard, but we make it work.
His love, Claudia also added:
I'm really happy. It's really great.
Sounds so sweet. Really, love needs understanding.
Have a look at the couple at the premiere of Escobar: Paradise Lost, shared on Instagram of the veteran journalist Marc Malkin.
As of 2018, the couple is happily enjoying the moments together. However, the couple seldom shares the lovely moments together on Instagrams and Twitter. Probably, it's because of the tight schedule.
Have a look at Claudia's photo shared by Josh on his Instagram.
Pretty cute!
Couple's Marriage and Engagement
Even after 5 years of dating, the lovely couple is yet to be engaged. No news of their marriage has come into the limelight too. However, the couple since the beginning of their relationship is not reported to have had any conflicts in their relationship.
Wow! Let's wish them best for further and wait for the happy news to arrive.
Past Affairs and rumors
Regarding the past affairs of Claudia Traisac, the detail is not available. However, the elder brother of Connor Hutcherson, Josh Hutcherson is not free from past affairs. Prior to Claudia, Josh Hutcherson has dated many beautiful ladies.
In 2011, Josh was reported to have been in a relationship with his Journey 2 co-star, Vanessa Hudgens after her split with Zac Efron. But after dating for some months, the couple without any disclosed reason ended their relationship.
Former couple: Josh Hutcherson and Vanessa Hudgens
Source: Enstarz
We do also have a video of the former couple together talking about their film Journey 2. Have a look.
Besides Hudgens, Josh also dated music artist Rochella Danishei from 2011 until 2009. However, none of them have opened up about the reason for their split.
Josh, who dated Shannon Marie Wada for 3 years from 2003 to 2006 also dated Victoria Justice for a year till 2009.
Josh Hutcherson and Victoria Justice
Source: Pinterest
Josh, along with his failed past affairs, is also not free from rumors though. Josh Hutcherson was rumored to be dating Amercian actress Chloe Bridges in 2012 and also The Secret Life of The American Teenager actress Francia Raisa, the same year.
Back in 2007, Josh even was rumored to be dating American actress and model AnnaSophia Robb. However, without a strong proof to his affairs, the rumors were proved to be a hoax.
Well, past is past, and Josh is currently happy with her love Claudia.
Also read: American actress Francia Raisa shares her awkward dating experiences and her love affairs
Stay tuned for more updates!