Louis C.K.'s friends in comedy are speaking out after some women accused the 50-year-old stand-up comedian of sexual misconduct in an article published by The New York Times last week.
On Tuesday's Today show, Jon Stewart addressed the allegations which were made by five women who said that Louis either asked if could masturbate in front of them, or masturbated in front of them without their consent.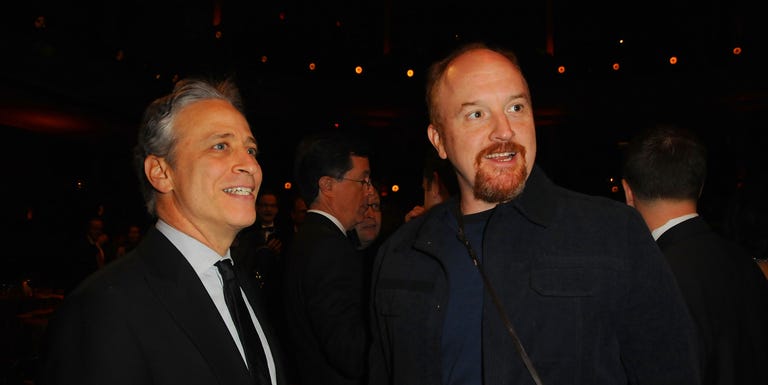 Jon Stewart Reacts To Sexual Misconduct Allegations Against Friend Louis C.K.: 'You Feel Anger'
Source: esquire
A day after the NYT article was released, Louis released a statement saying that all the allegations about him were true.
The 54-year-old Jon told Today show's co-anchor, Matt Lauer;
You know, you give your friends a benefit of the doub. I've had friends who've had compulsions and who have done things -- gambling or drinking or drugs -- and we've lost some of them. Some of them have died. You always find yourself back to a moment of, 'Did I miss something? Could I have done more?
Answering his own questions, The Daily Show's former host continued, "I think we all could have."
Jon explained of Louis;
You feel anger at what he did to people. Look, comedy on its best day is not a great environment for women. I think it's gotten better over the years, but certainly when we started 30 years ago, it was really difficult. So to do it was an act of bravery in and of itself [for women]. The idea that there was this added layer of pressure and manipulation, and fear and humiliation -- and not just [him].
Jon still thinks the comedy world has a long way to go. He added;
We're used to being in charge. And I think if you talk to women, they're in a very difficult position. You get mad at yourself, too, for laughing it off or for thinking, 'That didn't happen.'
Stewart noted that he has not spoken with C.K. since hearing of the allegations.
Louis' longtime friend, Marc Maron, also addressed the scandal on his podcast, WTF, claiming that he asked the comedian about these rumors long before the release of the TNY expose.
Marc claimed;
I would ask him about it. I would say, 'This story about you forcing these women to watch you jerk off, what is that, is that true?' He goes, 'No, it's not true. It's not real. It's a rumor. And I would say, 'Well, are you going to address it somehow? Handle it? Get out from under it whenever it shows up?' 'No I can't, I can't do that. I can't give it life, give it air.' That was the conversation.
He further continued;
So I believed my friend. It's just that the environment enabled the dismissiveness of it. It's hard to understand that that power dynamic is real and it exists, because things have been the way they are for a long time.