John J Mellencamp is an American singer, songwriter, musician, actor, and painter. His style of music is so catchy that it brought the singer into the limelight in the 1980s. He is best known for his singles like Hurts So Good, Pink Houses, Small Town and many others. Moreover, his 22 songs have reached the Top 40 hits in America.
The 66-years-old has been nominated for 13 Grammy awards, out of which he has won one. Apart from a Grammy Award, he has also won a Billboard Music Century Award and American Music Award for Favourite Pop/Rock Male Artist.
The actor cum singer is mostly inspired by singers like Woody Guthrie, James Brown and Bob Dylan. Here we are going to take a sneak peek at the Grammy winner's personal life, and know more about his failed marriage, his children and his relationship status at the moment.
John Mellencamp's failed marriages and his children
Till date, John has been married 3 times, and none of the relationships became successful.
John, who has an estimated net worth of $25 million, got married at a very young age. He first got married at the age of 19 with his then-girlfriend Priscilla Esterline. They started dating in 1968 and eloped a year later in 1969.
Together, they also had their first child, a daughter named Michelle on 4th Dec 1970. She is currently 47-years-old
They were married for 12 years. But the couple eventually separated. They got a divorce in 1981. They were together for 13 years before they decided to end the relationship.
CAPTION: John Mellencamp receiving Billboard Music Award
SOURCE: Pop Sugar
Just a few months after separation from his first wife Priscilla Esterline, he started dating a woman named Vicky Granucci. They got married on 23rd May 1981.
They had started dating in 1980 and got married just a year later. John's second child Teddy Jo was born on 1st August 1981, just a few months after their marriage. She is 36-years-old at the moment.
They also have another child named Justice, whose birth date and age are unknown.
The pair was married to each other for 8 years, until they decided to end the relationship in July 1989.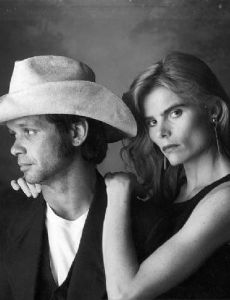 CAPTION: John Mellencamp with ex-girlfriend Mariel Hemingway
SOURCE: Whosdatedwho
The man was also in a relationship with American actress Mariel Hemingway in 1991, but they broke up in just a couple of months. In September 1991, he started dating American model Elaine Irwin. They got married a year later on 5th September 1992.
Together they have two sons. Their first son is Spec Wildhorse and their second son is Hud. The date of birth and age of their children has not been specified.
CAPTION: John Mellencamp with model ex-wife Elaine Irwan
SOURCE: People
The father of 5 children decided to call it quit 18 years later in August 2011. They were together for almost 20 years, and it indeed was a sad divorce.
Is John Mellencamp single or dating someone?
At the moment, the relationship status of singer John is 'Taken.' As per reports in July 2017, he has patched up with his ex-girlfriend Meg Ryan, who is an American actress, director, and producer.
CAPTION: John Mellencamp with girlfriend Meg Ryan
The pair dated back in 2011 right after John's separation from his ex-wife, Elaine. The two dated for more than 3 years until they announced their split in summer of 2014. Later, in the same year, they patched up but broke up again in summer of 2015.
Hopefully, this time they have realized that they are meant for each other and are going to live happily ever after.
Let's wish the couple happy life ahead.