John Lithgow, a multi-talented personality, is an American actor, musician, poet, author, comedian, and singer best known for his role as Dick Soloman in the comedy series 3rd Rock from the Sun which aired from 1996 to 2001. John Lithgow has made his appearance in several famous TV series which includes Dexter, The Crown, etc. He has won two Tony Awards, six Emmy Awards, two Golden Globe Awards, three Screen Actors Guild Awards, an American Comedy Award and four Drama Desk Awards for his role. But, unlike his successful career, Lithgow has had quite a hard time leading his married life.
John was married to his wife, Phoebe Jean Taynton. However, after sharing a son together, they divorced. But it didn't take John a long time to start his new relationship. John married for the second time to Mary Yeager, and it hit the right tune. The couple shares 2 children together, and both are now grown-ups.
John Lithgow and his second wife Mary Yeager
Source: cincinnati
Well, Lithgow, who appeared in Broadway productions including the musical adaptations of Sweet Smell of Success and Dirty Rotten Scoundrels is in the highlights for his own Broadway show Stories by Heart and also for his personal life. Let's know the details on John Lithgow's married life, relationships, past affairs and children.
John Lithgow's Blissful Married life with his Second Wife
Every one of us seeks for the pure love. However, not everyone gets to experience such love in their relationships. Well, life gives chances to all, and John Lithgow grabbed the opportunity really well getting married to for the second time. Although it is not known how the relationship between John and Mary began but as reported, the two met for the first time through a mutual friend.
John Lithgow recalled his first date with Mary and said:
She was all turned out, and I was in sweaty tennis gear.
Soon after a week of dating, the couple decided to get married. They got married on December 12, 1981, in a private wedding ceremony. However, none of them have shared the photos of their wedding.
John Lithgow married twice, his second wife Mary Yeager
Source: Getty Images
John even told that he and Mary were very much delighted to be together and described, Mary as a beautiful girl saying:
Mary is a wonderful combination of earthy and intellectual. We both feel like country bumpkins in Los Angeles. I'm an Ohio boy, and she's a Montana girl. Yet we're both very educated.
It's been more than 36 years of their marriage, but the old-time couple is still going strong in their relationship. All these years, the couple has kept themselves free from the rumors and mishaps of divorce.
Both of them even can be seen together enjoying the lovely moments.
John Lithgow and Mary Yeager at The Weinstein Company and Netflix Golden Globes Party
Source: Zimbio
Adorable couple.
But when it comes to just John, he has been rumored a few time being a gay. The rumors sparked after he made his appearance as the old gay man in Love is Strange. The rumors had faded away, but it got fired up again after John lip-locked with Will Ferrell in the teaser of Daddy's Home 2. Well, although he has made a few gay appearance in the movies, there is no strong evidence that proves him being gay in real life as well. Additionally, he is married and is also a father.
Also read: Pierce Brosnan marital relationship with second wife Keely Shaye Smith
Probably you are curious to know how was John Lithgow's relationship with his first wife, and the reason for divorce. Scroll down to know.
John Lithgow Gets Divorced with his first wife, Phoebe Jean Taynton
The co-actor of Meryl Streep in Trelawny of the Wells, John Lithgow married his first wife Phoebe Jean Taynton at the age of nineteen, just before he graduated. The relationship and dating detail of the former couple is undisclosed, but reportedly they married on September 10, 1966. However, their marriage ended after 14 years of marriage. Jean is a teacher, who is 6 years junior to John.
Talking about the reason for their divorce, John reportedly was in an affair with Liv Ullman and seven others while married to Jean Taynton, leading the corrosion of their relationship.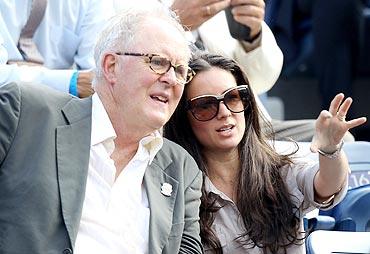 John Lithgow and his ex-wife Jean Taynton
Source: Arecenze
Regarding his extra-marital relationships, John opened up as:
I was a deeply confused young man.
The divorce was finalized in 1980. However, no further detail of Jean has surfed on the internet ever since. But we do have the information about John's son with his first wife.
Also read: Don Gummer's Wife Meryl Streep Receives 20th Oscar Nomination, Donald Trump Calls Her Overrated
John Lithgow, the father of 3 children
John in his 2 marriages shares 3 children with his wives. Lithgow is a father to a son from his previous wife Jean; he welcomed his son Ian David Lithgow on February 3, 1972. Ian is now a grown-up and is recognized as an American actor. He is best known for his work as Leon in the NBC series 3rd Rock from the Sun alongside his father.
Despite the failed relationship between his mother and father, Ian seems to be in good terms with his father.
Ian Lithgow and his father, John Lithgow
Source: Flickr
John is not only a father, in fact, he is also a grandfather to 2 children from his son Ian and Rachel Lithgow.
The story doesn't end here, as John also shares a daughter and a son with his second wife Mary Yeager. The couple welcomed their daughter Phoebe Lithgow in 1982 and a year later, they became parents to their son Nathan Lithgow in 1983.
John Lithgow with his son Nathan and daughter Phoebe
Source: Getty Imagees
John Lithgow, also the author of children's book I'm a Manatee, opened up about his children and their support to him in a video. Have a look.
No information about Nathan and Phoebe is out yet; maybe they want to keep themselves low profile. But reportedly, the happy family is enjoying the moments together.
Also read: Enrique Iglesias and Anna Kournikova Reveal their Newborn Twins
Let's wish them, best for their life.