If you love to watch fantasy dramas, you must have watched Once Upon a Time. It is an American fantasy drama television series that premiered on ABC on October 23, 2011. Well, the American actress, producer, and director, Jennifer Morrison is one of the lead cast on the show. 38-year-old Jennifer is well recognized for her role of Emma Swan in the fantasy series, and also as Dr. Allison Cameron in the medical-drama series House from 2004 to 2012.
Though Jennifer is not successful in her relationships as the story of her unsuccessful engagement with Jesse Spencer and break-up with Sebastian Stan is still in the media, she indeed is successful in her professional career. She is estimated to be enjoying a huge net worth of $6.5 million.
American actress Jennifer Morrison
Source: Just Jared
Let's know more about her property, career earnings, house, cars, and endorsements in details in this section.
Net Worth of Jennifer Morrison
Besides acting, Jennifer Morrison also makes a lot through her endorsements. As of 2018, the net worth of Jennifer is not exactly disclosed, however, estimation has been made that she is enjoying a mass net worth of $6.5 million.
Really that's a large amount. Well, just wait! We have a lot more information on where does her most of the earnings come from.
Jennifer's Career Earnings
Jennifer, fond of acting since her childhood, is also a former child actress and has acted in 1994 film Intersection. The movie made the box office collection of $21.35 million. Later in 2000, Jennifer got professional in her career after starring in a lead role in the 2000 film Urban Legends: Final Cut, hitting the collection of $38.6 million.
Later, Jennifer made appearances in movies like Grind, Surviving Christmas, and Mr. & Mrs. Smith in 2003, 2004 and 2005 respectively. Jennifer also appeared in the TV series House for 6 seasons until 2009. Her work in these years earned her a lot of bank balance. Though her precise salary of the show is not exposed, her co-star Hugh Laurie earned around $700,000 per episode.
Jennifer Morrison and her House co-star Hugh Laurie
Source: Fan Pop
In 2010, Jennifer made her guest appearance in the fourth episode of NBC's Chase portraying the role of Faith. Soon after that, she joined CBS's How I Met Your Mother as recurring character Zoey Pierson, a mischievous architecture nerd.
The year 2011 became Jennifer's best time in her career. She was cast in the ABC's fantasy drama series Once Upon a Time. However, the precise payment of Jennifer per episode is not disclosed. Have a look at a clip of Jennifer Morrison from Once Upon A Time.
Also, Jennifer has made her fortune through the Hollywood movies too. Jennifer gave voice recording in the 2013 film Star Trek Into Darkness, which earned her $649,351.The movie made the box office collection of $467.4 million. In 2014, Jennifer appeared on The List in 2014 portraying Katherine Stern, and she was paid $852, 273.
Jennifer made $1,048,951 after she played in the film 6 Miranda Drive. Recently, Jennifer portrayed Margie Duncan in Assassination Nation alongside the actress like Suki Waterhouse and Bella Thorne, which was released on January 21, 2018.
Though the current net worth of Jennifer is not exposed, we are pretty sure that it has increased tremendously. The net worth of Jennifer was reported to be nearly $5 million in 2013. As of 2017 data, her net worth is over $6 million. We promise to keep you updated with the information about her as soon as it is revealed.
Earnings from Endorsement
The 2016 Teen Choice Awards winner for Choice TV: Liplock, Jennifer Morrison has not talked openly about her endorsements, but according to some sources, Jennifer earns $156,863 through her endorsements alone.
Jennifer Morrison's house
Jennifer Morrison currently lives in her house in Los Angeles, California, however, the purchase detail of her house is not available right now. Well, Jennifer in 2016 made a video about the tour of her home in LA describing the decorations in her home.
The house featuring a beautiful living room also consists a piano, which Jennifer loves to play. Have a look at the video.
And it's not the only home she owns. Jennifer bought 1930's Mediterranean Style house in West Hollywood on January 10, 2012, paying $2,150,000. The 2,210 square -foot property featuring 3-bedrooms and 2-bathrooms and a fireplace also offers a good view of sunrise and sunset.
Here is the photo of the house.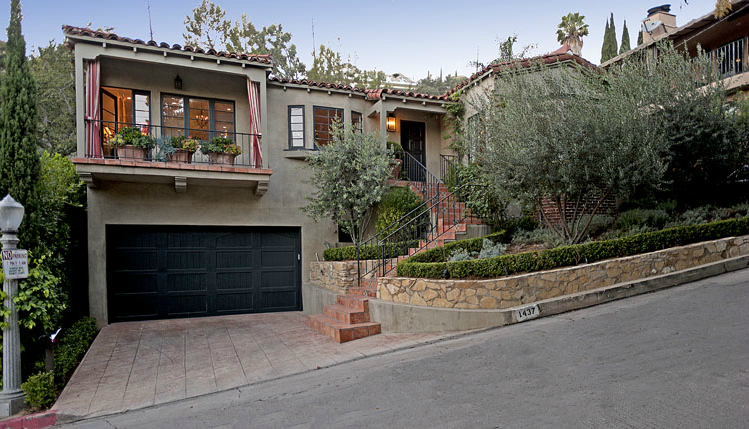 Jennifer Morrison's house in West Hollywood
Source: Trulia
Jennifer also owned a house in Encino which she sold for $790,000 bearing a huge loss of 269,000 in April 2012. She initially bought the house for $1,059,000 on November 21, 2005. The home previously was purchased by a flipper on May 25, 2005, for $779,000.
Dog person Jennifer Morrison's Car
Jennifer, who drove a vintage car in the TV series Once Upon a Time, is often seen driving her black Mercedez SL 550 which cost around $112,300.
Jennifer Morrison's car
Source: Denim Blog
Even though she is reported to have a beautiful car collection, Jennifer has not disclosed anything about it.
But Jennifer did reveal about her Malti-Shu puppy, which she named Ava after adopting him around the time she split with Jesse Spencer.
Well, Jennifer is also involved in charity works.
Jennifer Morrison Philanthropy
Jennifer actively working for the charity launched the T-shirt charity campaign to raise funds and awareness to support the cancer patients and for its research. Using her fame, she united and motivated her fans to help the charity campaign via her Twitter.
Have a look.
Wow! Besides being a celebrity, Jennifer is also a generous person, Applause!
Stay tuned for more updates.