Jennifer Aniston who gained worldwide recognition for playing the role of Rachel Green in the hit sitcom Friends married the handsome actor Brad Pitt. They were hands down the hottest couple while their marriage lasted. After ending things with Brad, Aniston is now married to Justin Theroux. Let's look into the details of the divorce with Pitt and start of a relationship with Justin Theroux.
Brad and Jennifer
The star of Troy Brad Pitt and Jennifer Aniston met on a blind date in the spring 1998 and the date was set up by their agents. During that time Aniston had recently split with his then-boyfriend Tate Donovan whom she was living with for 2 years. Jennifer was the hottest TV star of the 90's and the two had an instant connection.
They dated for about 2 years and finally got married on July 29, 2000, which included a flower-bedecked canopy at a Malibu mansion owned by TV producer Marcy Carsey.
On August 19, 2005, the former couple filed for divorce citing irreconcilable differences and the divorce was finalized on October 2, 2005.They were rumors that Brad had an affair with Jolie during the shoot of Mr. and Mrs. Smith which led to a divorce. But it was denied by Brad and Jennifer and said the reason was difficult to schedule and disagreement on whether or not to have children.
Is Jennifer married?
After her split with ex-husband Pitt, Aniston dated several high profile celebrities including Vince Vaughn, Paul Sculfor, John Mayer and Bradley Cooper. She eventually met the man she wanted to spend her life with on 2007 on the set of tropic Thunder, which Justin co-wrote with Aniston's close Friend, Ben Stiller.
Justin Theroux is an American actor, director, and screenwriter and since 2014 he has starred in the HBO series The Leftovers. He recently starred in the 2016 film The Girl on the Train.
It took time for the relationship to kick start, 3years to be exact. Aniston told Popsugar when she met Justin for the first time she thought he was very dark but he turned out to be the nicest person in the world.
Aniston and Justin were seen together in May 2011 and by June they made their affair public at the MTV movie Awards afterparty.
After a year of dating, each other Justin popped the question to Aniston on his 41st birthday during a romantic break in Rome. It looks like he will never forget that birthday.
They finally tied the knot on August 5, 2015in their Bel-Air estate. It was a private ceremony with about 70 guests which included close friends and families. Her Friends co-star Courtney Cox served as her maid of honor and Jimmy Kimmel was the preacher. Sia also performed at their wedding.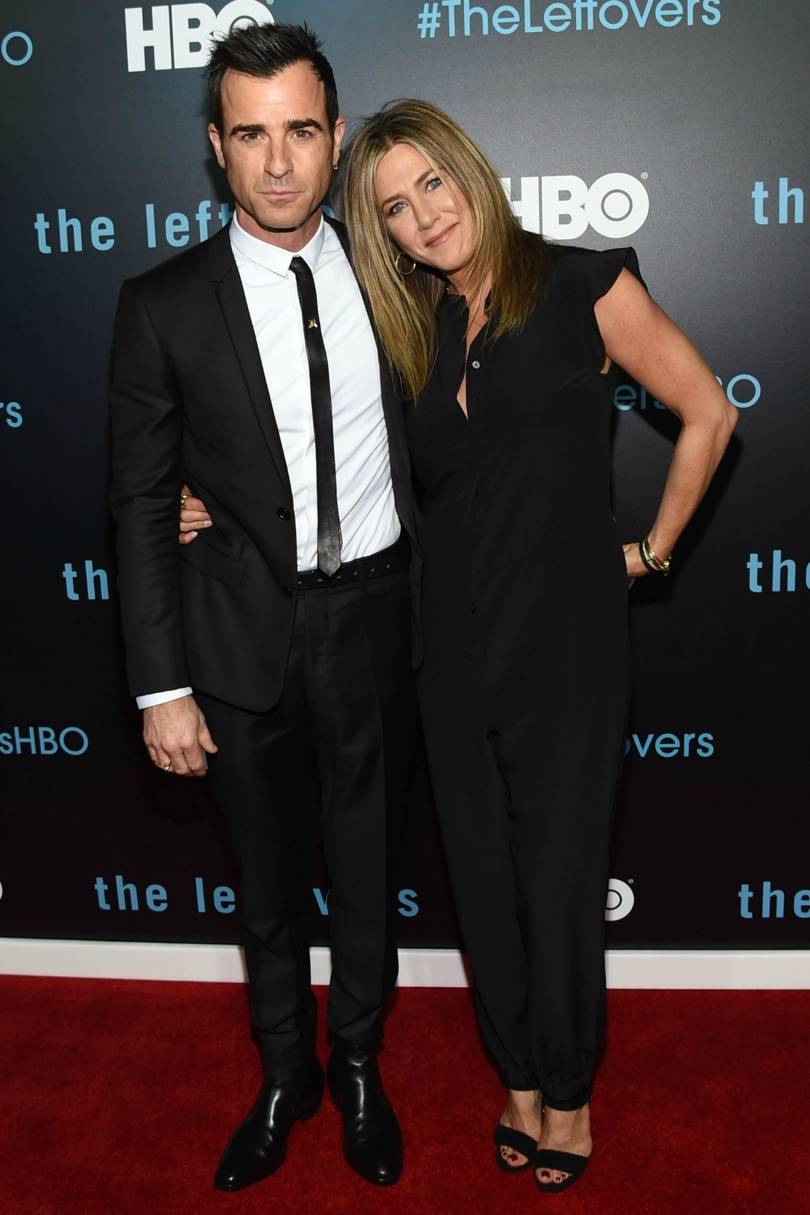 The couple made their first public appearance as a married couple when they attended the premiere of The Leftovers. The couple till now is leading a happily married life. They recently celebrated their anniversary at home with their friends for which Justin flew from Australia to LA.
Well, they seem to have a strong bond together and I think their marriage will last very long.