Jeffrey Michael Fisher popularly known as Jeff Fisher is an American coach and former National Football League player. Jeff is a reputed and loved person in the field of football. He has coached many teams and is currently the coach of the Los Angeles Ram.
We all know about his career and the success he has gained in NFL but, we know very little about his personal life. Did you know that Jeff Fisher was married and has three kids? If not then continue reading.
Jeff Fisher Is Married To His Wife Juli Fisher
Jeff Fisher was married to Juli Fisher. They met each other back in university when Jeff was a big-time star at the University of Southern California. During that time Jeff played for USC and in one of the college bowls called Rose Bowl, his team the Trojans was playing. Like most of the college bowl, every team required participating in various events during the week leading up to the game.
The year Jeff and Juli met, his team participated in an event called "The Beef Bowl". It was an eating contest at a restaurant called Lawry's, and in this event, they invited their Princesses to the Parade to the beef bowl, and one of them was Juli herself. After that, they just fell in love with each other.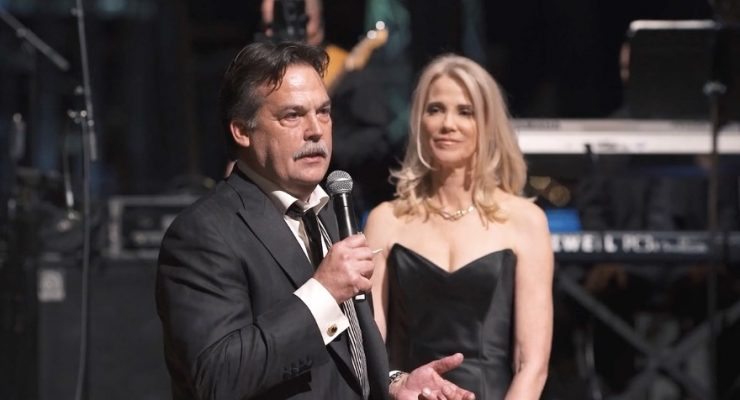 Caption: Jeff Fisher and his wife Juli Fisher
Source: Fab Wags
The couple got married in 1986. Before getting a divorce they had been married for 22 years and during that period they have 3 kids: Brandon Fisher, Trent Fisher, and Tara Fisher. Both his son followed in his footsteps as Brandon played linebacker for the University of Montana and currently coaches defensive backs for the Rams and his son Trent was a defensive back at Auburn University.
After 22 years of marriage, the couple separated on February 10, 2008, on the grounds of irreconcilable differences and later the same month their divorced was finalized. The reason for their divorce was said to be inappropriate marital conduct on the part of Jeff.
They were briefly separated in 2004 and had filed for divorce but that time they decided to give their marriage a try and reunited with their children and decided to give their love a second chance.
Is Jeff linked With Anybody After His Divorce With Juli?
Jeff was briefly linked with Bud Adams's daughter. Bud Adams, is the owner of the football team The Titans that Jeff had coached before. There were rumors that he was dating the owner's daughter however, it wasn't confirmed and the rumors disappeared quickly. Besides that, he hasn't been linked with anyone and is single and is busy with coaching.
But, the other reason we think he hasn't been linked to anyone is that his ex-wife and he still seem to be in good terms with each other, and looks like they still manage to be friends even after the divorce. In 2014 during the ESPYS ceremony, Jeff bought his ex-wife as his date and they did look like a couple. It isn't easy to say goodbye to 22 years of marriage we assume.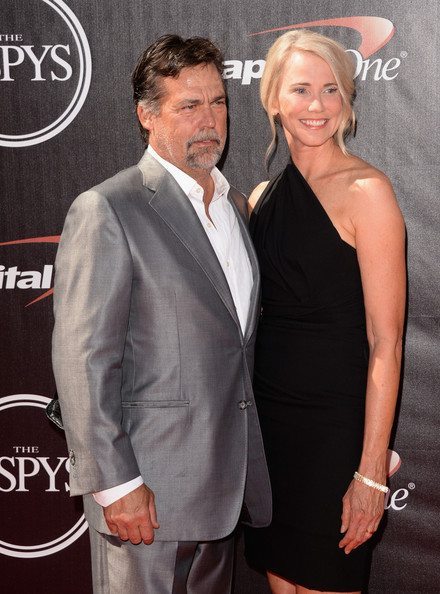 Jeff Fisher and Juli Fisher
Source: Fab Wags
What do you people think of Jeff Fisher and his ex-wife Juli? Please, leave your opinion in the comment box below.