Jared Kushner and Ivanka Trump is a name everyone knows especially because of their fathers. But both Jared and Ivanka have been successful as individuals and managed to earn a name for them. Let's take a peek at their relationship.
How did Jared and Ivanka meet?
Well, this two love birds meet in 2007 through a mutual friend. Actually, their friends set them up for a date and they just had an instant connection. Their friends thought business was the only common thing between them but surprisingly the two were similar in many ways.
In an interview with New York Magazine she said about meeting her husband, "We met through mutual friends and started dating pretty quickly after we met. It felt like a slow process – a courtship if you will."
Like every relationship, this couple also suffered a brief setback in 2008 and they broke up due to differences in their religion. Though they were very much in love, Jared's family wanted him to marry a Jewish woman which resulted in their separation.
I
Image: The daughter of Donald Trump and the son of Charles Kushner
Source:nydailynews
However, the split didn't last long as and they were back to being a couple. Ivanka converted to Judaism after studying under Rabbi Lookstein at K.J on the Upper East State. Jared is definitely one lucky guy to have found a woman like Ivanka who would change her religion to be with him we think he realized the fact and on July 2009 he popped the question to Ivanka.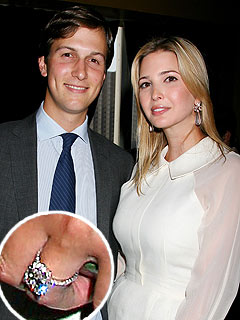 Image: Jared and Ivanka a power couple.
Source:theunorthodoxjew
Before their engagement, the daughter of the new President of USA, Ivanka gushed about her soon to be fiancé at that time to New York magazine saying, "Jared is my best friend for many reasons, largely because I've allowed him to see who I truly am and he still love me." She also added, "He's a bit of a hero of mine. Sometimes I catch myself looking at him and being thankful that I have grown to a level of personal maturity that I would value so much the qualities he has." Isn't that sweet?
To read about how Ivanka felt about her dad winning the Presidentship click here.
Jared married Ivanka in a grand wedding ceremony
After being engaged for three months Jared and Ivanka exchanged their vows on October 25, 2009, at the Trump National Golf Club in Bedminster, NJ. The daughter of a billionaire Donald Trump getting married with the son of another billionaire Charles Kushner, we can guess no expenses were spared. The wedding was a grand one and included about five guests.
Image:Jared Kushner and Ivanka Trump married on October 25, 2009
Source:heavy.com
Well, it took them, 3 months to plan the wedding and if they had waited another month the guest list would have been over 600 people. It was a beautiful wedding with over the top decorations and both the bride and the groom looked stunning.
Image: Husband Jared and wife Ivanka having their first dance.
Source: theartofivankatrump
The couple is blessed with three children and they sure do make a very adorable family. Their eldest daughter Arabella Rose Kushner was born on July 17, 2011. And two years later their middle child Frederick Kushner was born on October 14, 2013, and their youngest child was born on March 27, 2016. All three children are raised under Judaism.
It looks like Jared and Ivanka are very happy together and they just are a perfect couple who are supportive of each other. Jared has praised her wife of being an amazing wife and devoted mother of three children. Jared said, "Whether preparing to deliver a speech to tens of millions of people at the Republican National Convention, or teaching our kids to swim, Ivanka defines the phrase hands on."
The Kushner are a happy family and Ivanka shares many adorable pictures of her kids on her social media. She recently shared a family picture of them spending Christmas and Hanukkah on her twitter.
To know more about Ivanka's siblings click here.