Let's meet one of the most renowned television stars who is blessed with a talent enough to make people laugh. The comedian is not other than Jamie Kennedy, who has a long list of affairs and rumored girlfriends.
Despite his involvement with so many women in the past, Jamie never came across the perfect one for his life. Well, recently the comedian is rumored to have found the right one that he had always dreamed of. This news has considerably gained a tremendous attention and curiosity.
Well, Don't worry we are here with all the details about Jemie's life. Just stay with us.
Jamie Kennedy Revealed His Secrets At The Doctor show: Says He Got Diagnosed With Congenital Heart Block
The most renowned stand-up comedian Kennedy revealed the dark phase of his life that he had been keeping secret for years from the public and media at The Doctor show.
Kennedy stated to the host of the show that he has been suffering from heart blocks since 35 years.
As reported by the Dailymail.com, Jamie said, "Ever since I was 10-years-old, I got diagnosed with congenital heart block, and then when I was 14, I got a pacemaker put in."
Here's the video by which you can know what actually happened at the interview.
Well, such revelation apparently shocked million of his fans because no one had ever thought about this happy faced comedian that he is undergoing a serious trouble.
Maybe due to his heart disease, the actor is abstaining himself from getting married to anyone. He might be thinking that it would spoil the life of the one who would get married to him, or the reason might be that the comedian has not yet found the perfect one whom he would like to live all his life.
Stand-up comedian Jamie Kennedy suffering from heart disease
Source: Dailymail
Jamie Kennedy's Past relationships, Affairs And Dating History With Ex-Girlfriends
Jamie has always been a ladies man. The comedian with his humor and wittiness has always had girls hovering around him.
The comedian and actor previously dated the Jawtopia actress, Jennifer Love Hewitt.
The former boyfriend and girlfriend couple of Jamie Kennedy and Jennifer Love Hewitt
Source: Hollywoodlife
However, the comedian never confirmed their relationship before March 2009, during a radio interview with the host Ryan Seacrest. He said;
I'm in love.It's like, 'Wow, you are hot. You can sing, you can dance, you're like, so smart and, wow, you can cook pasta fagioli, too.
On the other hand, Jennifer confesses her affair with Jammie to the media, saying Jammie to be a perfect partner. According to People.com, Jennifer said;
There are people in your life who are just supportive and who just look at you and they see who you are. And Jamie saw who I was as a person more than anybody had ever done in my whole life. I think that's for me when I sort of went, 'Oh, wow.
However, the pair failed to sustain their relationship for a long and broke up in 2010, after dating each other for over a year. Neither Jennifer nor Jamie spoke when they were asked about the reason behind their separation.
Almost a year after their split, Jammie Kennedy was caught dating an American actress Nicolle Radzivil. The two was often seen spending their private times together, however, none of them had spoken about their ongoing relationship.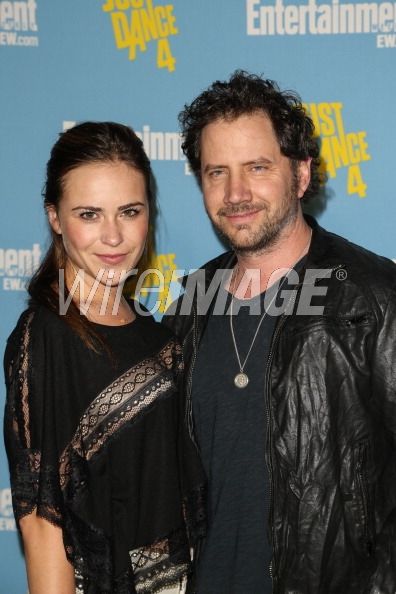 The former boyfriend and girlfriend couple of Jamie Kennedy and Nicolle Radzivil
Source: bdbphotos
The relationship between Nicolle and Jamie, however, failed at last which resulted in the link up of Jamie with another actress Rita Volk in 2014. The duo's relationship was later confirmed by the representatives of Rita Volk's on twitter. Let's have a look at it.
Their relationship ended in the year 2015 and Rita Volk has remained single ever since.
Despite these, he has been involved with other actresses like Christa Denton, Heidi Mueller, and Christa Campbell, however, the comedian never allowed any of his affairs to harm his career.
Let's wish the comedian who holds the net worth of $10 million, all the very best for his future. We hope he gets well soon and make the world laugh once again. For more updates, keep in touch with Frostsnow.