'Fifty Shades Darker' co-stars Jamie Dornan and Dakota Johnson's on-screen chemistry is loved by many people. The pair became so popular that their relationship rumor spread like wildfire. Dornan and Johnson's dating story had been making it to the headlines for quite some time now. However, Dornan has finally responded to the rumors by designating it as 'disgusting.'
So, is Dornan married? Yes! Dornan is happily married to actress Amelia Warner. Dornan wife supported him to do steamier scenes in the movie. Surprising! Read the full article to know the story.
Jamie Dornan with alleged girlfriend, Dakota Johnson during 2017 Oscars
Dornan and Johnson made news headlines when they were spotted together during the 2017 Oscars Awards. Korean portal, reported that the pair was seen getting flirty in the ceremony.
Jamie Dornan with Dakota Johnson during the 2017 Oscar Award
Source: Express
However, this is not the first time where the pair was seen flirting. Rumor even said that Johnson and Dornan live together for real. But, all these stories seems false as Dornan responded negatively.
Jamie Dornan says his rumors with Dakota Johnson are disgusting
Dornan claims that the story which included him, his wife and his 'fifty shades darker' co-star Johnson to be disgusting. He criticized the lewd comments and falsified the rumors which questioned his married relationship with his wife.
The rumors stated that the hot scenes in the movie brought coldness in his relationship with his wife. However, Dornan told The Telegraph that his wife Warner supported him fully despite the fact that she hasn't watched the movie yet and decided not to look at it either.
Dakota Johnson addresses relationship rumors with Jamie Dornan
He further said:
"The more public interest there is in you, the more horrible people become. People start to say disgusting things about your family, about your children."
In case you don't know, the 'Fifty Shades Darker' stars aren't allowed to talk any kinky stuffs during the press tour. In fact, they have also been requested to avoid the romantic side of the story.
Jamie Dornan married to Amelia Warner
Married since 27th April 2013, Dornan and Warner tied the knot in a country house located in Somerset. The lovely couple is parents to two kids. Their elder daughter was born in November 2013, and younger daughter was born in February 2016.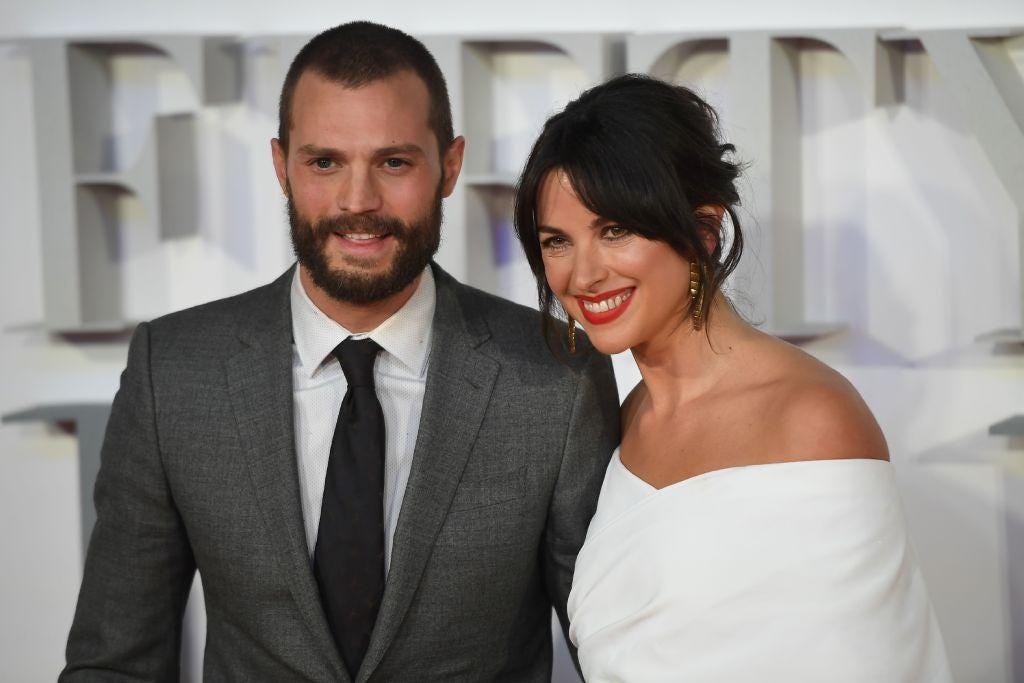 Jamie Dornan and wife Amelia Warner
Source: independent
It's good to know that Dornan and Johnson don't have any kinds of relationship except their onscreen romance. Dornan has a happy family of four, and things are in great terms between him and his wife. We hope they don't have to pass through the experience of divorce ever.