Fate decides who comes into your life, but your heart decides who stays. For this couple, Jade Roper and Taner Tolbert, a reality show named Bachelor In Paradise turned out to be their fate, and their hearts chose each other from the moment they met on the show.
Jade is a fashion model and a reality star. She is also a founder of 'Naturally Jade,' a cosmetic company. Tanner is also a TV personality. Both of them are the contestants of the Bachelor In Paradise.
Bachelor In Paradise is an elimination-style reality competition television series on ABC, a show hosted by Chris Harrison. It is a spin-off of the American reality television game shows The Bachelor and The Bachelorette.
Also Read: Chris Harrison Celebrates The Bachelor's 15th Anniversary, With a Throwback Photo of Alex Michel
Let's find out how the couple's journey ended up in a beautiful marriage!
Jade Roper and Tanner Tolbert first met on 'Bachelor In Paradise'
The boyfriend and girlfriend couple Jade and Tanner met on the spinoff in the reality dating competition Bachelor In Paradise in 2015 which was shot in Mexico.
Jade Roper and Tanner Tolbert, contestant of Bachelor In Paradise
Source: US WEEKLY
Their romance sparked from the time they laid their eyes on each other. There were other contestants as well on the show for the competition, but the couple was sure of each other to hit it off.
Let's see what they had to say about each other during their first encounter interviewed by the E! News.
The 29-years-old Tanner said;
"I knew I had my eyes set on Jade before the show even started,"
The 30-years-old Jade said;
"I was super drawn to Tanner the minute I saw him and I actually surprised myself,"
She added;
"I kept trying to strategically place myself closer to him so he would turn around and talk to me, and it worked!"
True love conquers all. They sure had bumpy roads during their relationship with arguments, and fights. But the important thing is that they are together. Yes, people! They are married now.
Tanner and Jade's wedding got filmed for the Bachelor 20th Anniversary Special for the Valentine Day
The love affair of Tanner and Jade took a new step after their engagement on the season finale of the show. Well, Tanner and Jade were already in a relationship for two months when he proposed his girlfriend Jade.
When you know, you know right? Likewise, Tanner was also sure to go a long way with his girl Jade.
Tanner Tolbert proposed Jade Roper on the finale of Bachelor In Paradise
Source: Wetpaint
Tanner and his fiance Jade had an amazing time planning for their wedding as their wedding was going to be filmed by ABC as a part of Valentine's Day Special.
Here's the YouTube video where Tanner proposes Jade on the finale of Bachelor In Paradise.
You heard it right, guys! Their wedding event was pre-taped by the ABC and was later aired live on the Valentine's Day which means their marriage pretty much got announced to the world. They sure had one romantic wedding.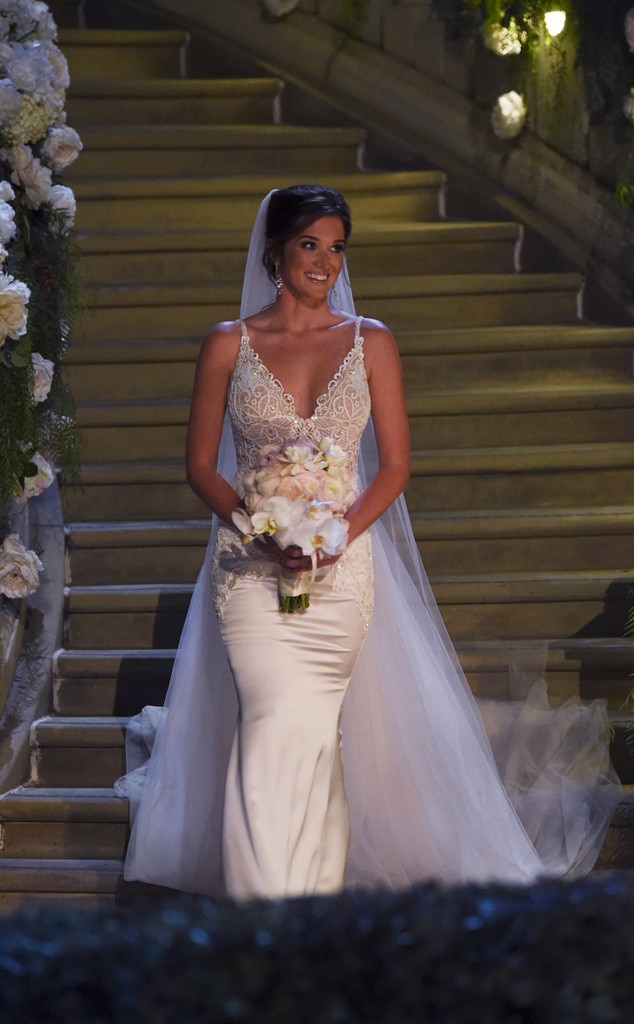 Jade Roper on her wedding marrying her husband Tanner Tolbert on February 14, 2015
Source: E! News
Let's hear the couple's touching vows on the wedding day.
The bridegroom Tanner exchanged his vows with his bride Jade saying;
"My heart loved you even when my head told me it was way too soon,"
He continues with a smile;
"You went from a girl I thought was cute on TV to my best friend in the entire world and I wouldn't spend my life with anyone other than you. I promise to go through the ups and downs of life with you because the downs with you are even better than the ups without you."
"I promise to remember that you are always right and I am always wrong."
Jade Roper and Tanner Tolbert got married and their wedding event was aired by ABC for Valentine's Special
Source: www.etonline.com
Tanner's wife Jade during her turn says;
"There came a point in my life where I never thought I was going to get married. I had seen marriages in my family give their best and fail and I became afraid to fully open myself up to somebody, and that is until I met you."
"Tanner, you are the love of my life. We both know that I am not perfect but I promise to always give you my best and I promise to love you all my life."
Check out the glimpse of their wedding day aired on ABC on Valentine's Day!
They even bought a house together in Real Estate.
The fans and viewers got the chance to view their whole love story just like a movie in the show Bachelor In Paradise including their wedding day on Valentine's Day on the ABC.
The husband and wife couple Tanner and Jade have become a true example. We wish them all the luck in their coming days.