Jacelyn Reeves, 67, a former flight attendant may not be a Hollywood celebrity, but somehow Reeves is connected to the industry. Jacelyn is most widely known, for being in a short-lived relationship with Clint Eastwood.
Clint had many affairs, known and unknown, but with his past affair with Jacelyn became a highlight as he fathered her son Scott Eastwood, a famous actor. Though the former couple never married. As for a fact, Jacelyn was married once but divorced. Want to know more about Jacelyn Reeves' relationship, affairs, children, and married life? Let's know.
Jacelyn Reeves affair with Clint Eastwood
Jacelyn was a flight attendant when she met Gran Torino actor Clint Eastwood for the first time. The pair met around 1985.
Soon they fell for each other and started dating secretly, though, in the meantime, Clint was still in a relationship with Sondra Locke.
Also Read, The chemistry of Britt Robertson and Scott Eastwood.
But here is something more astonishing!
Reportedly, Sondra was listed on his extra-marital relationship, as Clint Eastwood was already married to his first wife Margaret Neville Johnson who divorced him on November 19, 1984, after 29 years of marriage.
Later, Eastwood married Dina Eastwood on March 31, 1996, but divorced on December 22, 2014.
Now getting back on the topic, Jacelyn Reeves and Clint Eastwood's affair continued for 3-years till 1988 before they called quits after sharing 2 children together.
Jacelyn Reeves' Children With Clint Eastwood
Jacelyn's relationship with Clint lasted for three years. While the couple was together, they welcomed two children, son Scott Eastwood, and daughter Katheryn Ann Eastwood. Scott was born in 1986 while Katheryn in 1988.
Caption: Clint Eastwood with son Scott Eastwood
Source: Daily Mail
Also Read, Scott Eastwood and Girlfriend Maddie Serviente enjoying a sun-soaked boat trip, Know in details.
Although the relationship between Scott and Clint wasn't on news much, Scott once revealed that his father was very protective about Katheryn.
When Clint found that Scott had left his 14-year-old sister alone for a while in a party, he punched Scott on his face by slamming him into the wall and wrapping his throat by his arms.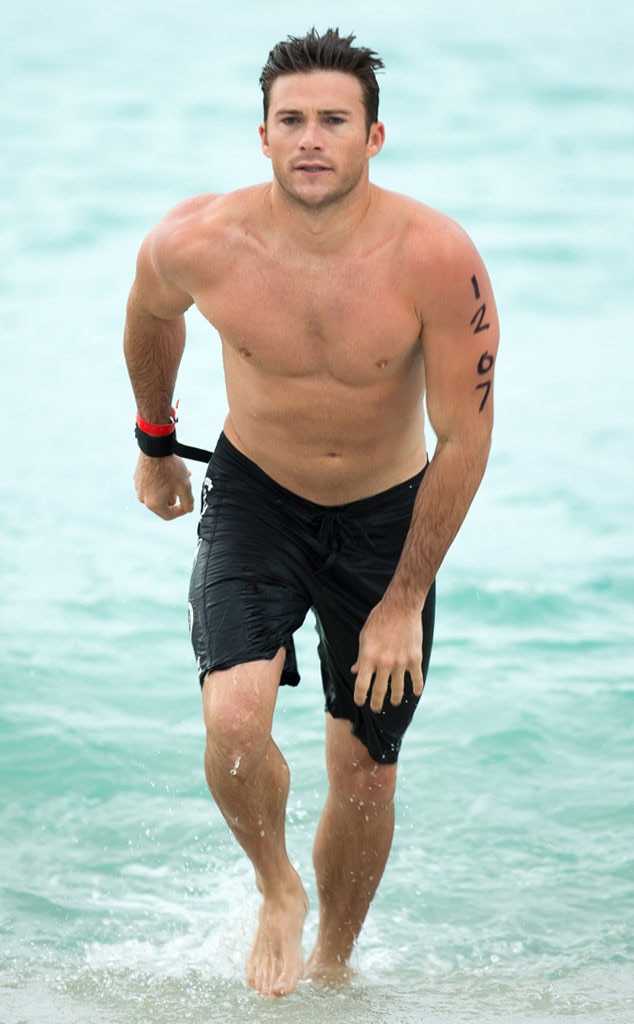 Caption: Scott Eastwood
Source: E! News
Even though Jacelyn and Clint became parents to two children, they never tied the knot.
But Jacelyn Reeves holds the record of her failed marriages. Let's know about her husband and married life.
Is Jacelyn Reeves Dating Currently? Secret Marriage Failed
After splitting with Clint, Scott Eastwood's mother Jacelyn married Private Bell. Since Jacelyn was talked by everyone due to her relationship with Clint, she chose to keep her married life private.
Yet, it didn't do any good to Jacelyn as reports claim that she is no longer married to her husband. Also, no reason for their divorce or separation was reported.
Video: Who Are Clint Eastwood's Children? [5 Daughters And 2 Sons]
Besides this, Jacelyn is not reported to be dating currently. Though even in her late 60s, Jacelyn Reeves appears to be flawless as ever but seems like she gave up the desire of being with a man.
Whatever the reason may be, we seriously hope that she is doing pretty well in her life. We wish the pretty mother of 2, best for further.
For updates, be in touch with Frostsnow.com