Blac Chyna took snap chat by storms and has made headlines by dissing her former boyfriend TYGA. She has recently alleged her former boyfriend and father of her four-year-old son King Cairo's father, Rapper Tyga with some pretty harsh comments which point's towards Tyga not paying child support.
Lately, as her former boyfriend and father of her newly born four months old baby girl Dream Kardashian's father Robert and King's father Tyga have started talking to each other and time and again are taking Blac's name out on occasions, Blac has outed a snap chat statement dissing Tyga from every corner.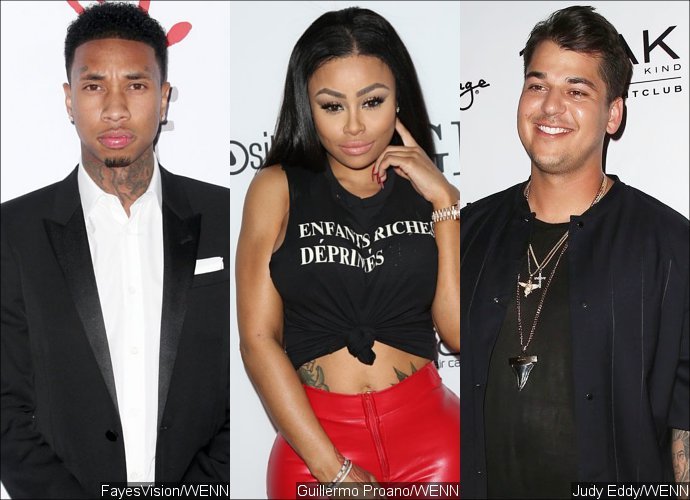 From left Tyga, Blac Chyna and Rob
The mother of Tyga's son and Rob's daughter recently outed her strong chats after she heard Tiga's statement of her wanting to kiss Tyga and trying to get back together with him which was not actually Tyga's statement but her other boyfriend Robert Kardashian's statement.
Blac Chyna VS TYGA Snapchat
Some tabloids also claim that Tyga misinterpreted the call from Chyna, and he thought she other personal issues beyond co-parenting, shared by his recent best friend Rob. These two former Chyna-men are reportedly turned into best buddies after Rob who has an infant baby girl recently broke up with her baby's mama Chyna.
Tyga when asked by TMZ reporters about the whole child support issue he Dodged the question and drove away,
funny for a guy with such a huge net worth, we wonder if Chyna was actually correct?
Robert is reportedly playing a double standard game here; as he is talking to Tyga and at the same time reporting his chat's to Chyna. Former Stripper turned celebrity Blac warned Tyga to come see her at her parlor if he really had a little pride left in him on her own way.
The single mom of two lovely kids is separated from her recent boyfriend and is now raising the babies on her own.
Chyna With her four years old Son King
The whole issue has been creating a buzz in social media and recently her former boyfriend Tyga instantly uploaded a video on his snap chat which showed him in a saloon that surely is a message to Chyna.