"Love Isn't Determine By Age", the saying does not always go accordingly but in rare cases, it tends to be true. Today we have a similar story of a married Hollywood couple, Kevin Kline and Phoebe Cates who despite huge age difference are going well in their relationship.
Kevin Kline is a 70-year-old American film and stage actor while Phoebe Cates is a 54-year-old American actress, singer and a former model. Despite their huge age difference of 16 years, the couple is leading a happy life together and they even are parents to two children.
Let's dig deeper the personal life of this adorable couple and find more about their love affair and married life. Just stay with us.
Love Affair & Married Life of Kevin Kline and Phoebe Cates: How They First Met?
Let's start from the beginning. It was in the year 1983 when Kevin Kline first met the love of his life, Phoebe Cates during her audition for a role in the movie The Big Chill. Despite the huge age gap, after several meetings, the pair became romantically involved with each other and eventually started dating.
Happily married husband and wife: Kevin Kline and Phoebe Cates
Source: Pinterest
The couple dated for six years and they finally decided to take their relationship to the next level, thus, Kevin and Phoebe got married in 1989 in a lavish wedding ceremony.
Kevin Kline kissing the head of his girlfriend-turned-wife Phoebe Cates
Source: nydailynews
After a couple of weeks of their marriage, the couple welcomed their first child, a baby boy whom they named Owen. They also have a daughter together whose name is Greta.
Both Owen and Greta have appeared together with their parents, in the 2001 movie The Anniversary Party. In addition to that, Owen has appeared in the 2005 film The Squid and The Whale. Greta is currently a musician and is known by the stage name Frankie Cosmos.
Kevin family: husband and wife: Kevin Kline and Phoebe with their children: a son and a daughter
Source: blogspot
The perfect family of four are living happily together in New York city and we don't see any conflicts in their relationship that is suggestive of their divorce.
Past Relationship of Phoebe Cates: Previously dated Stavros Merjos
Prior to getting engaged with Kevin Kline, Phoebe Cates dated a film producer Stavros Merjos. As per the report, they even shared an apartment in Greenwich Village. She reportedly first met Stavros in 1979 in a nightclub, Studio 54.
Besides, she is also popular for her on-screen match-ups with some renowned American actors that include Zach Galligan and Matthew Modine.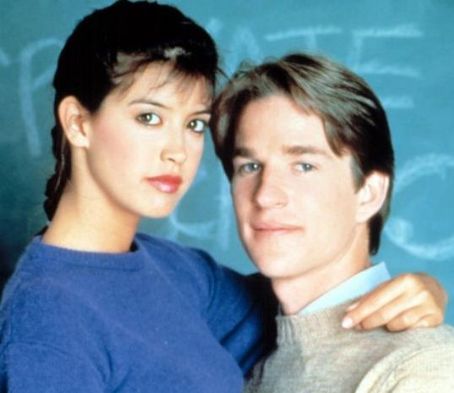 On-screen boyfriend and girlfriend: Matthew Modine and Phoebe Cates
Source: whosdatedwho
Phoebe is currently happily married to Kevin. We wish them all the very best for their future.
For more updates, stay tuned with Frostsnow.