Jocelyn Towne is an American producer, director, and actress, and is best known for her appearance in a supporting role in 2005 crime drama film Havoc. Moreover, she is most recognized for her work as a director in 2013 film I Am. The movie was her debut as a director. She also co-directed 2014 film We'll Never Have Paris.
Towne has also appeared in other films and TV shows like Gilmore Girls and The Selling. The niece of screenwriter Robert Towne is currently married to one of the most popular TV actors. Well, who is the guy?
Jacelyn Towne and husband Simon Helberg
Source: Jewish Business News
Let's find out. Further, we will also talk about her marriage, children and past relationships.
Jocelyn Towne married to husband Simon Helberg, and their children
Jocelyn Towne is currently married to American actor, musician, and comedian Simon Helberg. Simon is best known for his portrayal of an engineer, Howard Wolowitz, in the sitcom series, The Big Bang Theory. The show also stars other actors like Jim Parsons, Johnny Galecki, Kunal Nayyar and Kaley Cuoco.
The lovely couple started dating in 2002. They dated for a more than 5 years before getting married to each other on 15th July 2007. The couple is together for more than 15 years.
Jocelyn Towne with husband Simon Helberg and daughter while pregnant
Source: Daily Mail
The duo also has two children. Their first child of the couple, Adeline Helberg, was born on 8th May 2012. She is currently 5-years-old.
Their second child, Wilder Helberg, was born on 23rd April 2014, but the couple decided not to share the news with the public. It was only after a month of the birth of their second child they shared the good news with everyone. Young Wilder is currently 3-years-old. The small yet lovely family currently resides in Los Angeles, California.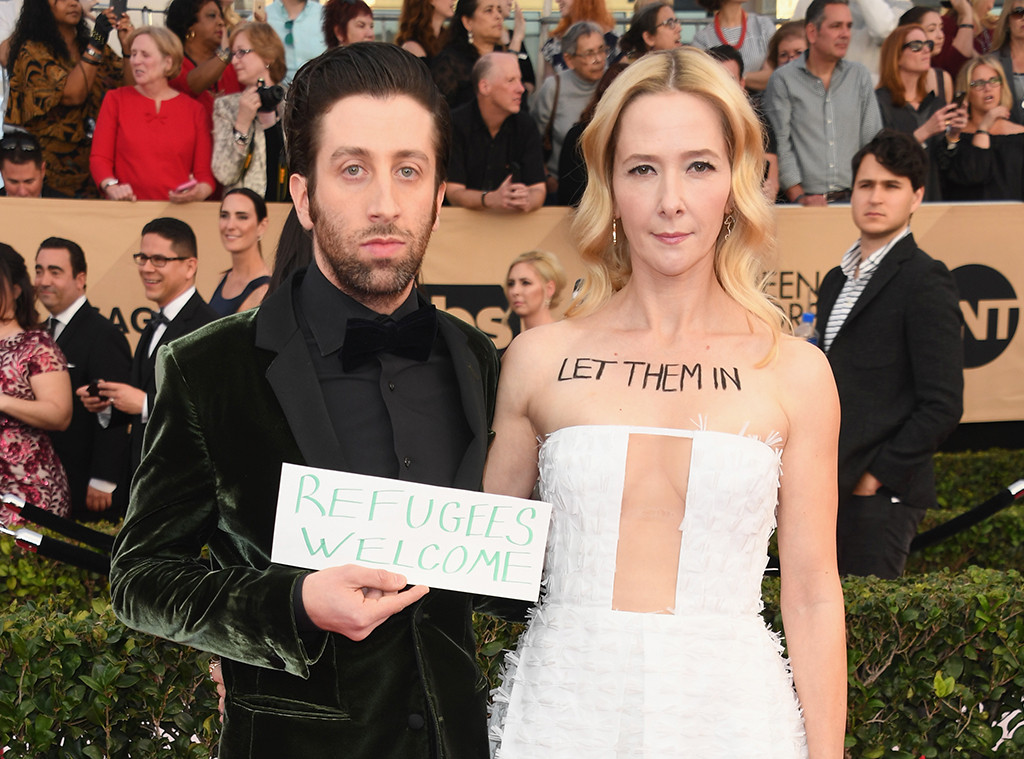 Jocelyn and husband Simon
Source: Daily Mail
Moreover, the couple is also actively yet indirectly involved in politics. Recently in 2017, they protested against the Muslim ban at the SAG Awards. Towne wrote "LET THEM IN" on her chest while sporting a beautiful white gown, whereas Simon held a card with "REFUGEES WELCOME" on it.
Jocelyn Towne past relationships and affairs
Jocelyn is not very open about her personal life. She is also not active on social media and loves to keep her life confidential. So, there are no reports of the actress cum director having an affair with any other man apart from Simon. Simon has an estimated net worth of $24 million. The mother of two has not been married before either.
Nonetheless, Simon also has no reports of previously being involved with another woman.
Simon Helberg with family
Source: Zimbio
She certainly must be very happy to be married to a talented man like Simon. Moreover, we hope that the relationship stays strong and lasts forever.