Born as Joyce Penelope Wilhelmina Frankenberg, Jane Seymour is an English actress best known for her portrayal of Cathy/ Kate Ames in East of Eden. Her role in the movie earned her a Golden Globe Award in 1982. She received her first award in 1981, which was a Saturn Award for her role in Somewhere in Time.
Jane is currently a citizen of United States and is the celebrity ambassador of a national non-profit organization Childhelp. The organization aims to help children who have been through abuse and negligence.
So far, Jane has been married 4 times, and neither of the marriages lasted very long. Here, we are going to talk about all her marriages, and find out if she is dating anyone.
Jane Seymour failed marriages: Details
Jane first marriage was with British Theater Director Michael Attenborough. They started dating in 1970 and decided to take things to the next level after a year and finally tied the knot on 10th July 1971.
Actress Jane Seymour with ex-husband Michael Attenborough
Source: express.co.uk
The marriage did not have a happy ending as they got a divorce a year after their wedding in 1973. They were together for almost three years.
After Michael, in 1976, she started dating a man named Geoffrey Planer. She got married to Geoffrey three years after her first divorce in 1977. This marriage also ended tragically as the two got a divorce after a year in 1978. The couple remained in a marital relationship for 2 years.
Again in Feb of 1981, she started dating her third husband, an American Business Professional David Flynn. They got married to each other on 18th July 1981.
Actress Jane Seymour with ex-husband David Flynn
Source: Daily Mirror
The duo gave birth to their first child, Katherine on 7th Jan of 1982. She is currently 35-years-old. Later on 31st July of 1985, they gave birth to their second child Sean, who is now 32-years-old.
The marriage lasted for 11 years until they decided to call it quits in May of 1992.
Her longest marriage was with her fourth husband James Keach, who is a British actor. The two started dating in Sep 1992 and got married on 15th May of 1993.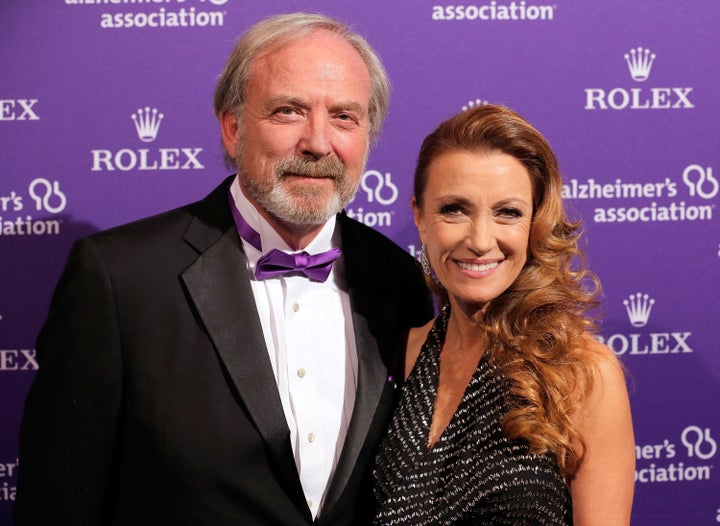 Actress Jane Seymour with ex-husband James Keach
Source: Huffington Post
Together, they gave birth to a twin, John Stacy, and Kristopher Steven on 30th November of 1995. They are currently 22-years-old.
The lovely couple was married for 22 years. However, they got a divorce on 10th December of 2015. They were together for more than 23 years.
Despite the splits, she is still very close to her ex-husbands.
Is Jane Seymour dating anyone? Is she single or married?
Jane is currently 66-years-old, and she still looks as flawless as always. After, failed marriages with 4 men, the actress who has an estimated net worth of $70 million was seen at a red carpet event with director David Green in 2015.
Actress Jane Seymour with director boyfriend David Green
Source: Daily Mail
The two openly admitted that they were dating, and Jane even said that she was glad to be dating another British in America. They had worked together 35 years ago. When she was asked about getting married again, she shared happily that she sees herself marrying David.
However, she tried to hide as much as she can regarding her partner David and her relationship. They have been seen together on numerous occasions, and Jane even claimed that she has finally found love with David after four husbands,
Apart from that, there are no reports about the two getting married. We hope their relationship lasts forever, and we wish to see her getting married to David.