Kendra Wilkinson and Hank Baskett are one of the most-talked married couples from the United States. Their strongly bonded relationship is an example of true love that has been an inspiration for a lot of couples. In fact, their love for each other is what every couple seek for in their relationship.
Kendra Wilkinson is a gorgeous versatile American television personality who has always made men fall for her because of her attractive personality and glamorous looks. To tell the truth, she is regarded as one of the hottest and sexiest American glamor models and she has also appeared on the cover of various renowned magazines including Playboy and In Touch.
Her husband, Hank Baskett, meanwhile is a former professional American football player who played in the National Football League for the Minnesota Vikings, Philadelphia Eagles, and Indianapolis Colts.
The couple is married since 2009 and ever since they are living a blissful married life along with their two children. Let's get inside their personal life and dig out all the details regarding their love affair and married life. So, without further delay, let's get started. Just stay with us.
Baskett And Wilkinson Got Married After Six Months of Dating: Parents to Two Children
Let's start from the beginning. Prior to getting engaged with her current husband Hank Baskett, the 32-year-old model, Kendra Wilkinson was linked with Hugh Hefner who is an American men's lifestyle magazine publisher, businessman, and the founder of Playboy magazine.
Playboy Mansion's Hugh Hefner and Kendra Wilkinson
Source: usmagazine
She met Hefner at his 78th birthday party in April 2004, where he had hired Wilkinson to be one of the "painted girls". Shortly after they met, Hefner asked her to be one of his girlfriends but Wilkinson didn't accept to be. In an interview in 2014, she explained;
I was like, 'Hell yeah, I'm here!' I was living in this small-ass apartment with this ugly-ass bitch. I was praying for anything to get me out of there. I moved in and weeks went by and I didn't know that sex was involved. I knew nothing about Playboy, I'd just graduated high school.
Hugh Hefner and Kendra Wilkinson
Source: nydailynews
Shortly after that, Wilkinson moved out of the Playboy Mansion in 2009 after she met her current husband Hank Baskett and got involved in a romantic relationship.
On 22 September 2008, the International Business Times reported about the engagement of Wilkinson and Baskett. The couple reportedly dated for a long time before getting engaged in 2008.
Then boyfriend and girlfriend: Hank Baskett and Kendra Wilkinson
Source: life&style
Wilkinson initially denied herself being involved in an affair with Baskett but later on 6 November 2008, in an interview with Chelsea Handler, she admitted engaged to Baskett and said that Baskett proposed her at the Space Needle in Seattle, Washington.
Within a year after their engagement, the couple tied the knot on 27 June 2009 and their wedding ceremony was held at the Playboy Mansion.
Happily married husband and wife: Hank Baskett and Kendra Wilkinson at their wedding ceremony
Source: pinterest
You might not know but when the couple got married, Kendra was already 3 months pregnant with their first child whom she gave birth on 11 December 2009. He named him Henry Randall "Hank" Baskett IV.
Happily married husband and wife: Hank Baskett and Kendra Wilkinson with their son Henry
Source: Pinterest
In October 2013, they announced that they were excepting their second child and they also revealed the gender of their unborn baby and said her to be a girl. Pregnant Kendra also flaunted her baby bumps along with her husband.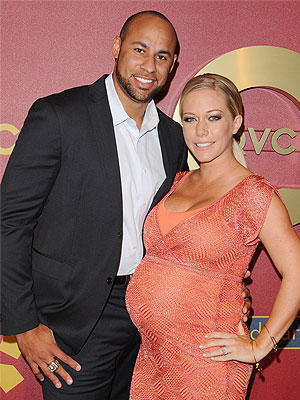 Pregnant Kendra Wilkinson showed her baby bumps with husband Hank Baskett
Source: celebritybabies
The couple welcomed their daughter on 16 May 2014 and they named her Alijah Mary Baskett.
The perfect family of three is living happily together, we wish them all the very best for their future.
For more updates, stay connected with Frostsnow.