If you love to watch horror movies then you might have watched the most popular American horror television series American Horror Story. Do you remember a character of that horror show, Emma Roberts?
Emma's professional career is like an open book, however, her personal life can be compaired to a mystery. So, we want to shade a light on your you know that Emma Roberts is already engaged to an American actor Evan Peters.
Prior to Evan, Emma had also an affair with numbers of boyfriends. Let's know more about the personal life of this beautiful actress. Just stay with us.
Emma Roberts re-engaged to his long-term boyfriend Evan Peters: Long list of her previous affairs and relationships
The young actress of 25, Emma Roberts is re-engaged to her longtime boyfriend, Evan Peter. The confirmation of their engagement was showed by Emma Roberts as she was spotted with an engagement ring on finger, outside a French fashion boutique "APC" in Beverly Hills a few months ago.
Check out the picture where The Scream Queens star is flaunting her engasement ring.
Emma Roberts flaunting her engagement ring
Source: Dailymail
Wow! She looks stunning with a black tee and a leopard-print blazer. However, the ring shining on her ring finger is looking the most eye-catching accessory on her.
The couple had their first meeting in the sets of a comedy movie Adult World back in 2012. The thing how they turned their relationship as a boyfriend and girlfriend couple is still behind the curtain.
Fiancee couple Evan Peters and Emma Roberts
Source: nydailynews
After a couple of years of dating, Emma and Evan got engaged back in March 2014. Unfortunately, they ended their engagement in June 2015. However, somehow in the following year, the couple reunited in October. It will sound a little bit weird but Emma and Evan again split up in May of 2016.
A few months later, they were again spotted together in Los Angeles at a UPS Store dropping off some packages wrapped in ribbon in October 2016. The couple was also spotted sharing their kisses on a shopping trip in New York on 9 December 2016. Let's have a look at that picture.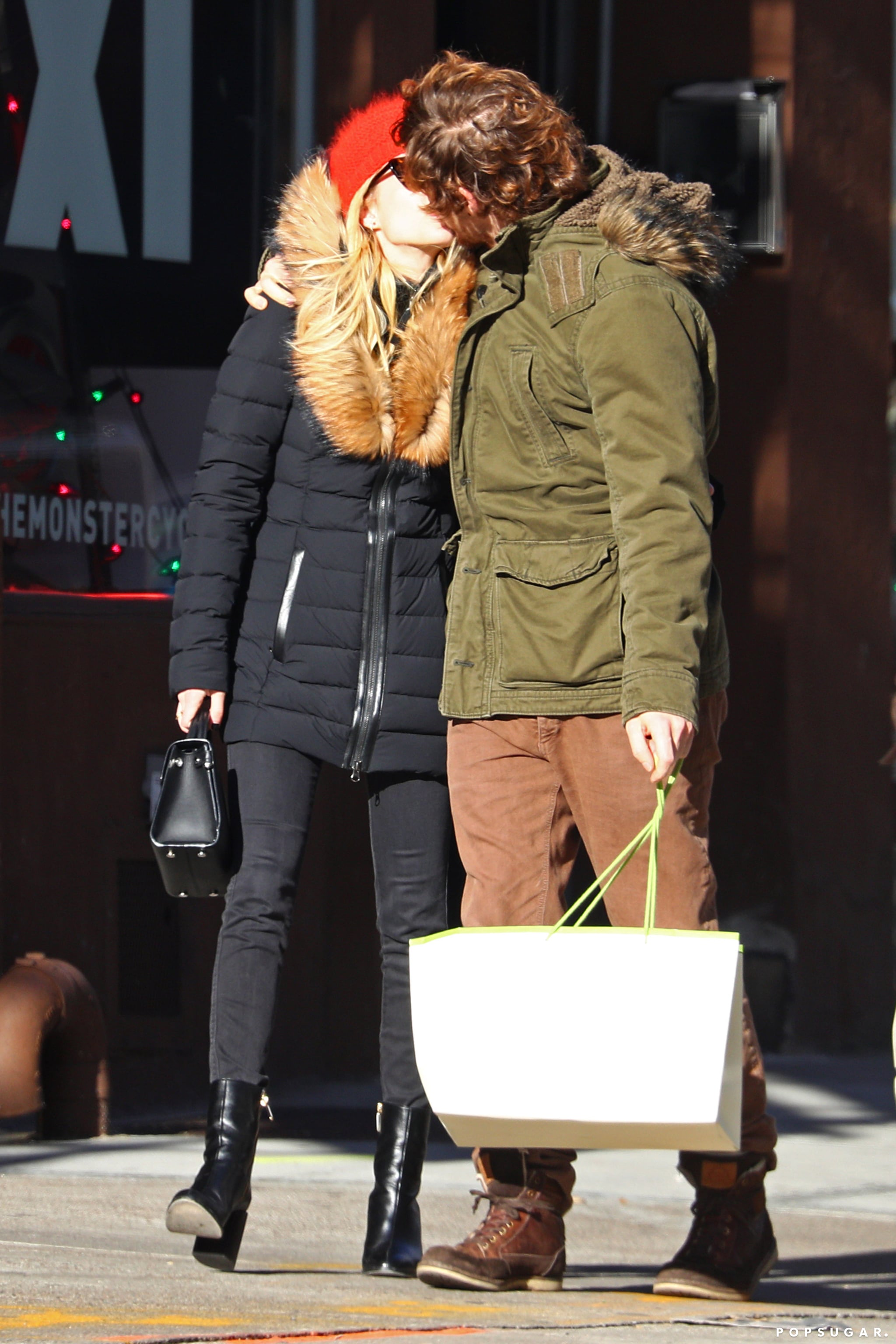 Boyfriend and girlfriend couple: Evan Peters and Emma Roberts sharing their kisses
Source: popsugar
It seems that this amazing couple bid goodbye to their four years of on-off relationship and re-engaged with each other, but now the only question stands is "will they get married or will Emma and Even will again switch off? Only time will tell us.
Until then, we wish the couple all the very best for their future and we hope we could see them as husband and wife soon.
Here's the long list of boyfriends whom Emma previously dated before getting engaged with Evan. Check it out.
| List of Emma's ex-boyfriends | Dating Period |
| --- | --- |
| Alex Pettyfer | 2007 - 2008 |
| Carter Jenkins | 2010 |
| Ryan Sheckler | 2008 - 2009 |
| Dathan Kuppin | 2009 - 2011 |
| Chace Crawford | 2010 |
| Daren Kagasoff | 2014 |
| Dave Franco | 2016 |
| Chord Overstreet | 2011 - 2012 |
| Christopher Hines | 2016 |
| Evan Peters | 2017 |
For more updates, keep in touch with Frostsnow.