Elizabeth Olsen is a renowned and beautiful American actress and has starred in a number of movies in Hollywood like Avengers: Age of Ultron, Godzilla, and Captain America: Civil War. There are rumors in the media surrounding her and Tom Hiddleston dating each other. However, the actress has herself denied about their affair.
The 26-year-old actress, Elizabeth Olsen, has a very good chemistry with Tom Hiddleston. Tom Hiddleston is an actor, producer, and a musical performer; has starred in the movie "Thor" as Loki. Want to know if they are dating? Stay with us for further information.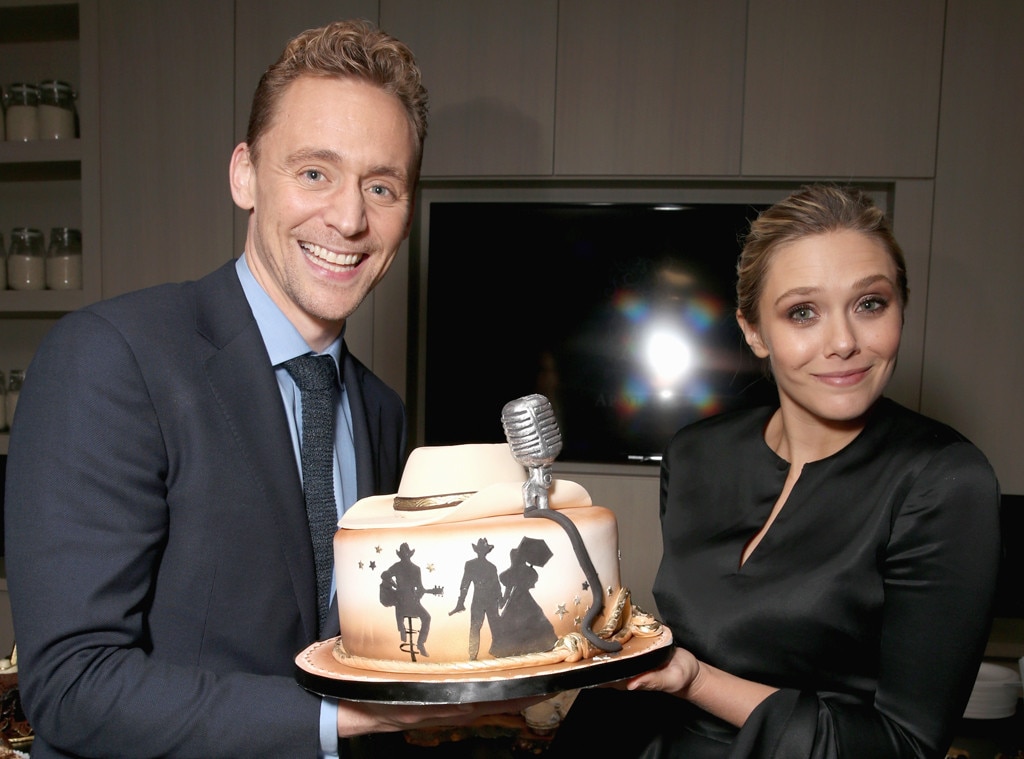 Image: Tom Hiddleston and Elizabeth Olsen.
Source: eonline
Elizabeth Olsen and Tom Hiddleston.
Elizabeth and Tom met with each other in a movie audition and they have been good friends ever since. They have been reported hanging out with each other more than once which might be the reason behind all the speculations of them being in a relationship. Not only that, in the recently released biographical movie "I saw the light", they acted as husband and wife and did some romantic scene as well which also added to the rumors.
Image: Elizabeth Olsen and Tom Hiddleston.
Source: justjared
Once, both of them were seen in the same restaurant amidst all the hoaxes about them being in relation. This scene further added heat to the rumors which made Elizabeth clarify about them being seen together to which she said that it was all a mere coincidence and there was nothing more than that. According to Elizabeth Olsen, Tom and herself are only good friends and there is nothing more to it.
Elizabeth Olsen's Affairs and dating rumors.
In 2012, it was assumed that she dated the Swedish actor of "True Blood fame", Alexander Skarsgård but it remained unexplained. Later on, she started dating the very handsome Narcos actor, Boyd Holbrook in September of the same year. After having more than a year long relationship, the couple got engaged in March 2014. But this relation couldn't last long as they split up in January 2015. Holbrook disclosed the truth of Olsen calling off their engagement via phone call on the very day his best friend, David Armstrong passed away. She was seen without her engagement ring thereafter. The former couple used to share the apartment in Brooklyn.
Image: Elizabeth Olsen in an event
Source: wallpapersdsc
Moreover, the rumors of her relationships relentlessly appeared in the media. There were rumors of her dating the co-stars of the blockbuster movie Avengers, Chris Evans, and Jeremy Renner. There were baseless rumors of her getting extremely close with Chris and Jeremy. Chris and Elizabeth in an interview, however, ignored the rumors trivializing it. On the other hand, fans of the super movie were thereby overwhelmed to hear the rumors of Jeremy and Elizabeth. Despite the huge age gap between two, their fans were expecting that they would turn into a super couple but sadly for the fans, the rumor remained a rumor. As for now she is currently single and not dating anyone officially.
Whatever may be the relationship of Elizabeth and Tom, we are pretty sure about their commitment as friends and wish them all the best for their future endeavors.
Want to wish them too? Please, leave your comments below.