Elizabeth Huberdeau is an American born real state broker who is also famous for her modeling career She was an unknown face until her relationship and the subsequent marriage with WWE superstar John Cena in 2009 became the talk of the town. However, the couple divorced in 2012 amid a lot of controversies.
Subsequent to the divorce, Cena has been living with his girlfriend Nikki Bella. Born on 28th September 1979, 39-year-old Elizabeth has stayed away from the limelight post-divorce. She is said to be living her life as a normal person. Additionally, Elizabeth has reportedly found a new boyfriend.
Here we are going to share some information about Elizabeth Huberdeau's current boyfriend and her past relationship with WWE star John Cena as well as their controversial divorce.
Who is Elizabeth Huberdeau dating? Is she married?
After Elizabeth Huberdeau' sudden and shocking divorce with John Cena, it has been reported that Elizabeth has found a new man in her life. According to sources, the name of her new boyfriend is Eli Ayoub.
Numerous pictures of her and good-looking Eli have surfaced on the internet. But there are no more details about his identity. There is no information about the man's profession and personal life.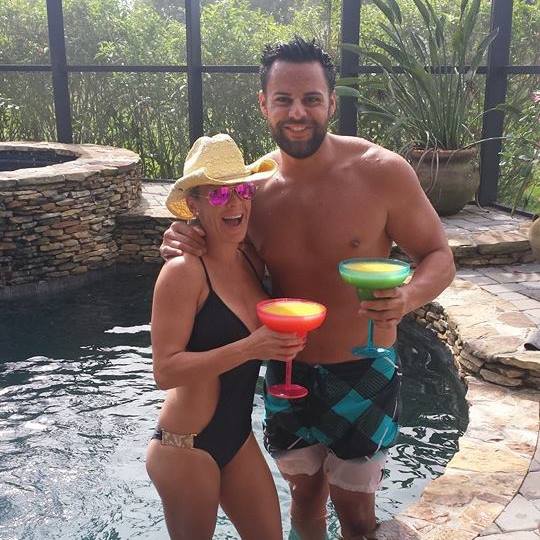 Elizabeth Huberdeau with her new boyfriend Eli Ayoub Source: Fab Wags
However, we know that Elizabeth and Eli are in a relationship but there is nothing more to it. They are neither married nor engaged nor have any children together. Nonetheless, we hope that she is happy with her new boyfriend.
Elizabeth Huberdeau's married life and divorce issues with John Cena
Elizabeth Huberdeau and John Cena attended the same high school and were high school sweethearts before he became a celebrity. The exact date of when they started dating in unknown but the relationship got very serious throughout the years.
Elizabeth Huberdeau with ex-husband John Cena Source: Sportskeeda
After more than a decade of dating, the couple decided to take their relationship to a whole new level as a result, the couple got engaged in 2008. A year later, while promoting his new film 12 Rounds, Cena shared that he was getting married that year.
This was not only a very clever move to promote his new film but also to show his love for his the then fiance.
Watch the trailer for 12 Rounds
Likewise, almost a year later, the couple tied the knot on 11th July 2009. Pictures of their wedding can be easily found on the internet. In some of these photos, the bride can be seen getting very frisky and possibly drunk. She seems to have sported a gorgeous gown and can be seen making out with her husband and acting quite inappropriately.
Being high school sweethearts who made it together till marriage, many expected their marriage to last a lifetime. But it was not the case. After just three years of tying the knot, John filed for divorce without the consent of Elizabeth.
Elizabeth Huberdeau with her ex-husband John Cena Source: Heightline
John initially claimed that the divorce was because of disagreements that took place during home improvements. However, there have been many speculations on it.
Elizabeth and her lawyer claimed that Cena was cheating on her. Fans even added that he might have cheated on his wife with another girl named Nikki Bella because he started formally dating her not long after his divorce was finalized.
Watch John Cena propose Nikki Bella
But John also claimed that after he lost to Dwayne 'The Rock' Johnson during the WrestleMania, he was in a very dark place. He even opened up about feeling like a failure and it created problems not only in his professional life but his personal life, ultimately leading to the divorce.
Watch the wrestling match between John Cena and Dwayne 'The Rock' Johnson
Their divorce made headlines and everybody wanted to get an insider about it. However, despite the massive divorce war, the duo came to an agreement and their divorce was finalized in July of 2012. However, both John and Elizabeth have moved on with their lives, finding partners for themselves.