Keanu Reeves is a Canadian actor, filmmaker, and musician, best known for his successful movies like Point Break, Bill and Ted, Little Buddha, The Matrix, and many others. Having been a subject to a wide range of memes on the internet, Keanu is an unmarried man.
However, he had a child with his late girlfriend Jennifer Syme named Ava Archer Syme-Reeves. She was stillborn, and just a year after the tragic incident, Syme died in a car accident. Here, we are going to share some information about his current relationship status, his relationship with Jennifer Syme, and his past affairs.
Is Keanu Reeves Married? Who Is He Dating At Present?
As we have already mentioned above, Keanu Reeves has not involved in any kind of marital relationship to date. Even though he has been in a handful of relationships, he has not gotten married.
Keanu Reeves Source: Hello Magazine
So, you might ask if he is dating anyone at the moment. And the answer is YES. Recently in Jan of 2018, the actor was seen smiling ear to ear while on a date night with a mystery woman.
KnowN for his sad meme; it was amazing to see the actor smile so much and interact with his fans. According to Daily Mail, the 54-year-old was out and about with his mystery date at West Hollywood for dinner.
The source also shared that they had reservations at the Madeo which is a romantic Italian restaurant. Other celebs like Lionel Richie and Bella Hadid was also present at the location on the day.
Keanu Reeves with his mystery date Source: Daily Mail
We are unsure if the relationship has gotten any serious now as it seemed to be their first date. Adding the fact that they were delighted while heading home from the date, we hope that he has found the one.
Keanu Reeves' Relationship with Jennifer Syme and Past Affairs
Keanu's most prominent relationship was with actress Jennifer Syme. They started dating in early 1999 and seemed to have a very serious relationship. A year later, the couple reported that they were expecting their first child together.
CAPTION: Keanu Reeves and Jennifer Syme
SOURCE: pinimg
Unfortunately, their first child Ava Archer Syme-Reeves was born still which created a strain in the relationship. Just a few months after the sad incident, the couple broke up and moved their ways.
However, they stayed close friend even after the breakup. Keanu shared that his ex-girlfriend was not able to cope up with the fact that her child was dead and that she never recovered from the trauma.
Eventually, just a few weeks after their breakup, Syme lost her life in a car accident.
Keanu too had a hard time after the loss of his first child and his ex-girlfriend, and he has shared his grief numerous times.
Moreover, throughout the years, the actor has been linked with numerous actresses and personalities including the transgender American actress Jamie Clayton in 2015.
Keanu Reeves with ex-girlfriend Sandra Bullock
Source: Zimbio
Some of his serious relationships after Syme include Diane Keaton in 2005, Charlize Theron from 2009 to 2010, Sandra Bullock, Winona Ryder, and many others.
Likewise, he has also been rumored to have dated China Chow, Jamie Clayton, Cameron Diaz, Kellie Farner, and many others.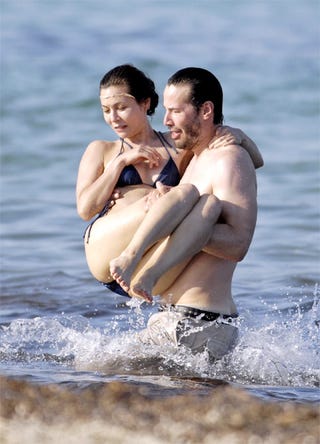 Keanu Reeves with rumored girlfriend, China Chow Source: Jezebel
Hopefully, the actor finally finds the one and settles down for the best. We wish them all the luck in life.
Quick Facts
What is Keanu Reeves net worth?
As of 2019, Keanu has a net worth of around $360 million.
What is Keanu Reeves age?
Keanu is 54 years of age; he was born on September 2, 1964.