Iggy Azalea born as Amethyst Amelia Kelly is a famous Australian rapper. She is not only a rapper but also is a singer, songwriter, model, and director.
She was continuously in the news during 2016 for her personal issues. The famous Australian celebrity was engaged to the NBA player Nick Young while she broke her engagement stating that her fiance has cheated her. We are giving more news on this particular topic and also about her previous relations so, stay with us to know more.
Iggy Azalea Relation with Nick Young
2016 was not a good year for Iggy Azalea as she broke her engagement with her fiance Nick Young. Nick Young (Nicholas Aaron Young) is an American professional basketball player who plays for Los Angeles Lakers.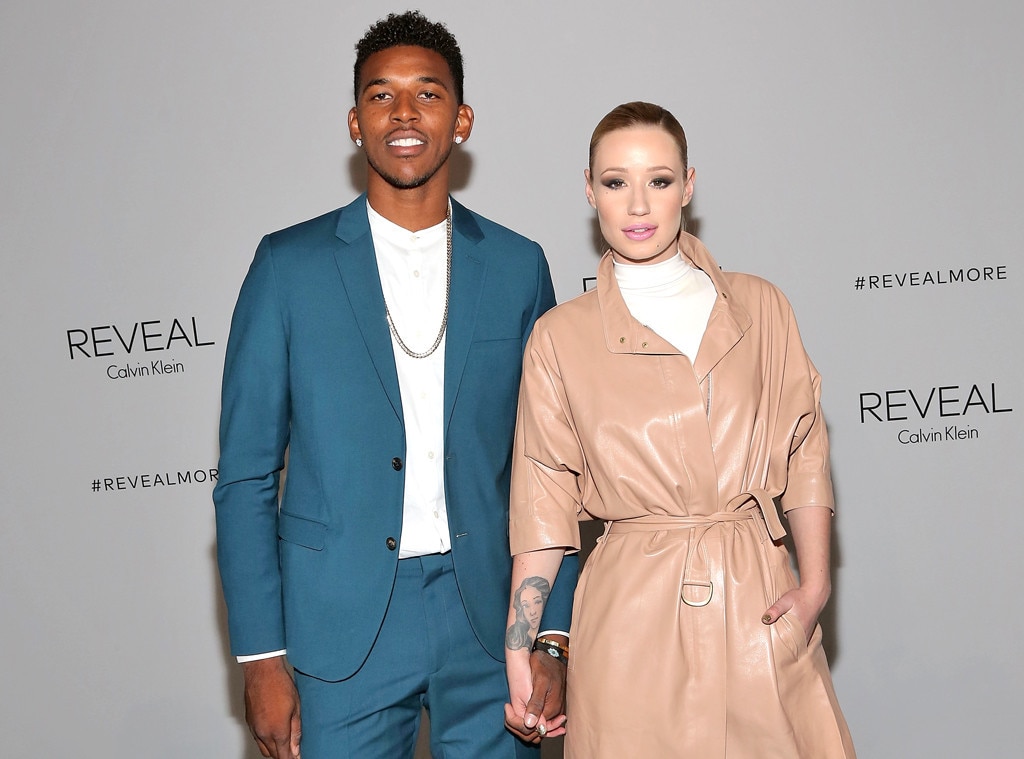 Nick Young and Iggy Azalea
Source: eonline.com
She was in a love relation with him for about a year and she was mentally disturbed after the incident which almost ruined her whole year. The Australian celebrity and the American basketball player started dating in 2013.
Must Read: Iggy Azalea wants her next boyfriend to have no kids after ending engagement from fiance Nick Young
The couple dated for 2 years and then they got engaged in 2015. Their relation ended after 3 years as Iggy broke her engagement with Nick. She announced her split with Nick through Instagram on June 19, 2016. The reason behind their separation is Nick's relation with another girl.
Caption: Iggy Azalea and her ex-fiance Nick Young
Source: People
Iggy stated before her split that she can't spend her whole life with the person whom she doesn't trust at all. She also stated through an Instagram message that she tried a lot to rebuild her relation but she couldn't so she decided to quit the relation.
Must See: Iggy Azalea relationship with boyfriend Nick Young after plastic surgery. Know about her affairs.
She tweeted about her breakup with Nick Young, Check it out here.
Iggy Azalea tweets about her breakup with Nick Young
To her allegations Nick Tweets about his breakup with Iggy.
Video: About Iggy's split engagement
Iggy Azalea Other Relations
Iggy Azalea before she got linked with the famous basketball player Nick Young, she was in relation with two other boys. She was in relation with her first boyfriend, an African-American rapper, record producer, and entrepreneur, Hefe Wine in 2008. The relation, however, didn't go long as the couple broke up the same year.
Caption: Iggy Azalea and her ex-boyfriend French Montana
Source: Us Magazine
After her first relation with Wine, Iggy started dating Asap Rocky in 2011. Asap Rocky is also a rapper from America. This relation too didn't last for a long term as they broke up in 2012.
In 2016, after she separated with ex-fiance Nick, Iggy was in an affair with French Montana. French Montana is a Moroccan rapper. Iggy dated Montana for about 5 months since July 2016 to December 2016. After this relation, Iggy has not involved in other relation so she is currently single.
Also Watch: Iggy Azalea moves out of the house after her split from Nick Young as she denies towing his car.